Elijah Johnson and KU highlight how fast things can change in this sport
Oklahoma State snapped Kansas' 33-game home winning streak earlier this month while Bill Self benched Elijah Johnson and later delivered the following quote: 'It's sad. We were definitely a better team with [Johnson] sitting next to us.'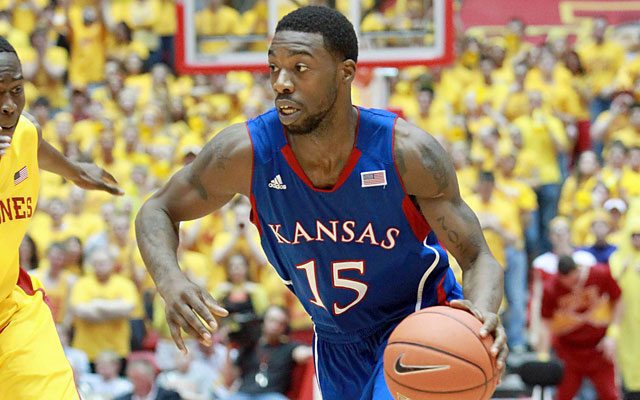 Oklahoma State snapped Kansas' 33-game home winning streak earlier this month while Bill Self benched Elijah Johnson and later delivered the following quote: "It's sad. We were definitely a better team with [Johnson] sitting next to us."
Can you believe that was only four Saturdays ago?
Seems like forever ago now, doesn't it?
Because even though the Jayhawks lost two more games after that Oklahoma State shocker -- including one at TCU that remains among the most baffling results in recent history -- they're now again tied atop the Big 12 standings, again ranked in the top five of the coaches poll and again in position to earn a No. 1 seed in the NCAA tournament in part thanks to ... Elijah Johnson, of all people.
More on Kansas-Iowa State
Related links
"That's as good as we've had any guard ever play here," Self said during a televised interview after Johnson scored 39 points in Monday's 108-96 overtime victory at Iowa State, and isn't that a long way from being a "better team" with Johnson on the bench?
Now I know what you're thinking, ISU fans.
Write about the refs. They screwed us!
So let me go ahead and make it clear that, yes, the refs screwed Iowa State because Johnson should've been called for a charge on his late drive in regulation. Officials get that right, and ISU would own a 23-game home winning streak and signature victory to hand the selection committee. As it is, the Cyclones have a one-game losing streak at Hilton Coliseum, Self is the fourth-fastest in Division I history to reach 500 victories and Johnson is the talk of college basketball.
His 39 points represent the most for a Kansas player in decades. And though I could spend a good while writing about that and what it means, I think the real lesson from Monday is that this sport has a long season during which things can and often do change quickly and completely.
Minnesota was 15-1 through 16 games and considered a Final Four threat. Now the Gophers are 18-9 and talking to a sports psychologist. Joe Jackson was benched in November and some Memphis fans were convinced Josh Pastner couldn't coach. Now Jackson is the leading scorer for a team that's won 18 consecutive games and is ranked 19th in the AP poll, and some Memphis fans are worried about losing Pastner this offseason. Kansas was spiraling earlier this month and Elijah Johnson couldn't help the Jayhawks win. Now Johnson is responsible for one of the best performances from any player this season, and KU is as hot as anybody.
So remember that next time you crown or kill somebody on Twitter.
Things change.
Some folks fade.
Others get way better.
That's the reality of this up-and-down sport.
The rise of Elijah Johnson and his Jayhawks is just the latest example.
Northern Colorado will be on probation through 2020 due to academic and recruiting violati...

You might not see a projected NCAA Tournament bracket quite like this one anytime soon

The Wildcats, once written off after a three game skid, appear poised to enter Pac-12 play...
The Ducks are riding a three game winning streak yet are slight underdogs against the Bulldogs...

The Hurricanes are one of only a handful of unbeaten teams left in college hoops

The Bearcats are fresh off a convincing win over previous unbeaten Mississippi State