Elite prospect Thon Maker is leaning toward staying in class of 2016
Thon Maker is one of the most talented high school prospects in the country -- but he's not sure if he will reclassify to 2015, or even what high school he is attending in the fall.
• 1 min read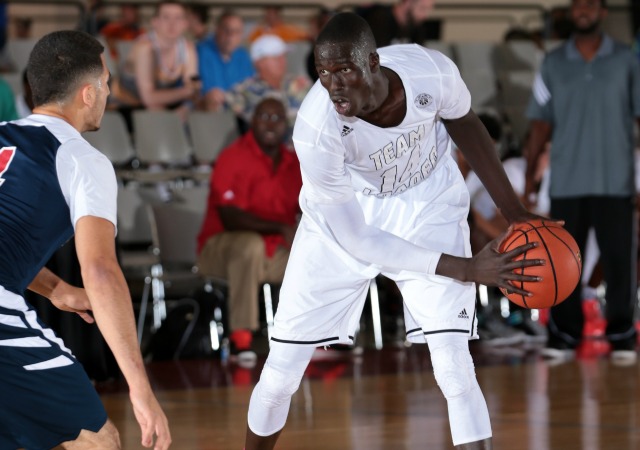 LAS VEGAS -- While most college basketball fans are awaiting Thon Maker's college decision, that's far off in the distance.
The elite 7-footer has two important choices to make -- and soon.
One of the biggest storylines in recruiting right now is the question regarding whether Maker will reclassify from the class of 2016 into 15. In terms of talent, Maker would immediately slot into the top five in the rising senior class, and perhaps even higher. He is also looking into whether he could make the cut academically.
While he is certainly capable of reclassifying, it might not happen.
"It's still up in the air," Maker told CBSSports.com and one other reporter on Friday evening. "But it's leaning toward staying [in 2016] a little bit."
The academics aren't quite aligned yet, and Maker is also not sure he is physically prepared to make the change.
"I love challenges, but I don't know," he said.
Maker attended Carlisle School (Va.) last year, but it's not a definite that he will return there in the fall. With reclassifying still a possibility, a school that would potentially enable him to make the move academically is a plus.
He wouldn't disclose which high schools were in the mix.
"I don't know where I'll be this coming year," Maker said. "It's just in the air right now."
And then there's the college decision process.
As one of the most sought-after prospects in the country, Maker has every powerhouse in the country on his trail. He visited Kansas, Missouri and Duke in June.
"Those were amazing," he said. "The Kansas visit lasted a little bit longer, but overall, they were all great visits. I got a little bit of run in at Duke with the players."
Other schools involved include Kentucky, Indiana, Memphis, Texas, North Carolina State and Arizona, while Maker also plans to see UCLA while at Adidas Nations in August.
Maker, a talented and skilled forward, is ranked No. 3 in the 247Sports Composite.
The NCAA formally notified MSU of its investigation into Nassar on Tuesday

The Sooners' freshman, pilloried for his recent performances, showed a different side Tues...

Young is leading the NCAA in both scoring and assists per game
Our advanced computer model simulated Tuesday's UNLV vs. Fresno State game 10,000 times

Our advanced computer model simulated Tuesday's Kansas-Oklahoma game 10,000 times

Our advanced computer model simulated Tuesday's Virginia vs. Clemson game 10,000 times