Elite recruit Emmanuel Mudiay going pro overseas, won't attend SMU
SMU has shockingly lost its best recruit, as Emmanuel Mudiay is planning to go overseas instead of college next season.
• 2 min read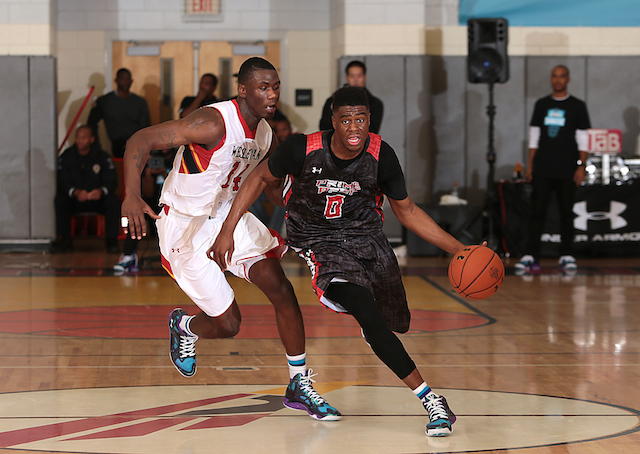 Latest in hoops: Latest News | Coaching Changes | Recruiting
Emmanuel Mudiay is planning to play professionally overseas next season, multiple sources told CBSSports.com. He was expected to enroll at SMU in the fall.
Sources said Mudiay was offered a lucrative contract to play in Asia.
The decision to turn pro is not based on academic issues, according to sources. 
Mudiay released a statement to CBSSports.com through his older brother, Stephane.
"After sitting down with coach [Larry] Brown and my family, we decided that the best way for me to provide for my mom was to forgo college and pursue professional basketball opportunities," the statement read. "I was excited about going to SMU and playing college basketball for coach Brown and his staff and preparing for the NBA, but I was tired of seeing my mom stuggle. I am grateful for coach Brown's guidance and support and I am also appreciative of all the support from Prime Prep."
His older brother added that Mudiay had already been admitted to SMU. 
Brown also released a statement on the decision.
Emmanuel has decided to pursue professional basketball opportunities," the statement read. "This is not an academic issue, since he has been admitted to SMU, but rather a hardship issue. After talking to Emmanuel, I know he really wants to alleviate some of the challenges his family faces and recognizes that he has an opportunity to help them now.
"While I believe that college is the best way to prepare for life and the NBA, Emmanuel's situation is unique. We were excited about having him at SMU, but we understand this decision and wish him the best."
Mudiay, a 6-foot-5 guard from Prime Prep (Texas), would have been one of the best guards in the country next season. He was the No. 2 prospect in the class of 2014 according to the 247Sports Composite. Assuming he decides to enter next June's NBA Draft, Mudiay could be in the mix for the No. 1 overall pick.
Mudiay chose SMU over Kentucky last August, sending shockwaves through the college basketball world. He was the icing on the cake of Larry Brown's rebuilding effort, and with Mudiay in tow, the Mustangs were likely to be ranked in the top-15 for the 2014-15 preseason.
Mudiay would be the highest-rated player to go overseas instead of playing college basketball since Brandon Jennings and Jeremy Tyler. 
We're about to get our first look at a couple of mysterious prospects, plus a reintroduction...

Sidney Bouvier Gilstrap-Portley apparently attended two different schools for a combined nine...

Gary Parrish and Matt Norlander also discuss Donte DiVincenzo's great day at the combine that...
Jurich and his former employer reached a settlement agreement for $4.5 million

Villanova is sitting at No. 3 -- but could move to No. 1 if Donte DiVincenzo and Omari Spellman...

The Jayhawks get the nod over the Blue Devils in our early Top 25 (and 1) rankings