Emmanuel Mudiay leads host of players trimming lists
After August, plenty of prospects from around the country start trimming their school lists. Emmanuel Mudiay leads the group this year.
• 2 min read
Emmanuel Mudiay is down to five schools.
Mudiay, arguably the most sought-after guard in the class of 2014, announced on Monday evening that the only schools left on his list were Kentucky, Kansas, <span data-shortcode= State" data-canon="Oklahoma Sooners" data-type="SPORTS_OBJECT_TEAM" id="shortcode0">, SMU and Baylor.
He made the announcement to ESPN at the Adidas Nations event out in California. 
Mudiay, a 6-foot-4 point guard from Prime Prep (Texas), has long been thought of as a Kentucky lean, with 27 of the 28 predictions in the 247Sports Crystal Ball pegging Mudiay for Lexington. However, Kansas and SMU have been making inroads, while Oklahoma State and Baylor are also making pitches.
"Baylor, that's down the street. Basically about an hour and 15 minutes away from me. Isaiah Austin talks to me about that," Mudiay said in the spring. "Oklahoma State, great school. They put Marcus Smart, another good friend of mine, that was in a great position this year. And he played the point guard spot, so that definitely helps."
So far, Mudiay has one official visit planned: Blue Blue Madness at Kentucky on October 18.
Mudiay wasn't the only player to firm up his list in the last week, though. As it always does after July, there were plenty of prospects narrowing their focus heading into the latter part of the summer.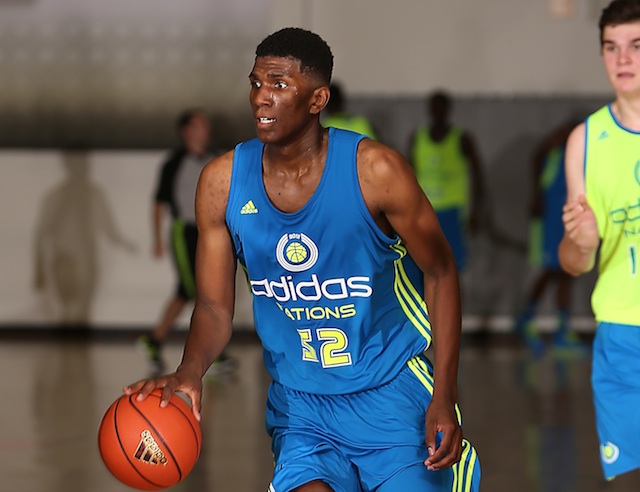 -- Kevon Looney (No. 9 in 247Sports Composite): Duke, Florida, Michigan State, Wisconsin, UCLA, Tennessee.
-- Rashad Vaughn (No. 11): Baylor, Iowa State, Kentucky, North Carolina, Connecticut, Kansas, UNLV, Arizona, Georgetown, UCLA, Minnesota.
-- Kameron Chatman (No. 36): USC, Oregon, Arizona, Michigan, Connecticut.
-- Trevon Bluiett (No. 44): Arizona, Butler, Indiana, Michigan, Purdue, UCLA, Xavier.
-- Makinde London (No. 85): <span data-shortcode= Tech" data-canon="Georgia Bulldogs" data-type="SPORTS_OBJECT_TEAM" id="shortcode0">, Miami, Mississippi State, Northwestern, Tennessee, Vanderbilt, VCU, Xavier.
-- Robert Johnson (No. 90): Pittsburgh, Virginia, North Carolina, Indiana, Florida State, Miami, Georgetown.
-- James Demery (No. 92): Creighton, Virginia Tech, Miami, Tennessee, Georgia Tech, Saint Joseph's.
-- Trey Kell (No. 110): San Diego State, Oregon, Arizona, Gonzaga, Vanderbilt, USC, UC-Irvine, UCLA.
-- Devin Mitchell (No. 115): Kansas State, Memphis, Wake Forest, Alabama, Georgia, UAB, Cincinnati, Ole Miss.
-- Matthew Fisher-Davis (No. 126): Virginia, Wake Forest, Vanderbilt, UNC-Wilmington, Elon, Georgia, Charlotte.
-- Dante Buford (No. 127): USC, South Carolina, Oklahoma, Oklahoma State, Miami.
-- Keyshawn Woods (No. 137): Charlotte, Houston, Tulsa, George Mason, Chattanooga, Charleston, UNC-Greensboro.
-- Wade Baldwin (No. 154): Minnesota, Rutgers, Pittsburgh, Virginia Tech, Vanderbilt.
-- Darius Austin (No. 216): DePaul, Indiana State, UMKC.
-- Alec Brennan (No. 224): Harvard, Princeton, Yale, Brown, Purdue, Wake Forest, Davidson, Stanford.
-- Troy Holston (No. 230): Miami, South Florida.
-- TeMarcus Blanton (No. 241): George Mason, Florida State, South Carolina, Auburn, Arkansas.
Oklahoma and Arkansas are new additions to Sunday's Top 25 (and one)

Gary Parrish and Matt Norlander discuss a wild Saturday of college basketball

Ball left the program earlier this month and has since signed with a Lithuania professional...
Sooners beat third-ranked Shockers while Florida and FSU lost in upset fashion to unranked...

The Hoosiers grow up before our eyes, and Miller has his first signature victory as Indiana...

Trae Young, a freshman and the nation's top player, has a 21-point first half at Wichita S...