Emmanuel Omogbo tragically lost his parents but gained a nation of support
Emmanuel Omogbo didn't want to answer the 5 a.m. phone call from his brother. But on the second try, he knew he had to answer.
• 12 min read
The last place Emmanuel Omogbo saw his father alive was the same place where he remembers seeing him for the first time.
Omogbo, a 6-foot-8, Nigerian-born power forward for Colorado State,  was at home in Maryland over Christmas break. He spent a few nights in Chillum, basking in a chance to take a break from basketball and to relax. While his father and two sisters were at work during the day, Emmanuel stayed at his family's two-story home with his mother Caroline and twin niece and nephew, Anna and Israel.
"One thing I remember with them is, every time I'd come home, [the twins] were starting to talk more and more," Omogbo told CBS Sports on Thursday. "And when I came home for Christmas break, they came in, hugged me, and wanted to carry my heavy book bag. They were so little. It was so funny."
Can't take nothing for granted Rest up twins love you so much  pic.twitter.com/lOaJeccZPu

— IG: Eomogbo_15 (@longmoney_e) January 21, 2016
These amusing images would be among the last Omogbo could have with Anna and Israel. On Christmas Day, Samson Omogbo drove Emmanuel, his youngest child, to the airport so he could return to Fort Collins and rejoin the Rams' basketball team. His flight was out of Baltimore-Washington International, where Emmanuel arrived as a 7-year-old immigrant from Nigeria and the place that revived his first memory of his father. And it's now the site of his final goodbye.
Samson, Caroline, Anna and Israel died early Tuesday morning, the victims of a house fire. The cause of the blaze remains unknown.
The call to 911 was made at 2:03 a.m.; within five minutes, two firefighting crews from Prince George's County Fire Department (PCGFD) were at 6700 Knollbrook Drive. The Omogbo home was flashing flames from three sides. Two Omogbo sisters, Ruth and Christiana -- who escaped unharmed because their bedrooms were on the first floor -- were in front of the house.  The twins' mother, Elizabeth, was alive but on the ground and severely hurt with injuries to her hip, back and extremities after jumping for her life from a second-story window. 
Firefighters blasted water into the blazing windows in an effort to "darken down" the scene. One crew continued to attack the fire while another was deployed to search all rooms and get all living things out of the house. They burst through the door, ran up the steps, found Anna and Israel in a second-floor bedroom, scooped them onto cots and performed CPR immediately as they exited the house.
The toddlers were rushed to the Washington, D.C., Children's Hospital. At 2:51 a.m., Anna was declared dead. Israel died 16 minutes later.
Caroline was carried out of the upstairs master bedroom and brought to another ambulance, but paramedics determined she had already died. Samson was found and declared dead inside the home as the smoke was still emanating.
On location of Chillum house fire pic.twitter.com/l2tQ108Fw5

— Mark Brady (@PGFDPIO) January 19, 2016
Sixteen firefighters fought an inferno in 15-degree weather. It took them approximately 20 minutes to completely douse the fire. Hose water sprayed everywhere, and so many firefighters battled the scene and attempted to save lives with heavy ice adhering to and hanging from their helmets, masks and suits. Protracted ladders leaning up against the house froze and wouldn't close; the exterior of the primary hose used to gush out the flames froze up as well. Approximately 100 people were operating on the scene. Thirteen fire trucks and/or ambulance companies were alerted to the blaze.
"Which is unusual," PGCFD chief Marc Bashoor said. "But it was because of the quantity of the fire, the number of the victims and the weather. It was 15 degrees, which makes it difficult for firefighters to operate. Box alarm, a task force alarm and an EMS task force were all called."
Bashoor, who has been in firefighting service for 35 years, said multiple fatalities in a residence within a community even as congested as greater Washington, D.C., are relatively rare, "maybe once or twice a year."
There is no timetable for the investigation's completion. The ATF works with local authorities to consider all possibilities. Autopsies on all the bodies need to be done in the coming days.
"It's basically like a homicide investigation," Bashoor said, though to be clear this is not a fire suspicious in nature. "Frankly, it could take years, but I don't think this will take years. You're probably talking in terms of at least a month, maybe more, and that's just based on multiple fatalities."
The ever-lingering and all too common piece of evidence that haunts Bashoor, his firefighters and the families of victims in these tragedies: There was no working fire alarm in the house.
***
Emmanuel was awakened at 5 a.m. MT on Tuesday morning by a phone call from an unknown number. He turned his phone over and didn't answer. Seconds later another call came in; it was his brother, Sam. But again, Emmanuel didn't answer. When Sam called once more, Emmanuel picked up.
"Man, you know I have class in the morning," Emmanuel said.
Then Sam told him only about the fire. He was shady with the details of his parents' fates and with what happened to the twins.
"He tried to keep it from me, first telling me that the house caught on fire," he said. "The first thing I thought about was my parents and the twins. And I was like, 'Where's Mom and Dad?'"
He hung up and immediately called his father. It went straight to voicemail.
Emmanuel called his mother. Straight to voicemail.
He called Christiana.
Straight to voicemail.
He called Elizabeth.
Straight to voicemail.
Because the phones were all melted or destroyed in the fire.
Blessing Omogbo was the fifth call, and she picked up. She also did not tell Emmanuel that their parents were dead, and that Israel and Anna were gone, too. That confirmation came around 7:15 a.m. when he got a phone call from a high school friend, who called to say sorry to hear his parents had perished. Emmanuel called his brother back and demanded to know why he was lied to.
"I said to him, 'That was messed up,'" Omogbo said. "But I understand now what he was trying to do."
Emmanuel then made his way to Moby Arena, where Colorado State plays its home games. He sat alone in the gym with a basketball in his hands. Football players stretched and worked out on the court. He did nothing.
"I kind of blanked out," he said. "I didn't see anything there. Me sitting by the goal, just holding the ball. ... I knew my parents were dead by the time my morning class started."
***
Emmanuel actually texted with his father just before his death. He shared a screengrab of that conversation with CBS Sports. In recent days, Emmanuel had been battling illness. In fact, the last time he heard his mother's voice was on a voicemail she left for him the day before, asking if he was feeling better. Unknowingly, his father's final communication with his youngest son came in the last hour of his life.
The "Monday 11:13" time stamp is from Emmanuel's phone, two hours behind the East Coast. The conversation concluded within minutes, by 1:20 a.m. ET at at the latest. Less than 45 minutes later, the house would be ablaze. We'll likely never even know if Samson fell asleep before the horror; it's believed, in the end, he died in the home trying to help others escape.
***
Emmanuel hasn't been alone since. His teammates and coaches -- and now a nation of supporters -- have rallied around him. Colorado State had a home game at Air Force on Wednesday. It's a shade over two hours by bus to get there from Fort Collins. Amazingly, Omogbo humbly insisted he could and would play. But for the first time this season, he did not start. He logged 10 minutes, grabbed two rebounds and scored one point. His junior college coach drove thousands of miles to be there for him.
"I didn't feel the same when I was out there, but I wanted to go out there and be with the team," Omogbo said. "We've been struggling, so anything I could do to help, I wanted. It was a little foggy. It felt dark. Everything was dark to me."
Before the game, Air Force offered to hold a moment of silence in honor of Omogbo's family, but he politely declined the gesture. After the game, CSU coach Larry Eustachy and the rest of the team presented Omogbo with the game ball. He broke down in front of his teammates; one CSU staffer told CBS Sports the scene was incredibly powerful and emotional.
Omogbo's first public comments on the matter were made Thursday to CBS Sports. He wanted to speak up and express his sincere gratitude over the expressions of support that have poured in from the college basketball community and beyond. Colorado State started a GoFundMe campaign Wednesday to help Omogbo and his family in recovery efforts. Within 24 hours, the page's initial stated goal of $10,000 had tallied more than $75,000 in donations.
"I just want to say thank you to everybody," he said. "Friends, family, random people hit me up, I don't know how they got my number. I'm just, I'm just shocked. I don't ... it's hard. I'm just shocked with everything that happened. I want to thank everyone for supporting me and my family, especially my brothers and sisters."
There's no limit on how much money CSU can raise; the only NCAA stipulation is that any excess funds are donated to charity. In the coming days or weeks, the school said it will let Emmanuel decide which causes he wishes to give the money to after his family is provided for. An early estimate on the destruction of the house his family was renting is listed at $250,000.
Omogbo said his parents prepared him for this moment, even if he never understood it until now.
"My dad always said, 'When I pass, you and your brothers are going to be the men of the house,'" Omogbo said. "I feel like he built me for this. And coming into this program, it's a mental toughness. A year ago, I wouldn't have handled this well. I would have flipped. I wouldn't have played. Me and my brothers are going to be fine. It hit me. I cried when I heard, but I don't want anyone to feel sorry for me. What happened, happened. I have to be a man now and grow up. I have it in my head that my parents aren't here anymore. I'm not going to be talking to my dad after every game anymore. It's a shock."
Omogbo boarded a 1:10 p.m. flight out of Colorado on Thursday with CSU assistant Ross Hodge, the man who headed up Omogbo's recruitment. The impending and potentially historic blizzard that's set to slam Omogbo's hometown and the greater mid-Atlantic region could push his return back until Monday, if not further. Omogbo will land at BWI late Thursday night and be picked up by the man who shares his father's name: Sam. He'll probably stay at a hotel and attempt to emotionally intake what's sure to be an unbelievably difficult process in the coming days. Surviving children have to decide what they're going to do with their parents, who will almost certainly be flown back to Africa for a funeral there.
***
Emmanuel said he never found out how his parents met, only that they did when his mom was 18. The last time his parents got to see him play in person was his senior year of high school.
Omogbo did not grow up poor in Lagos, the largest city in Africa. His father worked in the furniture business and networked into a big job in the United States while the family was still living in a house of its own in Nigeria. Samson Omogbo lived stateside for a half-decade before he brought the rest of his family to Maryland. While in Africa, Emmanuel attended private school. The family had a huge backyard where they would play soccer and fill appetites afterward with mom's chicken and rice. 
Samson, who started his own furniture restoration business, was also a deacon at Celestial Church of Christ in Hyattsville, Maryland. That community is grieving heavily still, and will continue to do so in the coming days. Samson preached since before Emmanuel was born. He preached in Nigeria. He preached on a Sunday, in 1995. It was May 28. His wife and family were there. And soon, so was Emmanuel. As Samson gave his sermon, Caroline went into labor. They could not leave the cathedral in time, so Emmanuel Omogbo came into existence by being born in a house of God. His parents named him after his father's late brother, who died about a year before Emmanuel was born.
When the house burned, Omogbo said he lost his Green Card, his Social Security card and "a bunch of information his dad had on paper" that he probably doesn't even know about. Trophies likely melted, and the pictures of him and his family could be gone, too. He recently got a new phone, so he doesn't have many pictures of him and his parents left. There was the framed photo in the living room of Emmanuel's graduation from South Plains Community College (Levelland, Texas) last spring. He averaged 17.0 points and 10.1 rebounds en route to carrying his team to the National Junior College finals. It was his dad who gave him the blessing to go to college so far from home; it was his mom who absolutely fell in love with Colorado State on their official visit last year.
After every game, he would talk to his dad, no matter what. Samson Omogbo would track or watch games online.
"As much as he doesn't know about basketball, every time he'd tell me to be patient," Omogbo said. "Any time I do something, I want to make sure they like it."
Omogbo said he has been helped along by hearing stories from his teammates, like one who lost his father unexpectedly while at an elite basketball camp. He says he's grieving; others around him believe the gravity of all of this has still not fully hit him.
Elizabeth was discharged from the hospital Thursday morning. Her husband -- Anna and Israel's father -- is an ocean away, trying to support the family by selling cars in Nigeria. He'll fly to the United States to bury his children in the coming days.
The painful lingering image for Emmanuel is this: In Africa, it is custom for grandparents to live with the family, taking care of grandchildren from birth, as they did their children. Elizabeth is a nurse. She works late. She would often get home after Israel and Anna had gone to sleep. Emmanuel doesn't know what went wrong or why his sister was forced to jump out of a second-floor window with her children still inside, but he does know in happened in part because his parents were watching over their grandchildren.
Amid the tragedy and mystery, Emmanuel Omogbo merely hopes he can find peace and closure through his parents' everlasting faith. And he'll continue to play in their memory for the rest of his career.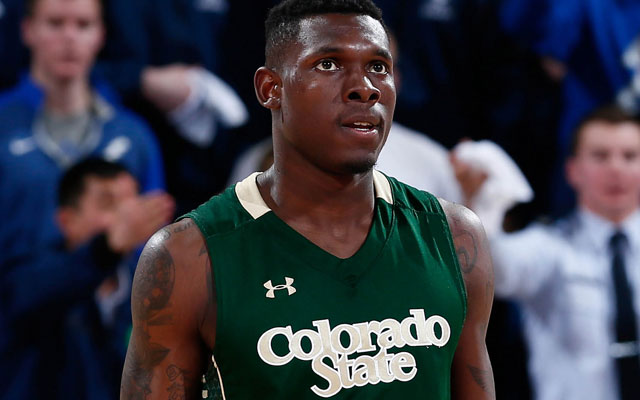 The NCAA formally notified MSU of its investigation into Nassar on Tuesday

The Sooners' freshman, pilloried for his recent performances, showed a different side Tues...

Young is leading the NCAA in both scoring and assists per game
Our advanced computer model simulated Tuesday's UNLV vs. Fresno State game 10,000 times

Our advanced computer model simulated Tuesday's Kansas-Oklahoma game 10,000 times

Our advanced computer model simulated Tuesday's Virginia vs. Clemson game 10,000 times