Emmert testimony ends with some side-stepping and deflection
The NCAA president sat for another 90 minutes on the stand Friday. How much will his testimony impact the case?
• 2 min read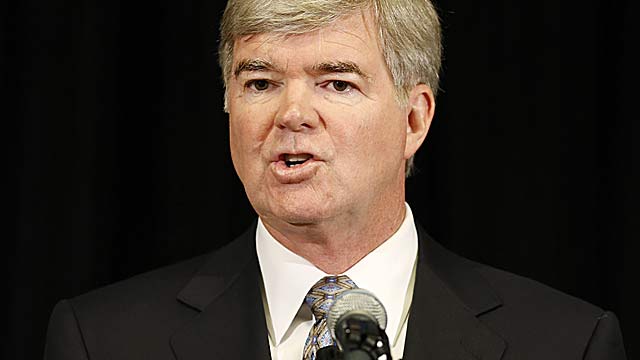 Mark Emmert was in federal court again Friday, finishing up his testimony that took more than six hours and started Thursday morning.
The NCAA president is naturally a premier defendant in the Ed O'Bannon vs. NCAA case. He stayed on message Friday, saying, "I think direct product endorsement by a student-athlete is inappropriate."
But a good portion of Emmert's 90-minute testimony on Friday centered around Wally Renfro, a former NCAA executive and a policy maker during Emmert's first year as president of the organization. Renfro worked with the NCAA for 40 years. But in 2012 he stepped down, and at that time he admitted to a lot of concerns over how the basic structure of the NCAA could continue.
An email chain from 2010 between Renfro and Emmert was used as evidence against the NCAA. Renfro referenced "commercial exploitation" of college athletes.
Plaintiffs' attorney Bill Isaacson went after Emmert on his seemingly contradictory statements; under oath Emmert referred to Renfro as a "provocateur," but in the past he's been quoted to calling Renfro "irreplaceable." Renfro was a longtime influential voice in the NCAA, yet at times on Thursday and Friday, Emmert seemed to play down just how much importance Renfro's opinion was on the stability and long-term viability of the NCAA.
Emmert was also cross-examined on the basis of natural competitive imbalance in the NCAA. Isaacson attempted to show that, despite the NCAA's best efforts, schools like Alabama, Kentucky, Texas and USC have natural, and monetary, advantages over schools such as Louisiana-Monroe, Lipscomb, Drake and Utah State.
Isaacson using Emmert's comment about Butler kids not being recruited by Kansas as evidence to current imbalance. Smart

— Mark Schlabach (@Mark_Schlabach) June 20, 2014
While being catechized, Emmert also made sure to remind the courtroom that the NCAA is comprised of its member institutions, and it's those schools who determine the law of the land.
Isaacson asking about commercial exploitation again. Emmert: "(Member schools) are the ones who establish the rules-not me."

— Mark Schlabach (@Mark_Schlabach) June 20, 2014
Isaacson brought up a few instances of players' names and images on team websites wherein sports were marketed and sometimes even used alongside business promotions or sponsorships. Emmert objected to the practice by schools who still even choose to do it.
Just entered into evidence->@GaTechMarketing: We've got new @GTAthletics schedule cards! Who needs 'em? pic.twitter.com/1HpKxhGmlc"

— Mark Schlabach (@Mark_Schlabach) June 20, 2014
How much Emmert's testimony will impact the trial remains unknown. While he was a distinct witness in this case, his sworn statements haven't shown to be unexpected or different to what he's said in the past.
In many instances over the past two days, though, Emmert wasn't able to decisively recall things that others claimed he said, or did: When he didn't need to indict himself or the NCAA on the basis of hearsay, he didn't. He stood up on behalf of the NCAA and continued to drive home the organization's beliefs. He admitted the rulebook still needs thinning. He also spoke on the inevitable market-driven nature of things like universities raising money to build lavish dorms that will appeal to student-athletes who are being recruited.
With Emmert's testimony over, it was followed by another person who is very powerful in the world of college sports. Some might even argue his impact and reach extends beyond Emmert's: Big Ten commissioner Jim Delany.
The disgraced former Louisville coach really wanted those Yeezys with the zebra stripes

It's difficult to imagine an athletic director giving the Hall of Famer another chance

The recruiting scandal has cost Rick Pitino his job as coach of the Cardinals
Pitino's lawyer fought for his client's job Monday

These teams who have the potential to pull some upsets should they make it to the Big Danc...

Gary Parrish and Matt Norlander explain how and why UNC escaped penalty