Even minus Alex Len, Maryland eyes NCAA bid
Alex Len has departed to the NBA, but Mark Turgeon and Maryland are not letting that stand in the way of their quest to reach the first NCAA Tournament of the Turgeon era.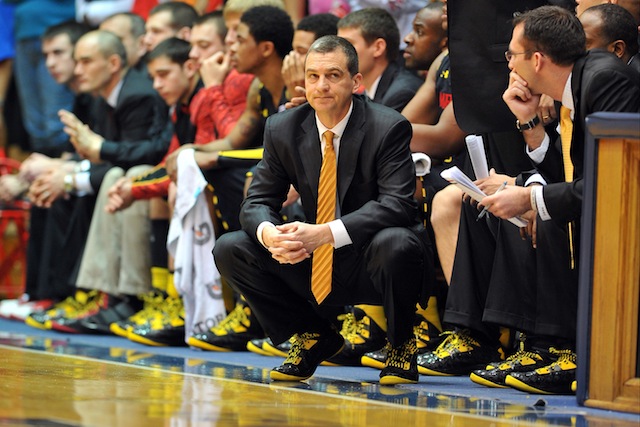 COLLEGE PARK, Md. - Alex Len was the fifth overall pick in June's NBA Draft.
The 7-1 big man had a productive sophomore season last year for Maryland (11.9 ppg, 7.8 rpg), and showed enough flashes of brilliance to reiterate why it made sense for him to leave college early.
The loss of a lottery pick usually results in rebuilding situations for most programs. But that's the furthest thing on the minds of people right now in College Park.
Why?
Experience.
Why else?
Chemistry.
"Unreal," Maryland coach Mark Turgeon said when asked recently about his team's chemistry. "This team's chemistry is unreal."
The Terps will miss Len's presence in the low post and at the rim defensively, but Maryland returns several key pieces from last season's team that won 25 games and reached the semifinals of the postseason NIT.
"In a lot of ways, we've started over every year I've been here," said Turgeon, who is entering his third season as Terps coach and has yet to reach the NCAA Tournament since arriving from Texas A&M in 2011. "But the difference is, most of the guys that are back this year were freshmen last year. They played. They learned. We're going to miss Alex in certain areas but the thing I love about this team is we're complete. We can play big or small. We have a lot of options."
A big reason for Maryland's optimism centers around Michigan transfer Evan Smotrycz. At 6-9, the skilled forward can extend defenses with his range and penchant for making outside shots. Smotrycz's ability to pass out of the high post should also create more scoring opportunities for the Terps' wings -- Dez Wells and Nick Faust.
"Guys get better just by watching him," Turgeon said of Smotrycz, who averaged 7.7 points and 4.9 rebounds per game two years ago at Michigan. "He's got a great feel. He brings maturity and smarts. He rubs off on people. He's going to be a big part of what we do."
And so is sophomore Jake Layman.
If you're looking for a breakout candidate on the Terps' roster, Layman is the guy. The 6-8 forward averaged 21.3 points during Maryland's three-game tour in the Bahamas in August and finally seems like he's adjusted to playing at the collegiate level. Armed with the ability to play both forward spots, Layman has a Chandler Parsons-type feel to his game and could potentially evolve into one of this team's offensive focal points.
"He's got a huge upside," Turgeon said of Layman, who averaged 5.5 points per game as a freshman last season. "He's got great hands and you can use him in so many different areas."
A big part of Layman's success will hinge on the Terps' point guard play, which should be vastly improved from a year ago.
Pe'Shon Howard, last season's floor general, transferred to USC and opened the door for Seth Allen to become Maryland's starter as a sophomore. The 6-1 lefty showed flashes of promise last year, and while Allen is probably more of a combo than a true point, he still should be much better than he was a year ago because of the experience he gained as a freshman.
"It's just a matter of maturity," Turgeon said when he was asked about Allen becoming Maryland's starting point guard. "Seth really started to get it the last two weeks of last season. His turnovers were down and he was doing a much better job of running the team. Then he breaks his hand in the NIT. He did a good job last year as a freshman and was our fourth-leading scorer. The thing people forget about Seth is how young he is. He's just about to turn 19."
Allen will be backed up by Roddy Peters, a 6-4 freshman with great size who has the ability to defend multiple positions.
This team's overall production level at point guard, and the ability of both Shaquille Cleare and Charles Mitchell to replace Len's girth in the middle are two of the bigger keys to the Terps' season.
Cleare was a highly-touted prospect out of high school but has battled nagging injuries throughout the summer. Mitchell meanwhile, has shed 20 pounds after a promising freshman year that saw him average 5.5 points and 5.4 rebounds per game.
"He's always had a nose for the ball," Turgeon said of the 6-8 Mitchell, who had five games last year with double-figure rebounds. "If he continues to go after the ball like he is right now, he should have a big year."
With Mitchell, Cleare, and 6-9 freshman Damonte Dodd, the Terps should have enough on the baseline to compensate for Len's departure. Maryland won't have the luxury of having a low-post scorer as skilled as Len was, but that doesn't mean the Terps collectively can't be as effective.
This is an important season for Turgeon's program. Maryland is ending its tenure in the ACC and will head to the Big Ten a year from now. The move to a conference based in the Midwest hasn't hurt the Terps' recruiting. Maryland already has commitments from four Top 100 level prospects for 2014 in Romelo Trimble, Dion Wiley, Jared Nickens, and Trayvon Reed.
Turgeon has also upgraded the non-conference schedule and Maryland will open the season against UConn at the Barclays Center and also travel to Ohio State on Dec. 4 as part of the ACC/Big Ten Challenge, and the Paradise Jam Tournament in the Virgin Islands where it could potentially play Providence or 2013 Sweet 16 entry La Salle in the finals. The Terps also host Oregon State and face an improved George Washington team in the BB&T Classic on 12/8.
A plethora of opportunities exist in November and December for the Terps to make statements nationally. But if this program truly wants to enter the Big Ten as a contender in 12 months, the biggest step would be playing meaningful games in March.
Maryland has three legitimate wing scorers in Wells, Faust, and Layman while Smotrycz's instincts should give this team a savvy it lacked last season. If Allen can set the table for his teammates and Mitchell and Cleare hold their own in the paint, the Terps have the potential to be right in the mix at the top of the ACC Standings.
If that happens, Turgeon will have Maryland back where its fans crave to be.
"We fully expect to be a part of the NCAA Tournament," Turgeon said. "It's the next step."
Arizona, for no good reason, doesn't have to play at USC or UCLA this season

We look at the 'Major 7' leagues and give you the best of what's to come in conference play...

Louisville's coach predicts a change is coming to the NBA's one-and-done rule by 2019
Multiple former players of Lonergan's alleged verbal abuse and inappropriate remarks

When Miller left for Indiana, there was cause for concern in Flyerland; a top-100 signee says...

The Hoyas will spend their non-league schedule playing mostly nobodies -- as will most big...