Coaches everywhere, from youth leagues to the NBA, were given an invaluable resource on Saturday night -- vindication for all the times they've screamed "Box out!" to their players or made them run sprints for failing to do so.
Now, and forever, coaches will be able to show film of Oregon's Jordan Bell failing to box out North Carolina players -- not once, but twice -- with a national championship appearance on the line.
It's the most crystal clear illustration to date of how the basic, yet often overlooked, skill can truly be the difference between winning and losing. But you don't need to tell that to Bell. He knows, and it makes him sick to his stomach.
"If I would have just boxed out, I had two opportunities to do it," a tearful, heartbroken Bell said after the game. "I missed both of them. We lost the game because of it."
It's hard to watch, even harder to fathom. By far Oregon's leading rebounder this season, Bell put up double-digit rebounds in every game of the NCAA Tournament and pulled down 16 against UNC on Saturday. Unfortunately, it will be the two that he didn't grab that everyone will remember.
For those that aren't familiar with boxing out, the concept is simple: Put your body between the opposing player and the ball after a shot goes up to stop him from getting the rebound. The goal is not, as many believe, to get the rebound yourself -- in fact, going after the ball rather than boxing out your man often results in disaster.
The first step in boxing out is always, as players are taught from the time they're old enough to spell "rebound," to make contact with the man you're trying to box out. "Sit on his knees" is a tenet preached by coaches, a technique that will ensure that your man cannot move around you to get the ball.
When North Carolina's Kennedy Meeks went to the line with 5.8 seconds left his team up 77-76 and missed his second free throw, Bell clearly failed to even initiate step one of boxing out. He takes a single step toward Theo Pinson, then walks toward the basket. To be honest, it looked like Bell read the ball and thought it was going in, and looked to be ready to take the ball out of bounds when it ricocheted off the front iron.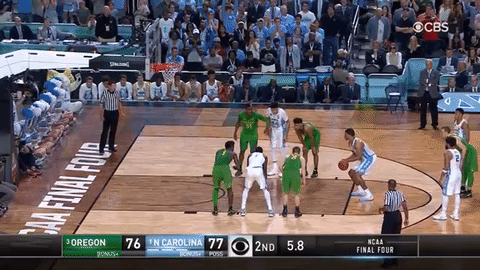 The ball ended up in the hands of UNC guard Joel Berry, who was fouled. He missed the first free throw, then gave Bell a shot at redemption -- something so rare in sports -- on the second. Unfortunately, inexplicably, Bell was once again caught watching the ball instead of putting his body into his man (this time it was Meeks, who slipped around Bell to grab the ball without much resistance).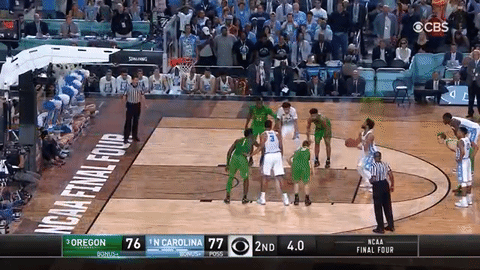 Still, the next day, it's hard to believe. The best rebounder on one of the best teams in the country forgets to box out on two consecutive game-changing plays. There's no guarantee that the Ducks would have scored, of course, even if he had secured the board. Though Bell had no doubt in his mind.
"We would have for sure scored. I know that for a fact," he said after the game. "There was too much time left. All I had to do is get the rebound and we would have scored, and won the game."
It's a sad story to be sure, and nobody, probably even the Tar Heels on some level, wanted to see the game end that way. But that's sports. That's basketball. That's March Madness. Split-second decisions or lapses can stay with you for your whole life.
And it certainly seems like this one is going to stick with Bell.
"You play your ass off all season, but in the game that matters and in the moment that matters, I didn't do my job," Bell said. "This is going to hurt forever."