Final Four lookahead: Can anybody keep the SEC from this title?
Billy D, Coach Cal, Shabazz and Frank the Tank. No, this is not the Final Four any of us predicted. But, on the surface, it looks like it's going to be fun.
The Final Four is set.
The storylines are obvious:
Billy Donovan trying for his third national title in nine years.
Shabazz Napier continuing the best Kemba Walker impression ever.
Bo Ryan coaching in his first Final Four.
John Calipari's Fab Five attempting to do what the Fab Five couldn't do.
Needless to say, this is not the Final Four I predicted, and I doubt it's the Final Four anybody predicted considering it features a No. 7 seed and a No. 8 seed -- specifically a Connecticut team that finished three games back of Louisville and Cincinnati in the American Athletic Conference, and a Kentucky team that finished six games back of Florida in the SEC.
Pretty wild, right?
I can't wait to get to AT&T Stadium.
Let's get ready with a Final Four Look Ahead.
Saturday's national semifinals
Florida (36-2) vs. Connecticut (30-8)
Tip: 6:09 p.m. ET
TV: TBS
Line: Florida -6.5
Florida is favored because ... the Gators are ranked No. 1 and the winners of 30 consecutive games. Duh! But it should be noted that the last time Florida lost, way back on Dec. 2, the team that dealt the Gators that loss was UConn, and the player who did them at the buzzer was Shabazz Napier, who might now be on the verge of stacking National Player of the Year awards if not for that dude named Doug McDermott. That said, it should also be noted that Florida's Kasey Hill did not play in that December game, that Scottie Wilbekin was injured with 3:01 remaining, and that Chris Walker wasn't even eligible. So these Gators are different than those Gators. But whatever. Napier-Wilbekin Round 2 should be terrific.
Kentucky (28-10) vs. Wisconsin (30-7)
Tip: 8:49 p.m. ET
TV: TBS
Line: Kentucky -2.0
Kentucky is favored because ... the Wildcats just beat, in order, Wichita State, Louisville and Michigan to become the first school in history to eliminate three programs that made the previous season's Final Four. Finally, after all of the ups and downs, John Calipari's Wildcats look like the team most folks ranked No. 1 in the preseason -- and they've won the last two without the services of their lottery pick center, Willie Cauley-Stein, who spent Sunday's win over Michigan either on crutches or seated. Barring a surprise, UK won't have Cauley-Stein at the Final Four because of an ankle injury, and that's too bad; he's an interesting guy dealing with bad luck. But Kentucky has shown that it's capable of beating pretty much anybody with or without him, and that's why UK's fan can head to Texas optimistic about their chances of winning a second national title in a span of three years.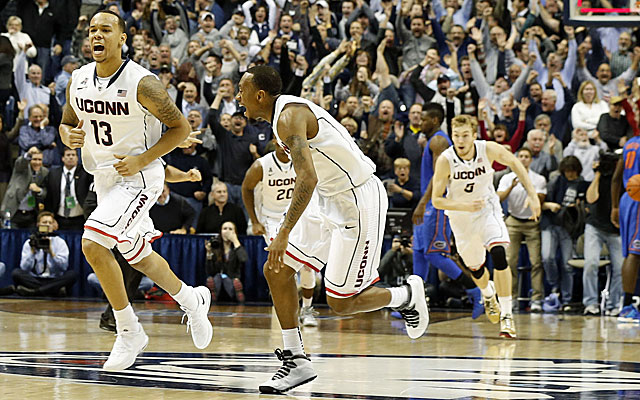 Four observations about this Final Four
1. Everybody but Florida was pretty average at some point this season: UConn went through a stretch where it lost to Houston and SMU in consecutive games, and the Huskies actually lost to SMU twice before losing to Louisville by 33 points three weeks ago. Meantime, Wisconsin lost five of seven games (to Indiana, Michigan, Minnesota, Northwestern and Ohio State) from Jan. 14 to Feb. 1, and Kentucky, man, do I even need to explain Kentucky? The Wildcats were swept by Arkansas, beaten by South Carolina and unranked at the end of the regular season after finishing tied with Georgia in the SEC. So what's the lesson here? Same lesson as always, actually. And that lesson is that college basketball's season is long, and that a single-elimination tournament of 40-minute games with a short 3-point line can lead to some pretty unpredictable results. Speaking of ...
2. Kentucky is here, in part, because of that 3-point line: The Wildcats are not a good 3-point shooting team, proof being that they rank in the 200s nationally and shot 31.9 percent from behind the arc in SEC games. But they made 8 of 18 (44.4 percent) 3-point attempts in a 78-76 win over Wichita State in the Round of 32, and 7 of 11 (63.6 percent) 3-point attempts in a 75-72 win over Michigan in the Elite Eight. Add it up, and the Wildcats have made 15 of 29 (51.7 percent) 3-point attempts in the nail-biters, point being that without those uncharacteristically great shooting performances the Wildcats might not be alive.
3. This is neither what KenPom nor the RPI expected: KenPom had these four schools ranked No. 3 (Florida), No. 13 (Wisconsin), No. 17 (Kentucky) and No. 25 (Connecticut) when this tournament started while the RPI had them ranked No. 1 (Florida), No. 6 (Wisconsin), No. 17 (Kentucky) and No. 22 (Connecticut). So, as I'm compelled to remind you almost every year, don't feel too bad about your human thoughts leading you down a bad path. The computers weren't that good, either.
4. But the preseason Top 25 (and one) wasn't too bad: These four schools were ranked No. 1 (Kentucky), No. 7 (Florida), No. 14 (Wisconsin) and No. 20 (Connecticut) in preseason Top 25 (and one), which means it's possible I knew more in November than I know right now. That's usually the way it works, I think.
Final thought: SEC schools will make up half of the Final Four, which has led some fans to argue that this proves the SEC was underrated all year. If you're one of those fans, please, just stop. I explained this in a column last week. Click here and read it if you missed it.
Or just understand this ...
Florida and Kentucky making the Final Four doesn't mean the SEC was great or even good; it merely means that Florida has always been great and Kentucky is suddenly playing really, really well. That's it. That's all it means. Trying to draw any conclusion larger than that from this is an exercise in silliness, and there's no reason for anybody to be silly.
Do you think the Eastern Conference is good because the Heat and Pacers are good?
Of course not.
Same logic applies here.
So apply it, please. Seriously, just apply it so we can all move on.
A revamped Erwin Center is part of a $4.25 million upgrade to the Longhorns' hoops facilit...

Nov. 10 will be here before you know it so here's what you need to know

The league would be wise to treat that series like the ACC treats Duke-North Carolina
Pacific is penalized after the NCAA found academic rules were broken

Arizona, for no good reason, doesn't have to play at USC or UCLA this season

We look at the 'Major 7' leagues and give you the best of what's to come in conference play...