Five observations, and five games I'll be watching
Jon Rothstein offers up his thoughts on the action of the week to date, and the games his antennae will be up for this weekend.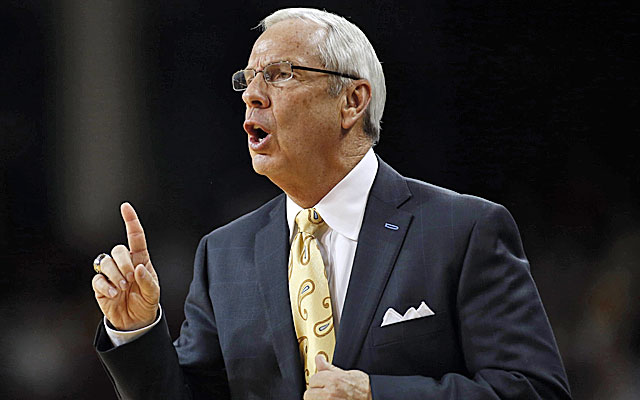 Check out below for five observations I had during another exciting week in college hoops, as well as a list of several games I'll be checking out this weekend -- several of which are under-the-radar.
Five observations from the week...
1. Duke Blue Devils has assembled a "Kentucky" type recruiting class for next season.
And that's why it seems like a formality that the Blue Devils will be ranked No. 1 in virtually every preseason poll next fall. Mike Krzyzewski has had several top-flight recruiting classes during his tenure in Durham, but the one he's bringing to campus next season has the look of something special. Just six days after landing the 2014 class' best center prospect in Jahlil Okafor along with highly decorated floor general Tyus Jones, Duke received a commitment on Thursday from top-20 wing Justise Winslow. Those three along with sharpshooter Grayson Allen will give the Blue Devils far and away the best recruiting class in America entering next season. This shouldn't come as a surprise considering Duke has won four national titles under Krzyzewski's watch, but it does add a unique wrinkle to things knowing that next year's freshman class with the most potential "one and dones" will be playing in Durham and not Lexington. The Blue Devils will likely lose Jabari Parker and Rodney Hood after this season to the NBA, but will still return veterans Quinn Cook , Rasheed Sulaimon, Matt Jones , and Amile Jefferson in 14-15.
2. How Memphis Tigers plays on the road will be a major story to watch as the Tigers jump from Conference USA to the American Athletic Conference.
The Tigers really struggled against an elite Oklahoma State team on Tuesday night in Stillwater. While the Cowboys may be the best team Memphis plays this season aside from Louisville Cardinals , how this squad plays away from the FedEx Forum will be something really interesting to follow. The Tigers were able to walk through Conference USA for years simply because they had significantly better talent than their opponents. That won't be the case anymore. By joining the American Athletic Conference, Memphis has put itself in a situation where it will now be playing legitimate programs on a regular basis away from home. With all due respect to the teams in Conference USA, going on the road and playing at UConn, Cincinnati, South Florida and Louisville will be a much difficult situation.
3. Amir Williams is producing early for Ohio State Buckeyes .
It has only been four games and the only real test the Buckeyes have had was against Marquette Golden Eagles , but it's tough not to be encouraged by the way Williams has played so far this season. The 6-foot-11 center is averaging 9.5 points, 6.8 rebounds, and 2.3 blocks and is giving Ohio State legitimate production in the pivot. Why is this so important? Last season, in an effort to get his best players on the floor, Thad Matta went to a smaller lineup toward the end of the year that featured 6-8 Deshaun Thomas at center. If Williams can continue to play at the level he has so far this season, the Buckeyes will be able to play with a traditional lineup for longer stretches once this team gets into the Big Ten.
4. Fred Hoiberg will have Iowa State Cyclones in the NCAA tournament for the third consecutive year.
How do I know that, three weeks into November? The Cyclones had their biggest nonconference regular-season win in Hoiberg's tenure last Sunday when they beat Michigan Wolverines and then three days later beat a very good BYU team in Provo. Why is this so impressive? When you're dealing with college athletes, one of the hardest things to do is to get them to maintain focus and avoid letdowns. The Cyclones were completely set up to lay an egg after the Michigan win and they didn't. This all comes back to Hoiberg. He knows exactly what buttons to push with his players and how to keep them locked in without coming across like a taskmaster. That type of demeanor has worked wonders the past few years in Ames and it will ultimately help as this team gets back to the field of 68 next spring. Another thing to keep in mind? DeAndre Kane may wind up being a first-team All-Big 12 player. Through four games, Kane is averaging 15.5 points, 8.5 rebounds, and 5.0 assists per game.
5. Pitt's James Robinson is one of the least appreciated point guards in America.
He doesn't dazzle you with big-time numbers or overwhelming athleticism, but Robinson runs a team about as well as anyone. Through four games, the sophomore floor general has handed out 18 assists and only committed four turnovers. In the Panthers' win over Lehigh Mountain Hawks on Tuesday night, Robinson played 26 minutes, dished out 11 dimes and didn't turn the ball over a single time. In a lot of ways, this kid is the perfect match for Jamie Dixon. During the past decade, Pitt's program hasn't been flashy but it has been unbelievably effective. That's just the way Robinson plays the game. His presence is a major reason the Panthers have the ability to be a major factor during their first season in the ACC. Pitt is currently 4-0.
Five games I'll be watching this weekend...
Massachusetts Minutemen vs. New Mexico Lobos (Charleston Classic)
If you like offense, this is the game for you. The Minutemen had six players in double figures in their win over Nebraska Cornhuskers on Thursday while New Mexico got 29 points, 10 assists and six rebounds from Kendall Williams in its double-overtime win over UAB Blazers . The Lobos look committed to playing a faster pace under first-year coach Craig "Noodles" Neal and that will be music to UMass' ears. Derek Kellogg's team is at its best in transition and this game should allow it to do just that. Keep an eye on Western Kentucky Hilltoppers transfer Derrick Gordon in this one for the Minutemen. His defensive prowess against Williams could be a big factor in whether or not UMass can earn yet another high-quality win early in the season.
Richmond Spiders vs. North Carolina Tar Heels (Mohegan Sun)
Everyone is expecting a dream matchup between the Tar Heels and Louisville on Sunday, but after watching Roy Williams' team during its past few games, UNC could have its hands full with the Spiders. North Carolina is having serious offensive issues without both P.J. Hairston and Leslie McDonald and needs someone to emerge as a capable offensive threat. The Tar Heels are getting no scoring from the wing and are an atrocious 35 for 66 from the free throw line in their past two outings. Fresh off a loss at home last Sunday vs. Belmont Bruins , North Carolina needs to push the pace early against a cerebral Richmond team that's very well coached by Chris Mooney.
George Mason Patriots at Iona Gaels
Two programs with strong basketball traditions begin a home-and-home series on Saturday in New York. The Patriots are still without Erik Copes (suspension) but Paul Hewitt told CBSSports.com that Bryon Allen should return after missing the past two games with a knee injury. For Iona, it's always about the pace. The Gaels were competitive until the middle of the second half on Tuesday night against Kansas and want to push the tempo on every possession. If this game breaks 70, it will be awfully tough for the Patriots to get a road victory.
Harvard Crimson at Colorado Buffaloes
How good are the Crimson? We'll have a much better idea after they tangle with the Buffaloes on Sunday in Boulder. Harvard scheduled this game on its way out to the Great Alaska Shootout and Colorado will be a very good barometer for Tommy Amaker's team. The Crimson will have to find a way to stop Buffaloes big man Josh Scott , who gives Colorado a distinct advantage in the middle. Both of these teams have NCAA potential and should provide great theater for a Sunday afternoon in November.
San Francisco Dons at Oregon Ducks
The Ducks have been must-see TV early thanks to their deep and talented backcourt, but Dana Altman's team will be challenged on Sunday. The Dons are better than their 2-2 overall record and scored a good win over a Cleveland State Vikings team that could fare very well win the Horizon League. The hard thing about playing a team like San Francisco? They shoot almost 40 percent from 3-point range and will force Oregon's big men to defend away from the rim. This is a very good test for the Ducks, who are now over two weeks removed from their opening night win over Georgetown in South Korea.
The Memphis transfer, who was already in Bill Self's doghouse, could be in trouble again

Cavaliers basketball coach tapes statement on behalf of his university and his city

Gary Parrish and Matt Norlander discuss all things Marvin Bagley and his immediate future
Which version of Grayson Allen will show up for Duke and other questions for every ranked...

Upon landing the nation's top recruit, Duke tops the list with other title contenders at the...

The presumptive No. 1 overall NBA Draft choice makes the Blue Devils 3/1 favorites to win it...