Five questions entering Steve Alford's first season at UCLA
Will a demanding UCLA fan base be happy with the progress of the Bruins program under Steve Alford. Only if these questions are answered in a positive manner: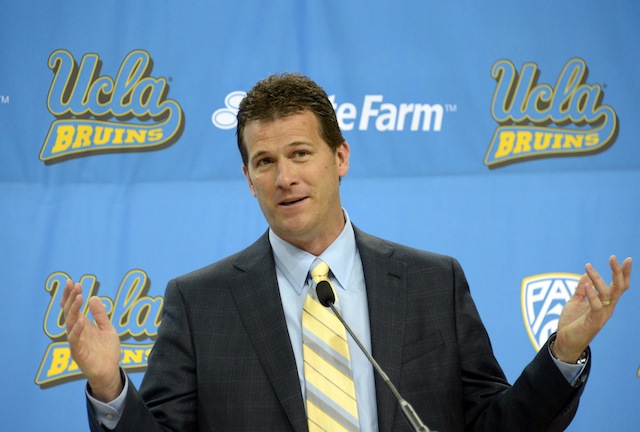 No coach in the country will be more scrutinized in 2013-14 than Steve Alford, the former Missouri State, Iowa, and New Mexico coach who has transitioned to arguably the most storied program in college basketball history. A look at the questions Alford and the Bruins must solve to turn the page in a positive way:
5. Can Kyle Anderson defend small forwards?
It's the million dollar question right now in Westwood. The 6-9 Anderson played power forward last season and regularly guarded "fours" on defense. One year later, he's the Bruins' likely starting point guard with Norman Powell and Jordan Adams on the wings and Travis Wear and Tony Parker up front. If Steve Alford chooses to play Anderson, Wear, and Parker on the floor at the same time, it means Anderson -- whose nickname is "slow mo" -- will have to regularly defend small forwards. No one is questioning Anderson's playmaking ability and overall skill level for his 6-9 frame, but guarding wings instead of post players will be a major challenge for the talented sophomore.
4. What will UCLA get from Zach LaVine?
The 6-5 freshman can play either guard position and has big time upside. If LaVine can provide a major lift in reserve, it will do wonders for the Bruins. UCLA may have experience and a host of players that contributed to a 2012-13 team that won the Pac-12 regular-season title, but one thing this unit doesn't have is proven depth. David Wear will likely be one frontcourt reserve, with freshman Noah Allen being another. Alford is still awaiting word from the NCAA on whether or not freshman forward Wannah Bail will be eligible to play this year, and Bryce Alford (the coach's son) is another freshman guard who will be forced into immediate action. There's not a lot of proven commodities for this team in reserve, but they still do have LaVine. His role will have to be a big one if Alford's first season in Westwood is to be a success.
3. Will Travis Wear produce without Larry Drew?
No one benefited more last year from playing alongside Drew (now with the Miami Heat) than Wear. The 6-10 forward became a lethal pick-and-pop threat and regularly extended the defense while bringing the opponent's center away from the rim. Wear's ability to effectively run pick-and-rolls with Drew opened up seams in the middle of the paint for the Bruins' perimeter to penetrate to the rim and score or get fouled. With Anderson likely set to run the show for UCLA, it will be interesting to see how he meshes with Wear.
2. How Does Jordan Adams respond to increased attention?
If no one was wearing jerseys last year, people would have said Adams was the Bruins' best player. Lost somewhere between the hype surrounding Anderson and Shabazz Muhammad, Adams came to Westwood as an under-the-radar commodity and turned into one of the most productive freshmen in the country. The 6-5 guard averaged 15.3 points and 3.8 rebounds per game, showing an unbelievable feel along with an uncanny ability to make big plays in crunch time. If Adams didn't go down in the Pac-12 tournament with a broken foot, there's no telling how far UCLA could have advanced in the field of 68. Nevertheless with Muhammad now in the NBA, Adams becomes to Bruins' go-to guy. The stocky sophomore has a chance to be one of the best players in the Pac-12, and he'll need to be if UCLA is to have a chance to win their second consecutive league title.
1. Will different necessarily mean better?
Alford knows all about expectations because he's lived with them his whole life. The 48-year old Indiana native played his college basketball for Bob Knight and has always been in the spotlight. But this is UCLA. Successful regular seasons and making the NCAA tournament mean nothing. This isn't remotely close to Missouri State, Iowa or New Mexico, where Alford (463-235 for his career) coached and had modest success before arriving in Westwood last March. Ben Howland went to three straight Final Fours between 2006-08, was chastised for playing a boring style, then changed the style and won the Pac-12 regular season title last season only to be fired at the end of the year. We know Alford can coach but we don't know if the Bruins have a chance to be as good as they were last season under Howland. Drew was the gas that started UCLA's engine last year and the conference as a whole looks to be vastly better. The Bruins should have enough to reach the NCAA Tournament, but advancing far once they get there could be a difficult accomplishment with the way things are currently constructed.
Duke's much-anticipated Allen-Duval connection is off to a hot start already

It'll be Miller vs. Miller if the Hoosiers and Wildcats can finalize the proposed series

Wisconsin's Ethan Happ has made only two jumpers in his career, but is adding a long-range...
The deal is part of long-awaited $2.64 billion contract; CBS' hoops-only commitment runs through...

If Wichita State guard Landry Shamet has a breakout season, he could leave early for the N...

Athletic big man finished 3-day trip to Durham, N.C., with trips to USC, Arizona coming up