Five-star guard Jaquan Lyle trims list to four
After initially hoping to announce his final four on Wednesday, Jaquan Lyle finally trimmed his list on Thursday evening.
• 2 min read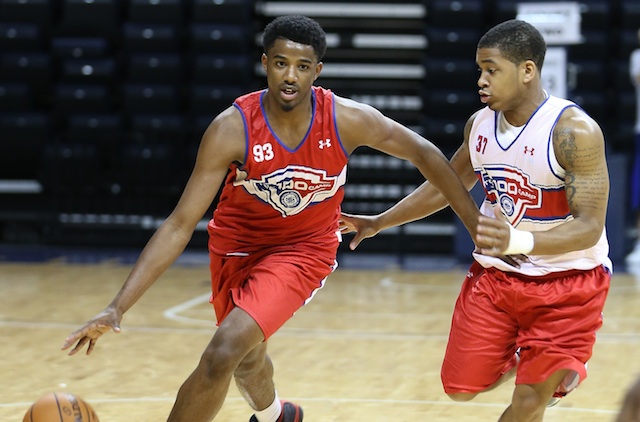 CHARLOTTESVILLE, Va. -- Jaquan Lyle created a bit of a stir in the recruiting world on Wednesday afternoon, claiming on Twitter that he was ready to trim his list to four. Shortly after, Lyle took it back, saying he wasn't ready to leave off any schools.
On Thursday evening, Lyle was ready -- for real this time.
He announced at the NBPA Top 100 camp that his final four schools are: Indiana,  Louisville, Tennessee and Florida.
Illinois, UCLA and Ohio State didn't make the cut. 
"Those four schools are the best for me," Lyle said. "I really like them a lot. I think I fit in real well with all the programs. It's the best decision for me and my family."
The 6-foot-5 guard from Evansville Bosse (Ind.) took a trip to Louisville earlier this week, after playing for the Indiana Junior All-Stars over the weekend. The Cardinals made an impression on Lyle and his mother.
"It went real well," Lyle said. "Coach [Rick] Pitino and coach [Kevin] Keatts showed us a great time. Overall, it was a great visit."
While he wants to take a trip to Indiana in the near-future, Lyle probably won't make his Gainesville visit until it's time for an official trip. The only other unofficial visit on the docket right now is Tennessee, where Lyle expects to attend the Volunteers' Elite Camp on June 22. 
It might not be as big of a program as the other three in the final quartet, but Tennessee is squarely in the mix for Lyle's signature.
"Coach [Cuonzo] Martin and coach [Tracy] Webster, I love those two guys," he said. "I think it's a great program. I think I fit in real well."
Lyle will be the one to make the final decision when it comes to his next destination, but his mother and grandmother will also have a say in his choice. He said they thought UCLA was too far from home, which was one of the reasons the Bruins didn't make the cut.
He doesn't downplay his mother's influence, either.
"It's very important," Lyle said. "I'm a mama's boy, so if she doesn't like it, it's probably going to be hard for me to go there. If she likes it, it just helps it out even more."
Ranked No. 15 in the 247 Sports Composite, Lyle is very difficult to defend, and his body enables him to capably finish at the rim through traffic and contact. Lyle handles the ball like a point guard and is a very good passer for his 6-foot-5 size. He gets into the lane and creates open looks for himself at a high rate.
Was there contact? 'Everybody saw it,' UK coach John Calipari said

After losing its second game this week, a deep NCAA Tournament run looks far-fetched for U...

Coach K shows he is on on top of his game by landing the best three prospects in the Class...
The Buckeyes and Boilermakers continue to assert their dominance in the Big Ten

The 5-star phenom was thought to be headed to Clemson, but was swayed to the Blue Devils

The nation's No. 3 player will commit Saturday and here's his impact on each of his finali...