Five-star guard prospect Antonio Blakeney verbally commits to LSU
Antonio Blakeney, one of the most well-rounded guards in the class of 2015, has picked his school.
• 1 min read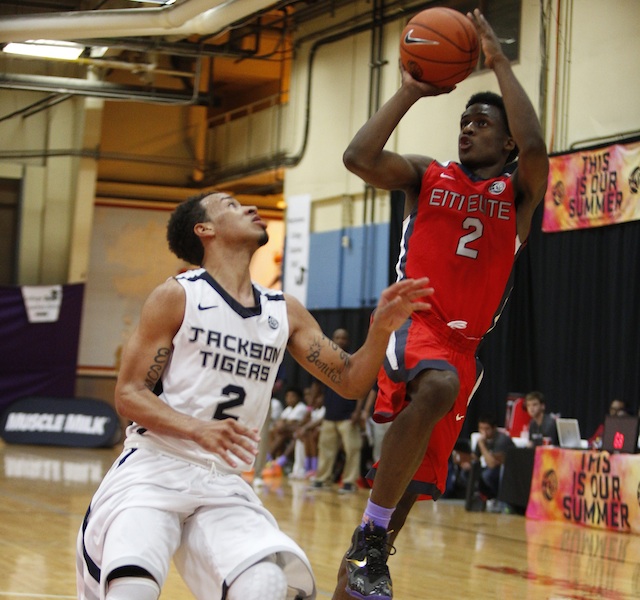 One of the most well-rounded guards in the class of 2015 has picked his school.
For a second time.
Antonio Blakeney, who originally committed to Louisville in the summer, announced on national television Friday afternoon that he'll instead attend LSU for the 2015-16 season.
LSU beat out Kentucky, of all schools, for Blakeney. Missouri was in the final running as well.
It's a huge coup for Bayou Bengals coach Johnny Jones, who will have one of the top recruiting classes in the country next season. Blakeney coming aboard means he'll join his summer ball/AAU teammate, Ben Simmons.
Simmons, you might have heard, is rated as the top high school player in the class of 2015. LSU will have hopes next season of reaching a Final Four, something that hasn't happened since 2006. And in terms of optimism around the program, you might have to go as far back as the early-'90s days of Shaquille O'Neal to see the last time Louisiana State University was so well-positioned in college hoops. If Jarell Martin and/or Jordan Mickey return (both are NBA prospects), it's possible LSU will be a preseason top 10 group come next October.
It's been an interesting few months for the 18-year-old recruit from Florida.  Blakeney's balk on Rick Pitino's program came on Sept. 15.
"I feel like I made a quick emotional decision based on some of the wrong reasons," Blakeney told CBSSports.com in September.
On Friday afternoon, Blakeney was blunt in how his relationship with Simmons played a role in his college choice.
"It factored in a lot, just because I know how good he is and how good he can make a team," Blakeney said on ESPNU of his friendship with Simmons. "Me and him together, we can take a lot of stress off each other on the court. That had a lot to do with it. We have good chemistry on and off the court."
Blakeney is a 6-foot-4 shooting guard, a kid who's been a consensus top-20 overall player for more than a year now. He's known for his speed with the ball and reliable jump shot. He played on the AAU circuit with Each 1 Teach 1, a Nike-sponsored group, alongside Simmons.
Villanova, which is expected to lose four starters, is No. 7.

Reigning national champion Villanova slips in our early Top 25 (and 1) rankings

Zenger was hired in early 2011, and while the basketball program has continued to thrive, football...
We're about to get our first look at a couple of mysterious prospects, plus a reintroduction...

Gary Parrish and Matt Norlander also discuss Donte DiVincenzo's great day at the combine that...

Sidney Bouvier Gilstrap-Portley apparently attended two different schools for a combined nine...