Five-star prospect Kevon Looney is heading to UCLA
Kevon Looney, one of the elite forwards in the 2014 class, chose UCLA at a Thursday afternoon press conference.
• 1 min read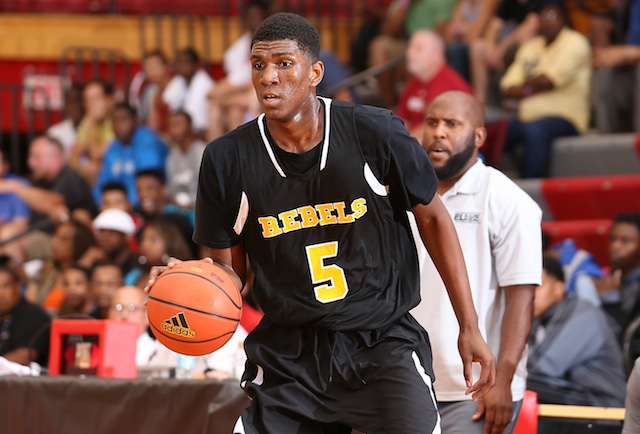 More College Basketball: Season preview | Top 25 (And One) | Conference predictions
One of the weirdest recruitments in the class of 2014 finally came to an end on Thursday afternoon.
Kevon Looney, ranked No. 12 in the 247Sports Composite, announced he's heading to UCLA.
Looney chose the Bruins over Florida, Duke, Michigan State, Tennessee and Wisconsin.
His announcement completes a whirlwind couple of days that saw nearly every team in his recruitment seem like the leader at one point or another. Duke was thought to be the favorite for most of the summer, but Florida and UCLA both made strong pushes down the stretch. Tennessee also had a very good relationship with him, while Michigan State was also heavily in the mix. Wisconsin had the edge of being close to home.
Looney, a 6-foot-9 power forward from Hamilton (Wisc.), is a versatile frontcourt player who can fit into different roles. He is capable of starting his offense from the wing when he's facing up, but he's also good around the rim. He can shoot from the perimeter and has finishing moves in the paint. Looney's length helps him on the glass, where he excels as a rebounder. Defensively, he's a good shot-blocker. Looney isn't overly explosive, but his motor and competitiveness make up for it.
Looney is the second commitment for Steve Alford in the 2014 class, joining big man Gyorgy Goloman. Park Tudor (Ind.) forward Trevon Bluiett committed to the Bruins at the beginning of September, but reopened his recruitment one month later. Alford isn't done yet, though, as the Bruins still have offers out to Justise Winslow, Jonah Bolden and Thomas Welsh.
UCLA will lose both Travis and David Wear after this season, while versatile point-forward Kyle Anderson is also expected to go pro. Given how thin the Bruins are in the frontcourt this season, there will be plenty of minutes to go around for Looney in 2014-15. 
The 10th-ranked Jayhawks end a four-game Morgantown losing streak with a big second half

Gary Parrish, after being questioned, explains why he writes the Poll Attacks each Monday

The Blue Devils looked like a team in need of a reboot against Miami, then they morphed into...
Providence's Ed Cooley suggests to the refs that vampires, not contact, made his player bl...

The Big 12 reprimanded WVU player Wesley Harris for hitting a Texas Tech fan who rushed the...

'History in the Astrodome: UCLA vs Houston 1968' looks at the game that changed college ba...