Five-star scorer Tyler Dorsey begins transition to the point
Tyler Dorsey is one of the best scorers in the class of 2015 -- but he wants to become the best point guard, too.
• 2 min read
It feels like Tyler Dorsey has been around forever. He has been a touted prospect since before he started high school, and that hasn't changed. Plus, he's still only a high school sophomore.
And the 6-foot-5 Dorsey is attempting to state his case as the best point guard in the class of 2015.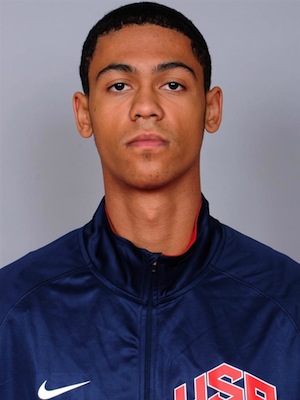 Tyler Dorsey is an explosive scorer. (USA Basketball)
"This tournament starts off the summer," he said last weekend at the Pangos All-American Camp in California. "I had to come out here and work hard and show what I've got, what I've worked on. And I think I've done pretty good so far."
Dorsey averaged more than 18 points through his first three games at the camp, showing off his terrific ability to get to the rim and score. He also knocked down eight of his 12 3-point attempts through the first two days. That performance came only a couple of weeks after his stellar four-game stint in the Nike EYBL, when he averaged 19.5 points in Dallas.
Given the plethora of quality big men at the top of the sophomore class, making a move to be more of a point guard could only benefit Dorsey.
And he knows it.
"I see myself as a tall point guard," Dorsey said. "I don't think I can stay at the wing spot unless I grow a couple inches."
The eighth-ranked player in the 247 Sports Composite said he's working on his leadership and ball-handling in order to transition to the lead guard position.
Dorsey has great speed, especially when pushing the ball in transition. He loves running the break and has good body control when going into traffic, displaying an effective floater. His passing ability is great for a scoring guard, but he might need to limit his turnovers when playing the point full time.
Naturally, the St. John Bosco (Calif.) player is hoping to play in a free-flowing system in college.
"I want to see an up-tempo pace, a fast-breaking team," Dorsey said. "Just an exciting team."
USC, UCLA, Oregon State, Louisville, Florida and Connecticut have all offered, and he's certainly open to leaving the West Coast.
Arizona is making the biggest push for him now.
"They're on me very hard," Dorsey said, adding that his dad is in touch with the Wildcats on a weekly basis. 
He plans on taking an unofficial visit to Tucson in July while also checking out Arizona State.
"How the coach wants to play me; how he wants to develop me for the next level," Dorsey said when asked what he's looking for in a school. "The history he has with his PGs getting to the league. I'm looking at all those things."
And coaches are certainly looking at him. 
The BC fan has a ton of apparel and gear headed his way after this putt

Durant's made a habit of making sure his alma mater is set with the latest customized gear

Ball says UCLA told him to thank Trump for getting him back to the states after shoplifting...
SportsLine's advanced computer model simulated Wednesday's Villanova vs. Temple game 10,000...

Will any of these six teams make it to 2018 without their first loss?

Temple could be a big problem for undefeated Villanova, the No. 1 team in the Top 25 (and...