Five-star Trey Lyles commits to Kentucky, gives Wildcats No. 1 class
Kentucky won't have the best recruiting class of all time in 2014, but after Trey Lyles' commitment on Tuesday, the Wildcats have the No. 1 class in the country. Again.
• 3 min read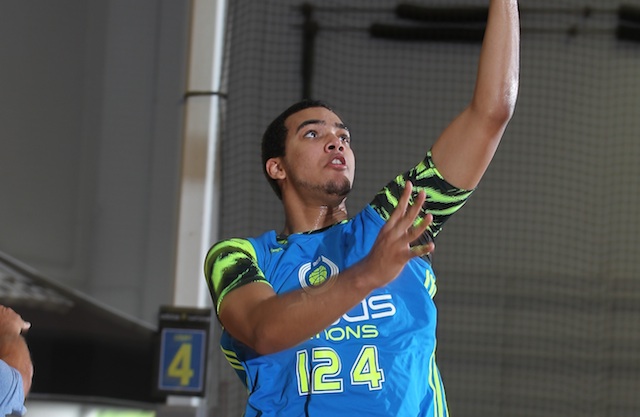 More College Basketball: Season preview | Top 25 (And One) | Conference predictions
It didn't come as too much of a surprise, but Trey Lyles chose Kentucky over Louisville on Tuesday afternoon.
As a result, look at which team occupies the No. 1 spot in the updated 247Sports class rankings: the Kentucky Wildcats. Again. 
While seeing John Calipari and Kentucky at the top of the recruiting class rankings isn't anything new, some might be surprised that the Wildcats are there in the class of 2014.
Simply put, it wasn't a vintage few months for Kentucky's recruiting.
The Wildcats had top-10 prospect Karl Towns under their belt, but that was it. They missed out on point guard Emmanuel Mudiay, who was deemed a Lexington lock for most of his recruitment but went to SMU, and wing Kelly Oubre, who chose Kansas. James Blackmon also recommitted to Indiana instead of going to Kentucky. Meanwhile, guys like Cliff Alexander and Jahlil Okafor looked in other directions.
Then there were the commitments.
Tyler Ulis is one of the top point guards in the class of 2014, but he's not a classic Calipari point guard. Devin Booker is a top-30 prospect, but he's more of a perimeter shooter than an explosive scorer. As a result, while any team would have been happy with a Ulis-Booker duo as their future backcourt, some people didn't think it was enough of a high-powered tandem.
Not surprisingly, the questions began to roll in. Is this the year Kentucky has a subpar recruiting class? Is Calipari losing his magic touch?
Well, after Tuesday's commitment by Lyles, the Wildcats are back to their usual spot in the recruiting class rankings.
Lyles, a 6-foot-9 power forward from Arsenal Tech (Ind.), is ranked as the No. 10 prospect and the No. 2 player at his position in the 247Sports Composite. He is terrific around the basket, displaying a variety of post moves and the ability to finish at the rim. He can also face-up and score effectively. He's not an explosive athlete, but he finds ways to make plays and outworks people.
Combine him with Karl Towns, the No. 7-ranked player in the 247Sports Composite, and Kentucky has pledges from the two best committed post players in the country. Both prospects are able to get points in different ways, and can create plenty of matchup problems at the college level.
That's a good start, and the backcourt isn't too bad either. Ulis (No. 34 in 247Sports Composite) is a winner who can an offense and hold his own against anyone, while Booker (No. 26) has some of the best shooting mechanics of anyone in the country. And the best part about the Ulis-Booker duo? They are both potentially four-year players, meaning Kentucky could be set at the guard spots for more than just six months.
Two top-10 prospects and two top-35 guards would be an exceptional recruiting class for anyone, and while it's not the 2013 Kentucky class – arguably the best recruiting class of all time – it's certainly enough to be one of the better groups in the country.
Will it stay that way? That remains to be seen, as five of the top six players are still on the board – and the team that lands the duo of Jahlil Okafor and Tyus Jones might have the edge in the rankings.
But even if Kentucky falls to No. 3 or so in the rankings, two things are clear: Calipari hasn't lost his touch and the Wildcats will still end up with an elite class.
Lyles' commitment made that second part possible.
And I'm pretty sure the fact Kentucky beat out Louisville for Lyles will help change some of the worried feelings in Lexington. 
Oklahoma's star freshman has a father who has been there and done that

Kentucky now is at risk of slipping out of the Top 25 (and one)

Cherry's commitment gives ASU a top-20 recruiting class and its highest rated pledge since...
Matt Norlander is on a 11-7 run in college basketball picks and shares his best bets for W...

Kentucky losing this game probably cost it a shot at earning a high NCAA Tournament seed

Freshman had 12 turnovers and 20 points; the Wildcats rattled him and kept OU on its heels