Five-star wing Dwayne Bacon looking to cut list soon
Dwayne Bacon is hearing nonstop from a long list of schools -- a list that he wants to trim down pretty soon.
• 1 min read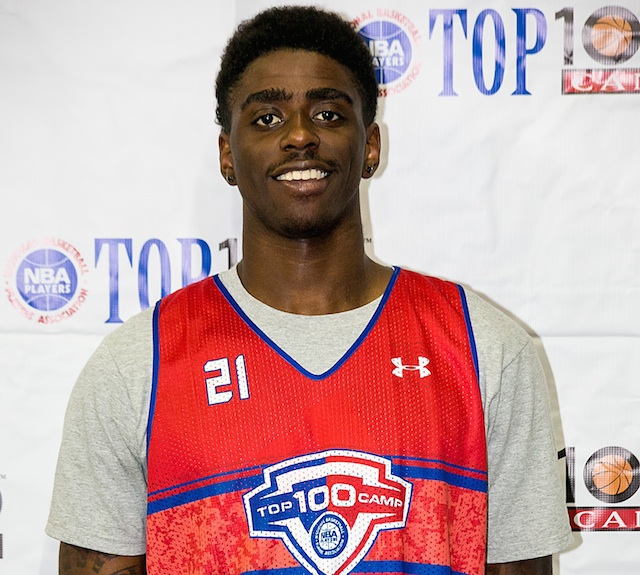 LAS VEGAS -- With Dwayne Bacon rising into five-star status as July began, the activity on his phone also went up.
"I pretty much get a call from every college everyday," Bacon said. "A call or a text. Something."
Some of the schools involved with Bacon include Florida State, Tennessee, UNLV, USC, Georgia Tech, Clemson, Georgetown and Louisville.
He doesn't have any visits set up yet, but wants to trim his list of suitors down after July.
"I want to cut it to around 10," Bacon said.
Florida State has been considered a potential leader with him, but he said no school is coming at him harder than anyone else. With that said, the Seminoles do have the location factor in their favor.
"It's a Florida school, so I'm going to take that in," Bacon said. "They're recruiting me pretty hard."
Relationship with the coach and ability to make an impact immediately are high on Bacon's must-have list.
"Just a connection with the coach," Bacon said. "Being able to walk in and help the team right away. The key with me is having great communication with the coach."
Bacon, a 6-foot-6 swingman from Oak Hill Academy (Va.), is ranked No. 24 in the 247Sports Composite for the class of 2015.
The NCAA formally notified MSU of its investigation into Nassar on Tuesday

The Sooners' freshman, pilloried for his recent performances, showed a different side Tues...

Young is leading the NCAA in both scoring and assists per game
Our advanced computer model simulated Tuesday's UNLV vs. Fresno State game 10,000 times

Our advanced computer model simulated Tuesday's Kansas-Oklahoma game 10,000 times

Our advanced computer model simulated Tuesday's Virginia vs. Clemson game 10,000 times