Florida beats UCLA, advances to fourth Elite Eight in four years
Next up is Dayton with a chance at the Final Four on the line.
More NCAA hoops: Tournament bracket | Complete coverage of NCAAs | Latest news
MEMPHIS, Tenn. -- The NCAA Tournament bracket is unveiled each Selection Sunday, at which point millions and millions of people look at it, project it and talk for hours about what various teams will be required to do to make the Final Four.
It's always a fun conversation
But it's nights like these when I'm reminded just how much those conversations are rarely rooted in reality because stuff almost never goes as planned in this annual 68-school, single-elimination event, and the South Regional final now set for Saturday here at FedExForum is a great example. Remember, like a week ago, when you wondered whether Florida would be able to get past the Big 12 champions led by the projected No. 1 overall pick in the 2014 NBA Draft (Andrew Wiggins) and the projected No. 2 overall pick in the 2014 NBA Draft (Joel Embiid)? Turns out, that conversation was just as much of a waste of time as all of those conversations about whether a No. 16 seed would finally beat a No. 1 seed, because Kansas is now at home, done, and the only thing between Billy Donovan and his fourth Final Four is an opponent that finished the regular season tied for fifth in the Atlantic 10.
Dayton.
Dayton is the only thing between Donovan and Dallas.
"We're here again," said Florida's Patric Young. "Hopefully we can go farther this time."
Three teams besides Florida -- specifically Dayton, Arizona and Wisconsin -- also punched tickets to the Elite Eight on Thursday, and the players from those teams seemed genuinely excited about the achievement. Not satisfied, exactly. But certainly excited because not a single rotation player on any of those teams has ever played in an Elite Eight.
Meantime, Young is about to play in his fourth.
So is Scottie Wilbekin.
So is Casey Prather.
So is Will Yeguete.
So forgive them, collectively, for not spending much time talking about how awesome it is to make the Elite Eight because, for them, collectively, there's nothing that awesome about making the Elite Eight. At this point, making the Elite Eight is sort of the starting point. It's what comes next that matters, and anything short of one more win would qualify as a gigantic disappointment that would leave a gaping hole in an otherwise terrific list of achievements for Florida's senior class.
Four straight Elite Eights?
That's terrific and rare and something to celebrate ... in a vacuum.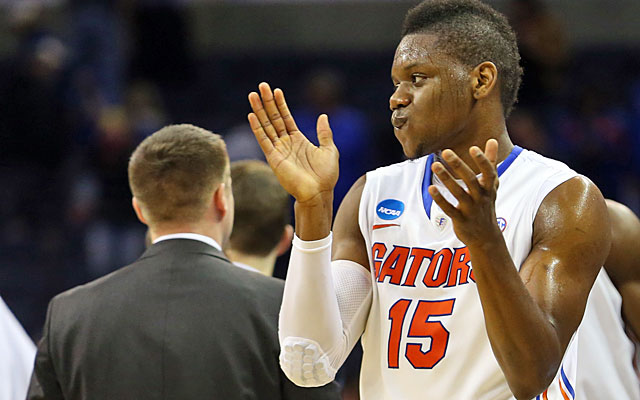 But what if the four Elite Eights amount to zero Final Fours? Then the achievement wouldn't be celebrated as much as it would be mocked, because a loss to Dayton on Saturday would double as the third time in four years that the Gators would've lost in the Elite Eight to a lower-seeded team, and these are exactly the types of things that tarnish fine achievements.
So Florida cannot lose this game.
It's as simple as that.
The Gators opened as double-digit favorites against Dayton, which suggests a loss Saturday would be wild regardless of the history. But a loss Saturday combined with the history? That would be rough, and it's why Wilbekin had better be ready to go.
Speaking of Wilbekin, man, he was certainly ready to go against UCLA.
His stat line wasn't great -- just 13 points, three assists and one rebound in 35 minutes. But if you watched the game you know Wilbekin did what he often does, i.e., take over late and hit big shot after big shot after big shot. Ten of his 13 points came after halftime, and eight of those 10 came in the last 6:15. He was the main reason Florida coasted in the final minutes.
"I like [having the ball in my hands in the final minutes]," Wilbekin said. "Those are the times when the game's on the line, and it's funnest to play in those types of [situations]."
Now the question is whether the Elite Eight will be fun.
Or, at least, more fun the the three previous Elite Eight appearances.
The Gators, in this exact spot each of the past three years, lost to eighth-seeded Butler in 2011, fourth-seeded Louisville in 2012 and fourth-seeded Michigan in 2013. They couldn't get past those hurdles. So they'll try again Saturday -- this time against 11th-seeded Dayton.
If Florida wins, a weight will be lifted from these seniors' shoulders. But, if Florida doesn't win, these same seniors' will be labeled in a less-than-ideal way. And they know it.
Tipoff is at 6:09 p.m. ET.
"We just talked about it," Yeguette said. "This is not enough for us."
Calipari threw major shade at Duke and the coaching staff's recruiting pitch

Brown is the No. 2 center in the Class of 2018 and a big get for the Bruins

The Sooners are on a two-game losing streak but still rising on one AP ballot
Vegas legend Kenny White has nailed 3 straight UNC picks and just made a play for Monday's...

Josh Nagel has almost two decades of handicapping experience and locked in a play for Monday's...

The Wildcats stumbled to an 0-2 record this week and fell out of the top 25