Florida, Memphis both impress in nightcap of Jimmy V Classic
Florida escaped Memphis by two points on Tuesday night -- but both teams will be heard from in March.
• 3 min read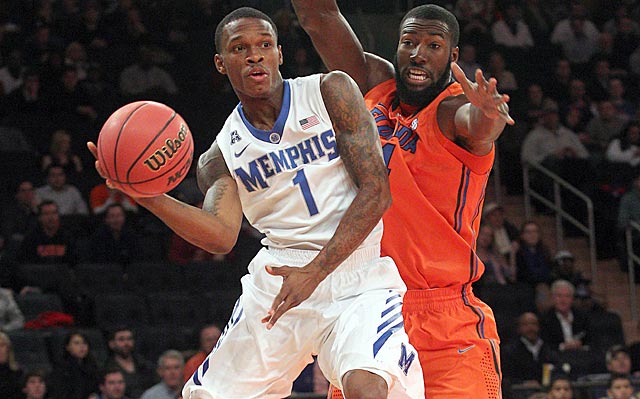 NEW YORK -- It's hard to come away from Madison Square Garden not thinking both Florida and Memphis have the pieces to make a Final Four.
Tuesday's Jimmy V Classic nightcap was as good of a non-conference game as we'll see this month, with Florida surviving 77-75 -- only after Joe Jackson missed a game-tying layup in the closing seconds.
"That felt like one of those Sweet 16 games," Memphis head coach Josh Pastner said.
Casey Prather led the way for Florida, going for 22 points and five rebounds. Dorian Finney-Smith came off the bench to get 14 points and eight boards. For Memphis, Joe Jackson was highly effective as a playmaker, finishing with 17 points and five assists. Five players scored in double-figures for the Tigers.
Florida got out to an early lead, but Memphis didn't wilt, coming back behind its veteran quartet of guards. The Gators seemed to be in control for much of the contest, responding effectively every time Memphis made a run. The Tigers tied it at 58 on 3-pointer by Chris Crawford, but Florida scored six straight to regain the lead. In fact, until Scottie Wilbekin missed the front end of a one-and-one free throw with 18 seconds left, Florida always seemed like the likely winner. The Gators couldn't keep Jackson out of the lane down the stretch, but they contested his drive in the final seconds to preserve the victory.
It wouldn't be a shock to see both of these teams make a deep run in the NCAA tournament.
When Florida is healthy and has its full allotment of players, the Gators are going to be as talented and versatile as any team in the country. They have weapons at every position, and players like freshman Kasey Hill and transfer Dorian Finney-Smith are only getting better. Moreoever, Prather continues to surprise with his breakout season. No one saw it coming --and only Andrew Wiggins has been able to stop him this season.
"Guys being out has sort of freed him up," Florida head coach Billy Donovan said. "It was good, as a senior, to see him bounce back."
Plus, future first-round pick Chris Walker isn't even eligible yet. 
Florida has only been healthy and suspension-free for a couple of games this season, but the Gators have shown the ability to match up with different lineups, going with two point guards, zone defenses, multiple big men -- Donovan has a variety of ways to use his players.
"We've had a lot of different experiences," he said. "Guys have grown and gotten better. There's a ceiling for us to really get better."
On the other side, Memphis has really rebounded in impressive fashion since its embarrassing loss back in November at Oklahoma State. The Tigers' perimeter group of Jackson, Crawford, Geron Johnson and Mike Dixon can match up with any backcourt in America, and the Tigers are beginning to find production (albeit inconsistent production) from its frontcourt guys. They attack the rim as well as anyone in the country, and few defensive backcourts can keep them out of the lane.
"We had a really hard time guarding their four guards," Donovan said. "That was a challenge for us. Those four guards totally dominated [Hill]."
Shaq Goodwin has shown flashes down low, while freshman Austin Nichols has also had a couple of impressive performances. George Washington transfer David Pellom played his best game as a Tiger on Tuesday night, and he's the sort of junkyard dog Pastner needs down low.
"This is a building game right here," Jackson said. "We're going to continue to work and get better."
It's taken both teams a little while to get going this season, and neither team is a finished product just yet. But Tuesday proved that both teams will be heard from in a few months. 
Our advanced computer model simulated Tuesday's UNLV vs. Fresno State game 10,000 times

Our advanced computer model simulated Tuesday's Kansas-Oklahoma game 10,000 times

Our advanced computer model simulated Tuesday's Virginia vs. Clemson game 10,000 times
The Sooners and freshman Trae Young try to snap a two-game skid when they face the Jayhawk...

Howard scoring sensation R.J. Cole is our Freshman of the Week

How the late Andrew Smith inspired change and helped save a child