Florida won't miss a beat in Chris Walker's absence
News that top-10 recruit Chris Walker isn't enrolling at Florida this semester made waves on Tuesday -- but the Gators won't miss him all that much.
• 3 min read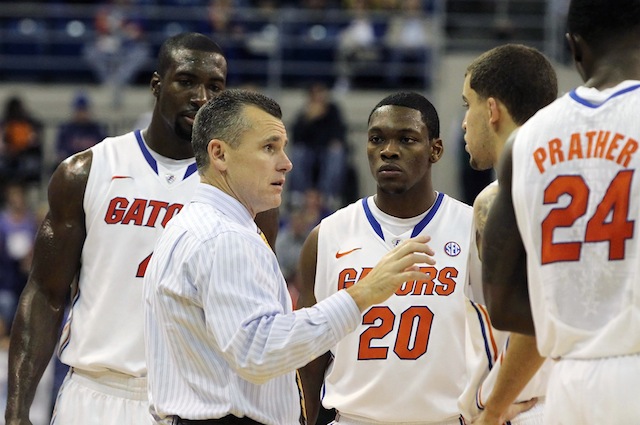 On the surface, losing a five-star, top-10 recruit is terrible news. As a result, when CBSSports.com colleague Gary Parrish reported Tuesday morning that incoming Florida freshman Chris Walker will not enroll this semester, it made waves across the college basketball landscape.
Well, here's the thing: I don't think Florida is going to miss Walker all that much over the next four months.
There's no denying the talent of Walker, a 6-foot-10 power forward from Holmes County (Fla.). He's a future NBA player and was ranked No. 7 in the 247Sports Composite for the class of 2013. With his combination of size, length and athleticism, Walker has the potential to be a big-time player for years to come.
But having to sit out at least the first month and a half of the season won't have a considerable impact on the Gators.
Let's first take a look at the timetable for Walker's absence. All signs point to Walker finishing his coursework over the next couple of months and then enroll for the spring semester. If that's the case, Walker would miss the first nine games of the season and potentially be eligible for the December 17 matchup against Memphis in New York City.
Billy Donovan and his staff could also decide to hold out Walker for a couple more weeks, and allow him to practice with the team before throwing him into the fire. SEC play doesn't start until January 8, against South Carolina.
Florida has several tough games on its non-conference schedule, including road trips to Wisconsin and Connecticut, as well as home contests against Florida State and Kansas. That doesn't even include the aforementioned neutral-court showdown against Memphis.
Analyzing the Gators' frontcourt, though, it appears they have enough depth to overcome an extended absence from Walker. In fact, they might still have more talent than any non-conference opponent outside of Kansas or Memphis.
Patric Young returns as a starter down low, while Will Yeguete is a blue-collar forward who is recovering from offseason knee injury. What has eased the staff's concern about Walker, though, is the debut of transfers Dorian Finney-Smith (Virginia Tech) and Damontre Harris (South Carolina).
Finney-Smith was a five-star recruit coming out of high school before averaging 6.3 points and 7.0 rebounds during his one season at Virginia Tech. Harris has had an up-and-down career that includes an arrest and knee injury – but some people think he has the potential to be a pro if he focuses on the court.
And that doesn't include Casey Prather, a super-athletic 6-foot-6 junior who plays both forward positions for the Gators.
Kasey Hill, Scottie Wilbekin, Michael Frazier and Eli Carter (should he get an NCAA waiver) hold it down on the perimeter.
Would Walker be the most talented frontcourt player on the roster? Probably, but that doesn't mean he would be the most productive – and it's doubtful that he would have even started for Florida.
In Gary Parrish's Top 25 (and one) from the NBA draft deadline, Florida was slotted in at No. 5. The Gators were one of just three SEC teams in the rankings, behind Kentucky (No. 1) and in front of Tennessee (No. 17).
With Walker, the Gators are probably the second-best team in the SEC.
Without Walker, the Gators are probably the second-best team in the SEC.
Are there situations where Florida would absolutely need Walker? Of course. Let's say Yeguete doesn't fully recover from his injury and Harris doesn't live up to his potential, then having an elite prospect would certainly be useful. But doomsday scenarios would cripple pretty much any team – and they're unlikely.
Walker returning in time for SEC play should be the goal for the Gators, as getting 15-20 minutes from him off the bench would be a nice boost. And after conversations with various people on Tuesday, everyone seems confident the stud freshman will be good to go.
Until then, Florida will be better than fine.
The Gators' ability to make the Final Four won't take a hit with Walker's absence -- or presence.
The Big Ten will start playing 20 conference games a season earlier than the ACC

Pitino appeared on ESPN to discuss his ousting and the lie detector test he passed

The subpoenas are related with the FBI's ongoing investigation into corruption within the...
College basketball's recruiting scandal rocks Louisville again

Pitino was fired from his post as Louisville coach for helping funnel money to players

The seats of the winners who cut corners are hotter than the losers who do it right.