Florida's Scottie Wilbekin to return from suspension Monday
Will Kasey Hill out for the next three weeks with an injury, Billy Donovan announced Sunday that Scottie Wilbekin will return Monday.
• 1 min read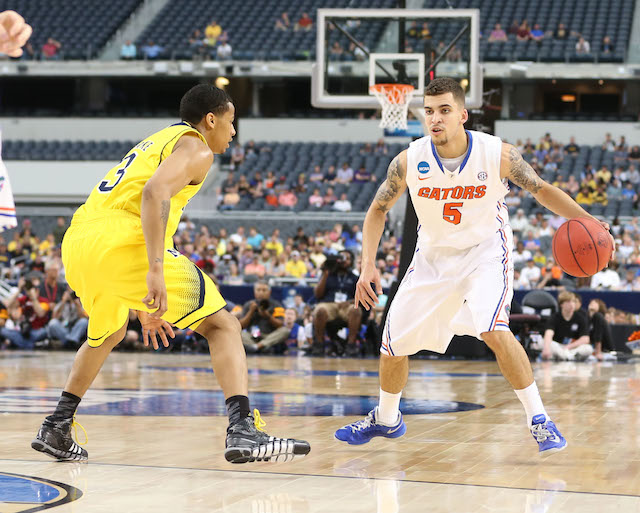 When Scottie Wilbekin was suspended indefinitely during the summer, it wasn't looked at as a huge problem for Florida because the Gators had elite freshman Kasey Hill coming in to run the show.
Unfortunately, Hill suffered a high ankle sprain last week and will miss the next two-to-three weeks.
It won't be a desperate situation for Billy Donovan, though, as Wilbekin is slated to return from his suspension on Monday against Jacksonville.
The senior point guard has missed the first five games to start this campaign, but averaged 9.1 points and 5.0 assists in the starting point guard role last season.
"He's available like anyone else," Donovan told The Gainesville Sun. "He's served his time and his punishment. And to his credit, he's done everything that's been asked of him. He's shown an incredible commitment to get back on the team and to do the right things and more so than anything else to really prove to his teammates that he's committed to the team. So I'm not going to hold him back at all."
Hill's injury did highlight the biggest issue facing Florida this season, though: when will the Gators be a complete and healthy group? Wilbekin, Dorian Finney-Smith and Damontre Harris were suspended to start the season, Will Yeguete and Eli Carter are still recovering from injury, and now Hill is hurt. Finney-Smith is back; Wilbekin will return Monday; and Yeguete has been averaging the most minutes of his career. Carter has been inconsistent with his minutes, and he's not 100 percent yet. Moreover, freshman Chris Walker isn't eligible until December.
As for Harris, he's still suspended – and it's unclear whether (or if) he will return.
"Right now, he's been gone for 25 days," Donovan told The Sun. "I don't have any hope he's going to come back. We're still going to try to help him and work with him and try to get him to do the things he needs to do, but there's no level of accountability on the things that he needs to do on a regular basis."
Florida is 4-1 and heads to Jacksonville Monday. The Gators are ranked No. 10 in the latest Top 25 (and one).
Here's how the top teams are trying to stay elite as recruiting heats up

There's never been anything like Wednesday night's LaMelo Ball-Zion Williamson showdown

The best basketball player in the world showed up too late to the biggest game in Las Vega...
Thousands of fans were turned away (even LeBron!) from the LaMelo Ball-Zion Williamson sho...

"Four Sides of the Story" also takes a look at Tiger Woods' first PGA tournament and the role...

Indiana's Archie Miller and Mizzou's Cuonzo Martin have been killing it on the recruiting...