Following Cliff Alexander miss, John Groce brushes off the haters
The Illinois coach has no interest in indulging those who believe Illinois is a hurt program right now.
• 1 min read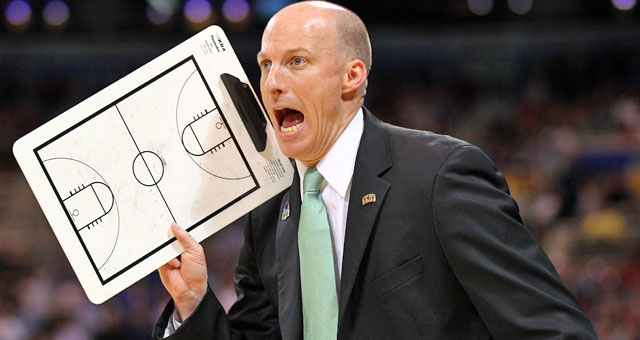 When Cliff Alexander pump-faked Illinois fans everywhere Friday afternoon, opting to head to Kansas next season instead of Champaign, it was seen as a massive loss for Illinois hoops. In fact, once the immediate reaction to Alexander's KU pick died down, quite a few people turned to say, "Ouch, John Groce."
See, Groce not only lost out on what was seen as the best possible prospect for Illinois since Eric Gordon in 2007, he also lost a top-30 point guard earlier in the day. Quentin Snider backed out on his verbal commitment to the Illini and signed a Letter of Intent with Louisville -- before telling Illinois coaches he was doing so, according to our Jeff Borzello.
That's just rough.
But you think that's getting Groce down? Hardly. The Chicago Tribune reported on Groce's reaction to losing two top-tier players, and where the program goes from here. In short: He's refuting any shade being tossed his way.
Illinois did land a top-50 player Saturday in Leron Black, who's a power forward out of Memphis. It also landed Michael Finke, a three-star small forward from right there in Champaign.
"I understand there was an article written about Illinois basketball being put in its place," [Groce] said Saturday, referring to another newspaper's headline. "I'm going to tell you what place it's in. It's in a great place. That's what place it's in."
...
"In the last 20 months, from the time we started, March 29, 2012 until now, we have made strides and improvements in a lot of areas," said Groce, who is 3-0 so far in his second year after going 20-13 last season. "(Assistant coaches and players) have initiated and ignited a switch that has given us the opportunity to build something special. ... So if anyone wants to know what place Illinois college hoops is in right now, it's in a great place. Not a good place, a great place."
If you're a recruit considering Illinois right now, those are obviously the words you want to hear coming from the coach's mouth. The sting of not getting Alexander could linger for a bit with the coaches, but really, it's the fan base that will lament that hat-grab-fakeout from Friday and not let it go. Probably until after Alexander leaves college.
CBS' college basketball experts polled more than 100 coaches to get their pick to win it a...

Marvin Bagley, if eligible at Duke this season, projects as the country's top power forwar...

The Big Ten Tournament is a week earlier than usual, so the regular-season schedule may look...
Arizona, Grand Canyon and Tulane are also in Barcelona and have reported to be accounted for...

The Kansas forward is no longer accused of walking out on an $88 tab

Cavaliers basketball coach tapes statement on behalf of his university and his city