Former Louisville forward Chane Behanan transfers to Colorado State
Chane Behanan, who was dismissed from Louisville in December, is heading to Colorado State.
• 2 min read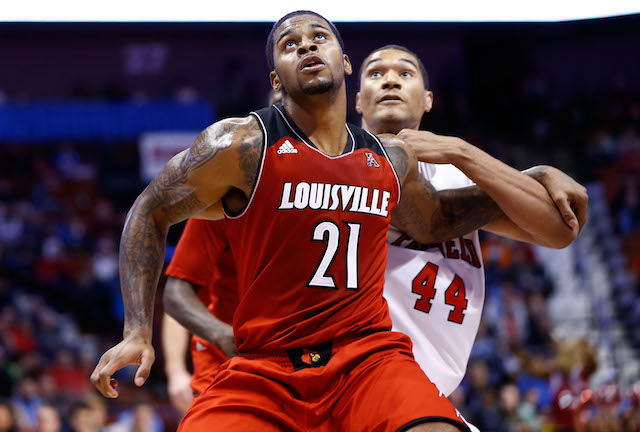 When Chane Behanan was dismissed from Louisville in late December, it was unclear whether he would look for another school or simply decide to begin training for the NBA draft.
We got our answer on Monday: Behanan is heading to Colorado State, as first reported by Bleacher Report.
"I respect Coach [Larry] Eustachy and what he's been through. We have a good connection," Behanan told Jason King of B/R.
Behanan has been spending time at the John Lucas Treatment and Recovery Center in Houston. King reported that Behanan would stay there for the spring, while taking online classes at Colorado State.
He will be eligible for the Rams after the first semester next season.
"I am extremely excited to have Chane enrolled at Colorado State," Eustachy said in a school release. "It is a great fit for both of us. He is a tremendous kid, and I really enjoyed getting to know him during his brief visit to Fort Collins.
"Chane is one of most talented players in the country, and he will be a key addition to our program next season. He has excelled at the highest level of collegiate athletics and there is no doubt that he will be one of the highest profile players to ever compete on the hardwood for the Rams."
Behanan, a 6-foot-6 junior forward, averaged 7.6 points and 6.3 rebounds this season. His numbers were down across the board this year, as he was expected to be a double-double threat after a very solid sophomore season. In the 2013 Final Four a year ago, Behanan averaged 12.5 points and 10.5 rebounds in wins over Wichita State and Michigan.
He was dismissed for a violation of university policy on December 30.
"Away from the lines, he just did not do the right things, over and over and over," Louisville head coach Rick Pitino said at the time. "The university has gone to the mat for him, in giving him every opportunity to make it here. It's come to a difficult detour in his road."
Behanan had been indefinitely suspended in October after a violation of university and team rules. The timetable for a return was estimated at mid-December, at the earliest, but Behanan was reinstated in November and ended up missing just one regular-season game. His final game with Louisville came in a loss to Kentucky, with Behanan going for zero points on three shots in 20 minutes.
Colorado State is 12-8 this season, but only one of the Rams' top eight players is a senior. Behanan should be able to make an immediate impact in the Mountain West in the 2014-15 season.
Cavaliers basketball coach tapes statement on behalf of his university and his city

Gary Parrish and Matt Norlander discuss all things Marvin Bagley and his immediate future

Which version of Grayson Allen will show up for Duke and other questions for every ranked...
Upon landing the nation's top recruit, Duke tops the list with other title contenders at the...

The presumptive No. 1 overall NBA Draft choice makes the Blue Devils 3/1 favorites to win it...

Commitment to Duke is the first step, but the next one is the biggest; here's what you need...