Former redshirt Sean Kilpatrick finishing out historic career
After redshirting as a freshman five years ago, Sean Kilpatrick will now go down as one of the best guards in Cincinnati history.
• 5 min read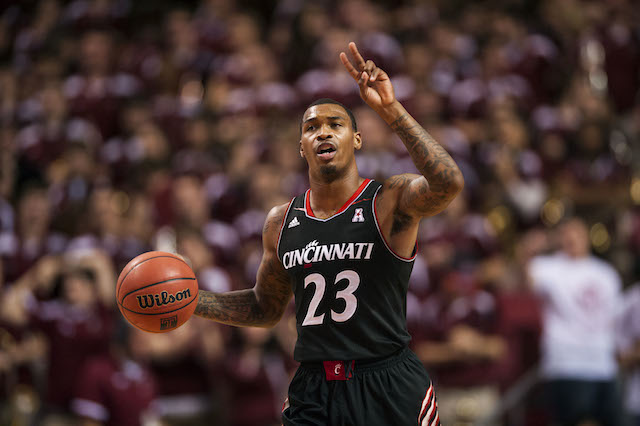 More hoops: Bracketology | Bracketology | Latest news
Cincinnati had just watched its 17-point lead disintegrate in a matter of minutes, with Louisville going on a big run to cut it to five on a 3-pointer by Luke Hancock with 10:07 remaining.
Head coach Mick Cronin wanted to give senior guard Sean Kilpatrick a rest. Kilpatrick had only made one field goal in the last seven minutes, and was struggling a bit.
"I told him you've worked your whole life for the next 10 minutes," Cronin said. "Show everyone you're the best player on the floor."
Kilpatrick proceeded to score 12 of the team's final 14 points, making four free throws in the final 10 seconds to give Cincinnati a 69-66 victory.
That game happened in late January, but it seems to have become the normal for the Bearcats this season. The second half is usually reserved for Kilpatrick to take control and will Cincinnati to a victory.
And his teammates have confidence he can do it every night.
"One thousand percent," senior big man Justin Jackson said.
It happened again two weeks ago, when Kilpatrick scored 19 of his 28 points after halftime to help the Bearcats overcome a surprisingly poor defensive performance against Houston. He also had back-to-back assists in the final three minutes that provided the final cushion for Cincinnati.
After that game, Cronin sat down at the podium for the post-game press conference. Unsolicited, he went on to discuss his star guard.
"Is he not a first-team All-American?" the head coach asked. "I want to know who's better than him. I'm not talking about a freshman five years from now, I'm talking about right now."
Cronin mentioning five years was interesting. A lot can change in five years. After all, five years ago, Kilpatrick was redshirting at Cincinnati as a freshman because Cronin didn't think he was going to get enough minutes.
When Cronin first approached Kilpatrick about the prospect of redshirting as a freshman, the New York native was taken aback.
"I looked at him and said, 'What?'" Kilpatrick said. "I was shocked. I thought I was working hard enough to try and play that year."
He talked to Cronin about it, he talked to his father about it, he talked to his mother about it. They all agreed that it was the best idea for Kilpatrick's development and career in college. It took two days, but Kilpatrick was on board.
"I used practice as a game," Kilpatrick said. "I knew I would be playing against the older guys. That was something that played a huge role. It helped me a lot. It made me a lot more focused, made me take things seriously. I paid attention to detail."
Kilpatrick had to sit on the bench all season while Cincinnati struggled to an NIT appearance. The Bearcats won just three of their final 11 regular-season games, and then the starting backcourt of senior Deonta Vaughn and freshman Lance Stephenson was gone.
As Cronin expected, there was suddenly a major role for Kilpatrick to play. Instead of the five minutes he would have played had he not redshirted as a freshman, Kilpatrick was playing more than 20 minutes per game and finished as the third-leading scorer on the team.
Since then, Kilpatrick has continued to develop, going from a player who could score in spurts to one of the more dangerous scorers in the country – and someone who also became a leader as he got older.
"My maturity level has developed dramatically," he said. "I'm focused on being a leader. [The redshirt year] helped me a lot because I knew if I could sit there and build on that, it was going to help me. It was going to take a lot in order for me to redshirt." 
Without the redshirt season, Kilpatrick would have moved on by now. His eligibility would have run out last season, on the heels of a Round of 64 exit from the NCAA tournament and a season in which he shot below 40 percent from the field.
And without the redshirt season, Cincinnati wouldn't be 24-4 overall, sitting in first place in the American Athletic Conference. The Bearcats wouldn't be in line for a top-four seed in March, and wouldn't have had the 15-game winning streak that put them in the top 10 mix.
"I couldn't be doing the things I'm doing now without the redshirt," Kilpatrick said. "I wouldn't know the things I know now."
"You're talking about a guy that had to redshirt because every time he dribbled with his left hand, he lost it," Cronin added. "And now, end of game, he's running pick and rolls like a point guard. [Former assistant coach] Tony Stubblefield recruited SK. And he's like, 'How is that happening?' He can't believe it. This guy is unbelievable.
"We've had great guards that have played here. Nick Van Exel, Steve Logan, Sean Kilpatrick. He's right there with those guys."
Even with the drastic improvement over the past five years, Kilpatrick still doesn't get the attention of some of the other guards in the country. Maybe it's because he's 24, maybe it's because he plays on a defensive-minded team like Cincinnati – but he deserves to be in the discussion for All-American honors this season.
But while Cronin is pushing for his player to get the recognition he deserves, Kilpatrick is just playing – and winning.
"It just continues to put a bigger chip on my shoulder," he said. "Everyone doesn't pay attention to me like that, but my numbers speak for itself, and us winning like we do, everything else will all into place. It doesn't faze me."
At this point, Kilpatrick's numbers are getting too good to ignore. He's averaging 20.5 points and is also putting up career-high assist totals. Over the weekend, Kilpatrick reached a Cincinnati milestone. He joined Oscar Robertson as the only players in program history to score 2,000 points in a career. That's it, two players. Big O and SK.
From redshirt to the record books.
CBS Sports HQ Daily Newsletter
Get the best highlights and stories - yeah, just the good stuff handpicked by our team to start your day.
Please check the opt-in box to acknowledge that you would like to subscribe.
Thanks for signing up!
Keep an eye on your inbox for the latest sports news.
Sorry!
There was an error processing your subscription.
Los Angeles, which is building a covered stadium, was snubbed from Final Four consideration...

The big man, favored to ultimately pick Kentucky or Memphis, has some interesting rivals pushing...

Cole Anthony, son of UNLV great Greg Anthony, averaged 26.2 points at recruiting's biggest...
Will college coaches be banned from attending July tournaments? They fear the answer is an...

Proposed changes to the July Evaluation Period won't actually fix any of college basketball's...

Knight's death has been ruled a suicide after medical examiners found self-inflicted blunt...