Former Xavier guard Dez Wells files lawsuit against school
Seeking monetary compensation and a public apology, the current Maryland guard has filed a suit against Xavier after he was expelled in Aug. of 2012.
• 2 min read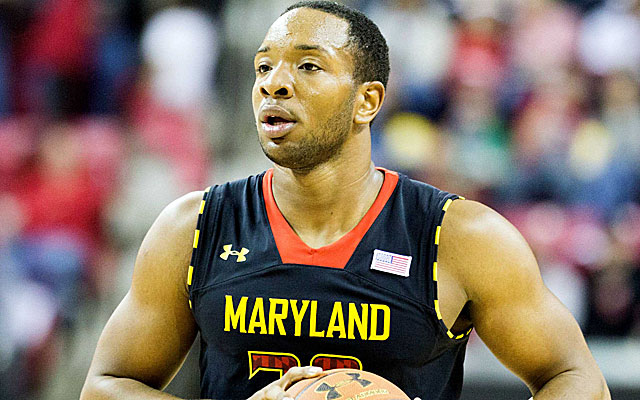 Rare do we see a student-athlete file a lawsuit in federal court against a university, but former Xavier guard Dez Wells has done just that.
Yahoo Sports reported late Tuesday night that Wells filed a suit against Xavier. Wells is seeking damages from the school, claiming it "destroyed my reputation." A year ago Xavier dismissed him -- thus cutting him loose from the basketball team -- following allegations of sexual assault. Those allegations never found footing in the legal realm, but Wells was out of Xavier nonetheless. Wells wound up playing at Maryland last season. Father Michael Graham, Xavier's president, is also named in the suit.
From Yahoo Sports:
The suit alleges Xavier failed to follow its own policies when deciding to expel him following a 2012 allegation of sexual assault. The local prosecutor investigated the case and not only declined to charge Wells but declared in media accounts the allegation "didn't reach anything close to a standard of proof" and "should never have gotten to the point where someone's reputation is ruined." A grand jury also declined to indict the basketball star.
Wells filed the lawsuit at a U.S. District Court in Cincinnati. He formally wants the expulsion reversed (though does not seek a return to the school, according to his lawyer) and is asking for compensation in light of the damage to his reputation and "severe emotional distress."
Peter Ginsberg is Wells' attorney, and through him, Wells released a statement to Yahoo Sports.
"From the moment this nightmare began, I've been trying to get everyone to understand that I am innocent," Wells said in the statement. "The supposed leaders at Xavier destroyed my reputation. It needs to make this right. Xavier needs to set the record straight."
Ginsberg told Yahoo Sports the school's "accusations were fictitious" against Wells.
Graham responded via statement Tuesday night, explaining, "We have read the complaint and the allegations of wrongdoing are unfounded and cannot be supported. The process used by the Xavier University Conduct Board (UCB) applies to all of our students and is the standard used in American universities. After members of the Conduct Board reached their decision, the matter was considered and upheld in an appeal. The sanction for the offense was expulsion. The University has never revealed the specific charge against Dez Wells other than to say he was found responsible for a violation of the Student Code of Conduct. The university will vigorously defend the process and the decision."
On June 7, 2012, Wells claims he had consensual relations with a female Xavier student. The lawsuit states Wells and others were playing truth-or-dare and that "a number of the dares were sexual in nature," such as stripping. The alleged victim eventually informed Cincinnati Police of the event, though never pressed charges.
Amid a grand jury investigating the case, Wells went under review at Xavier and was expelled on Aug. 3, 2012. On Aug. 28, a grand jury opted not to indict Wells on any charges.
After being pushed out at Xavier, Wells was given a reprieve by the NCAA on a standard one-year redshirt given to most transfers; he was eligible to play immediately. As a sophomore last year with the Terrapins, he averaged a team-best 13.1 points.
Wells v. Xavier, Graham File-Stamped Summons and Complaint (8.20.13)
Zack Cimini has been on a roll in college basketball and locked in a play for Texas-West V...

Zack Cimini is on a college basketball heater and just locked in a strong pick for Saturda...

Our advanced computer model simulated Saturday's Arizona-Stanford game 10,000 times
'If you want it, you're world champs,' A-Rod told the Spartans, which isn't exactly correc...

The players have the right to appeal the decision within three business days

Young is coming off his worst game as a Sooner and will try and bounce back vs. the Cowboy...