Frank Kaminsky embraces fun image but became great behind hard work
He's one of the most popular guys in college hoops. Get to know Frank Kaminsky's journery to fame.
• 7 min read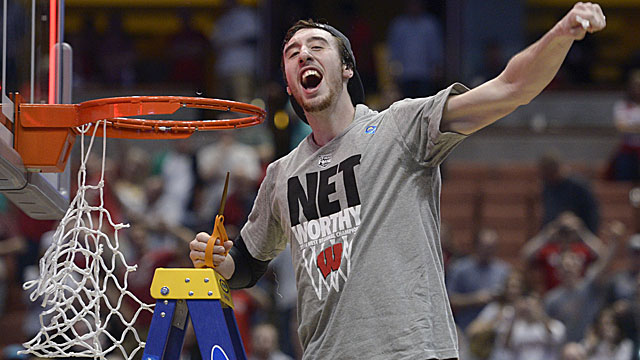 More NCAA hoops: Tournament bracket | Complete coverage of NCAAs
ARLINGTON, Texas -- He doesn't mind the attention, but really, Frank Kaminsky really just wants a burrito, man.
Wisconsin's run to the Final Four has upped the Badger big man's profile to a level of fame he never expected. After beating Arizona last weekend, UW became a huge story within the state, and the players became as esteemed on campus as any Bucky hoop group that came before them. It's the program's third Final Four run since 1941, after all.
So on Monday afternoon, while enjoying some downtime away from the national spotlight, Kaminsky, Ben Brust, Sam Dekker and a few other players took a walk from their off-campus apartment to the Chipotle nearby. One person stopped to ask for a picture. Next thing: a swarm of folks came over, Kaminsky's goofy, puffy noggin hovering above the horde.
"We like it, but it's like, OK, can we get food now?"
Kaminsky, who is charmingly blunt, said the basketball junkies on campus always knew who some of the players were, "but for a while it felt like we flew under the radar."
Yeah, not anymore. Kaminsky embraces the love and appreciation for Wisconsin's achievement the same way he embraces his image, his "Old School"-inspired Frank "the Tank" nickname and pretty much everything that's turned the junior big man into a national fan favorite.
With a Polish last name and an Irish family tree, Kaminsky said his background is a big mix. He is who he is mostly because he comes from a basketball-playing father and a volleyball-playing mother.
"I'm kind of a mutt," Kaminsky said.
That's an accurate call, because his game is a blend, too. The 7-foot, 230-pound center can shoot from deep, post up, work around the hoop and play in the middle.
And if you want to call him white and weird, that's fine. Because he's gotten damn good. Kaminsky's helped push 66-year-old Bo Ryan to his first Final Four at the D-I level. Without Frank the Tank, Wisconsin's probably not here.
"Got to be one of the best offensive players who plays college basketball, for sure," Arizona coach Sean Miller said after Kaminsky went for 28 and 11 against him and Wisconsin knocked off the top-seeded Wildcats in a thrilling West regional final.
After that game, Kaminsky said it truy hit him how many people were watching and taking note of what he/Wisconsin have done. He couldn't even recall how many text messages awaited him, but it was in the hundreds. And he's gained nearly 10,000 Twitter followers in less than a week -- tripling his amount.
"I've kind of come to realize that, when people call my skillset 'awkward,'" Kaminsky said of how people need to qualify his game with unnatural basketball adjectives. "[Awkward is] a pretty good way to describe it. I'm OK with people describing it like that because I don't think I see too many people who play like I do. Over the years I've developed this thing where I try to do whatever I can to score and be effective."
It's worked. Kaminksy's averaged 22 points in the past three games and earlier this season put up a program-record 43 against North Dakota. That was the coming-out party, but he's been an improving player ever since. He's now considered an NBA prospect, whereas that notion was not even remotely reasonable in the fall.
Kaminsky used to be an outside-outside player, then outside-in, and now it's all "a read" for him. He'll adjust no matter what the defense is. There is no set plan for 40 minutes. Turns out, the Tank is agile.
And that nickname, Frank the Tank, isn't new. Kaminsky said it was given to him more than a decade ago, after "Old School" came out. Yes, you now feel old.
"We had some kids who were allowed to watch movies like that when we were that young," Kaminsky said. "It's whatever. I don't go around calling myself that. But I'm not going to go around trying to shut down something I have no power over."
Kaminsky's personality embodies what you probably assume. A laid-back guy to the fullest. It's what makes his play visually pop. He comes off as a better player than you think at first. That's the magnetism of Kaminsky's style.
"Franky was taller and a little bit awkward when he was younger," his father, Frank Kaminsky, Jr. said by phone Thursday. Dad played college ball too, but at NAIA Lewis University. "He was kind of a goofy kid and used the goofiness to fit in with the kids at school. At all times he was really a good kid with a good heart and a good head on his shoulders."
For the most part. Kaminsky's been a quirk forever, evidenced by his random desire to climb his Saint Joan of Arc Catholic school's roof when he was in grade school. That led to a suspension from the football team for a short while.
"He was a class clown but was an interesting young man," Kaminsky, Jr. said. "He's done some pretty crazy things."
Kaminsky will joke plenty, but in his down time he said he loves watching feasting on shows like "Shark Tank," "How I Met Your Mother," "House of Cards" and "The Walking Dead." He binges on TV shows like many others do. Don't spoil him on that controversial HIMYM ending. He's waiting for the final season to come to Netflix.
He said his favorite show was "Breaking Bad," so now you know your affinity for Kaminsky is legitimate. (He was cool with the ending, but hated the second-to-last episode. I was tempted to turn this story into a BB Q&A.)
Kaminsky grew up in Lisle, Ill., at town of about 20,000 people, a middle child between two sisters, both of whom play volleyball. He began playing organized basketball in third grade. A lot has been written about this week on his junior-year growth spurt and having to sit out for two years from playing AAU ball due to not being good enough.
That jump in his teens was big, but Kaminsky's biggest reason for being this good actually stems from a workout and training regimen last season that he never contemplated prior. One of his first AAU coaches, Titcus Pettigrew, put him on a plan that altered his body and sent him through hell as he transformed the kind of player he was.
"He had me doing things I'd never done before in my life," Kaminsky said.
The Kaminsky bloom came about because his first two seasons ended with him feeling physically terrible. His freshman year he bloated up 30 pounds, to 250. After his sophomore year, he was tired and too thin. He expected more playing time this season, but wanted to be at the right weight in the right condition, because if he was too heavy or to lean, production would be doomed to fail.
So he'd sit after these workouts last summer, muscles roaring, not even wanting to endure the walk to his car. Two exercises in particular that gave him personal treks through hell were "stairway to heaven" and "victory slides." The former involved Kaminsky walking forward, backward and sideways on a treadmill. The incline all the way up on the treadmill. Doing it for nearly three minutes at a time. The victory slides mean he had to run around the perimeter of a basketball court's out-of-bounds lines, bending down, and never bring his hands off the court.
He stopped eating massive meals. Smaller meals more often, protein shakes mixed in.
"It feels much better now than it did the seasons before, when I didn't play nearly as much," he said. "I never had blazing fast feet or was a fast person. I'm not the best jumper. I don't jump fast and I don't jump that high. I had to find ways to score on people."
Playing behind Jared Berggren last season, Kaminsky averaged 10 minutes. Berggren, one of the best shot-blockers in program history, tutored Kaminsky with hours of one-on-one play.
This is how Frank Kaminsky III became a fledgling national college star.
And no matter what happens here Saturday, or even into Monday, Kaminsky's got one more one-on-one game to go. But it's not with Berggren. It's with his father. This summer, Frank Jr. and Frank III have one more meeting on the court. The two played one-on-one a lot as the child became a man, and dad needs one more go-round with his boy.
"I used to beat him steadily, but last time weplayed, two summers ago, he finally got me," Frank Kaminsky, Jr. said. "He'd be talking crap back and forth here. I told him this summer, when it's all done, we lock the door in his old high school gym for one more game. And then I'm done. ... He's going to have to beat me."
Frank vs. Frank, away from the crowd, back to what they were before everything changed for the father, the son and the family.
The BC fan has a ton of apparel and gear headed his way after this putt

Durant's made a habit of making sure his alma mater is set with the latest customized gear

Ball says UCLA told him to thank Trump for getting him back to the states after shoplifting...
SportsLine's advanced computer model simulated Wednesday's Villanova vs. Temple game 10,000...

Will any of these six teams make it to 2018 without their first loss?

Temple could be a big problem for undefeated Villanova, the No. 1 team in the Top 25 (and...