Fred VanVleet using newfound fame to spread a positive message
The Wichita State junior went from a backup point guard to a preseason All-American in the span of a year. With that type of advancement comes opportunities to make an impact, and VanVleet is doing his best to take advantage of them.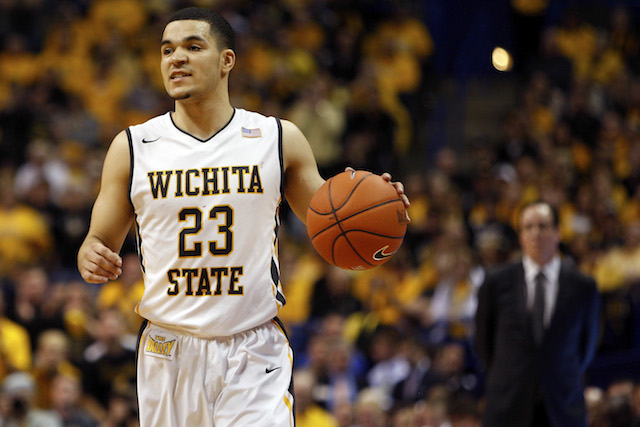 Fred VanVleet has seen it in print, on Twitter, and even on this website. And he likes it when he sees it. But there's just something different about hearing somebody say it.
It's just different when somebody says it out loud, you know?
"All-American Fred VanVleet"
"It takes a little while for it to sink-in," VanVleet explained, at which point the Wichita State point guard told a story about last week, when he agreed, when asked, to speak at a local middle school for something called College Awareness Friday.
VanVleet took a seat and waited to be introduced.
The person handling the introductions then introduced him as "Wichita State All-American point guard Fred VanVleet," which caught VanVleet's attention and served as a reminder of just how much his life has changed over the past 12 months.
This time last year, VanVleet's bio was mostly bare. He was best-known, if he was known at all, as the backup point guard at a Missouri Valley Conference school that crashed the 2013 Final Four. Now he's the reigning MVC Player of the Year, one of the faces of college basketball and, yes, a preseason All-American, according to pretty much everybody.
Simply put, no college basketball player's life -- except, perhaps, the life of Wisconsin forward Frank Kaminsky, who similarly used the 2013-14 season to transition from reserve to star -- has changed over the past year as much as VanVleet's life has changed over the past year. And with that kind of change -- in notoriety and perception -- comes a certain level of responsibility, and that's how VanVleet ended up at Coleman Middle School in Wichita last week speaking to 500 adoring kids still young enough to be filled with optimism and hope.
VanVleet, coming off an amazing season that featured 35 wins and a lone loss to Kentucky in the NCAA Tournament, was asked last June to deliver a speech during the commencement ceremony at Auburn High School, which is his alma mater in Rockford, Ill., and he was so good -- as a college sophomore talking to high school graduates with whom he once roamed the halls -- that the requests have subsequently poured in.
This would be bothersome to some.
Lots of athletes just want to practice and play, frankly.
But VanVleet has taken an opposite approach, and the enthusiasm with which he's taken it is rooted in the fact that when he was an influential kid growing up in a community he loves but that can also be tough, there just weren't many young and successful people to look to and learn from. He had his father, of course, and he'll forever be appreciative of that. But, for the most part, VanVleet was surrounded by young people more on the wrong path than the right, and when you're raised in that environment it's easy to lose hope and forget there's almost always a way out if you work hard and remain focused.
So VanVleet's goal is simple: He wants to explain that to anybody willing to listen.
"When I was coming up, I had my dad on my butt, but there was nobody for me to look toward to tell me I could do this or do that," VanVleet said in a phone conversation earlier this week. "We were all just kind of figuring it out on our own, from scratch. So all I'm trying to do is give the kids something else and show them that they can do it even if they don't feel like they can, and I want to show them how to do it if they don't already know how."
The response is always positive.
Here's just one random example from Twitter:
@FredVanVleet thanks for coming out to Coleman today! You spread such a fabulous message and everyone loved it!

— Alexis Fisher (@lexie_fisher16) September 26, 2014
"I think I'm humble and smart enough to realize people are only going to care about me for a certain amount of time," VanVleet said, and that might be the most mature and accurate thing I've ever heard a young athlete say. "So I could give a speech 15 years from now, but it won't have the same effect as me talking to kids right now, while I'm still relevant. Kids only listen to what they see now. So as long as people view me as important, I'm going to squeeze every inch out of it. I'd rather use what I have than let it go to waste."
CBS Sports HQ Daily Newsletter
Get the best highlights and stories - yeah, just the good stuff handpicked by our team to start your day.
Please check the opt-in box to acknowledge that you would like to subscribe.
Thanks for signing up!
Keep an eye on your inbox for the latest sports news.
Sorry!
There was an error processing your subscription.
The Blue Devils Hall of Famer believes the corruption trial is a 'blip'

The Kansas coach wanted Adidas' help, in part, because he believed Nike was helping Duke and...

The government's case has had its skeptics, but from inside the courtroom this trial very much...
Sister Jean was just inducted into the 2018 Illinois Senior Hall of Fame

The Red Storm should now be expected to make the NCAA Tournament

The 6-foot-4 junior will be sidelined for an undetermined amount of time