Freshman of the Year: Anthony Bennett moves to No. 1
Marcus Smart was knocked from his perch in the Freshman of the Year rankings, as UNLV's Anthony Bennett took over the top spot.
• 4 min read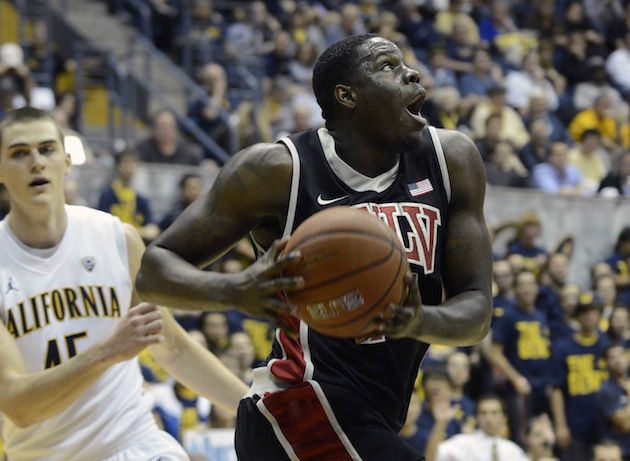 Anthony Bennett has established himself as a potential lottery pick with his play so far for UNLV. (US Presswire)
We're beginning to see some separation in this week's Freshman of the Year rankings. There are several players who were in consideration in the past who are starting to slow down their production, as teams begin to take away their strengths. On the other hand, there are several players who have the potential to be in and out the rankings throughout the year. With so many very good newcomers, though, there could be plenty of movement on a weekly basis.
Marcus Smart loses his No. 1 spot for the first time this season, as UNLV's Anthony Bennett took it over. Bennett has simply been magnificent for coach Dave Rice, becoming a go-to guy offensively and also being very active on the glass. Moreover, two new faces enter the rankings for the first time -- and no Kentucky players made the cut this week.
As always, the Freshman of the Year rankings will be released on Tuesdays, along with the Player of the Year rankings. 
1.

Anthony Bennett

--

UNLV Rebels
 
Position: Power Forward

Ht: 6-8 Wt: 240

Season Stats: 19.5 PPG, 8.3 RPG, 1.8 BPG

Comment: The nation's scoring leader among freshmen, Bennett continues to prove himself as future lottery pick. With Mike Moser sidelined, Bennett has become the go-to guy for the Runnin' Rebels. Over the weekend, Bennett went for 25 points and 13 rebounds against California, after getting 18 and six against Portland. Defenses will focus on him more; how will he adjust?
2.

Marcus Smart

--

Oklahoma State Cowboys
 
Position: Point Guard

Ht: 6-4 Wt: 225

Season Stats: 13.4 PPG, 7.4 RPG, 5.0 APG, 2.6 SPG

Comment: This is the first week that Smart is not No. 1 -- but he didn't fall too far. The biggest thing with Smart right now is, simply, his shot is not falling. He's just 14-for-43 from the field in his last four games. Against Missouri State, Smart had seven points, zero assists, four turnovers and four fouls. His defense is still outstanding, though.
3.

Ben McLemore

--

Kansas Jayhawks
 
Position: Shooting Guard

Ht: 6-5 Wt: 195

Season Stats: 16.0 PPG, 5.6 RPG, 2.4 APG

Comment: McLemore makes his debut in the rankings, slotting in at No. 3. It seems like the redshirt freshman is taking to the go-to guy role far better than he did at the beginning of the season. In his last two games, McLemore is averaging 22.5 points and 4.0 rebounds -- and it was against Oregon State and Colorado, not a couple of cupcakes. Most impressively, he got to the free-throw line 11 times against Colorado.
4.

Jahii Carson

-- 

Arizona State Sun Devils
 
Position: Point Guard

Ht: 5-10 Wt: 175

Season Stats: 18.6 PPG, 5.3 APG

Comment: After struggling a couple of weeks ago, Carson bounced back with an impressive pair of games against Hartford and Cal State Northridge. He went for 41 points, 12 assists -- and just six turnovers in the two wins. Carson ranks second among freshmen in both scoring and assists. He stays at No. 4 -- and he could be in the rankings for a long time given his role with the Sun Devils.
5.

Nik Stauskas

--

Michigan Wolverines
 
Position: Shooting Guard

Ht: 6-6 Wt: 190

Season Stats: 13.7 PPG, 2.9 RPG

Comment: Stauskas moves into the rankings for the first time, since it's time to give him recognition. He is shooting 54 percent from the field, 61 percent from 3-point range and nearly 90 percent from the free-throw line. He's been extraordinarily efficient for the Wolverines, despite not being a go-to-guy. The confident Stauskas is fun to watch.
Others to Note:
There was plenty of shuffling in the rankings this week. With McLemore and Stauskas making their debuts, two players had to drop out: Xavier's

Semaj Christon

and Kentucky's

Archie Goodwin

. They were also two of the three players last cut.
Next in line was Duke's

Rasheed Sulaimon

. I saw him play in person on Saturday against Temple, and was very impressed. He's not going to light up the scoring column, but he does a little bit of everything -- and defends.
The battle for "best freshman shot-blocker" should rage on the entire season. Coming into the year, Kentucky's Nerlens Noel was the heavy favorite. However, Chris Obekpa of St. John's is third in the country at 4.9 per game.

Brice Johnson

is playing just 14 minutes per game for North Carolina. Extrapolate his minutes to 28 a game (a starting role), and his numbers would be 18.8 points and 10.2 rebounds. Just saying.

James Woodard

has really struggled in the past two games. The Tulsa guard had been one of the more underrated freshmen in the country, but he totaled just six points and seven rebounds in wins over TCU and Missouri State.
Stony Brook was expected to take a step back this season -- and it still might. But big man

Jameel Warney

has been very solid, averaging 11.1 points and 7.8 rebounds while shooting nearly 60 percent from the field.
Pepperdine's Stacy Davis had a rough week -- 4.5 points and 5.5 rebounds -- but he's still putting up very solid numbers out West. Prior to the two-game stretch, he had notched back-to-back double-doubles.
If you'll look below, you'll see Tilman Dunbar as the assists leader. Up until Monday night, it was Javan Felix of Texas. However, Dunbar went for 10 assists in Monday's win against Bryant to put him over the top.
Freshman leaders -- Points: Anthony Bennett, UNLV (19.5); Rebounds: Michael Kessens, Longwood (10.7); Assists: Tilman Dunbar, Navy (5.8).
Here's how the top teams are trying to stay elite as recruiting heats up

There's never been anything like Wednesday night's LaMelo Ball-Zion Williamson showdown

The best basketball player in the world showed up too late to the biggest game in Las Vega...
Thousands of fans were turned away (even LeBron!) from the LaMelo Ball-Zion Williamson sho...

"Four Sides of the Story" also takes a look at Tiger Woods' first PGA tournament and the role...

Indiana's Archie Miller and Mizzou's Cuonzo Martin have been killing it on the recruiting...