Freshman of the Year: Harvard's Chambers emerges at the point
The top five stays mostly the same, although we need to focus on a non-BCS player who has outperformed most others at his position.
• 5 min read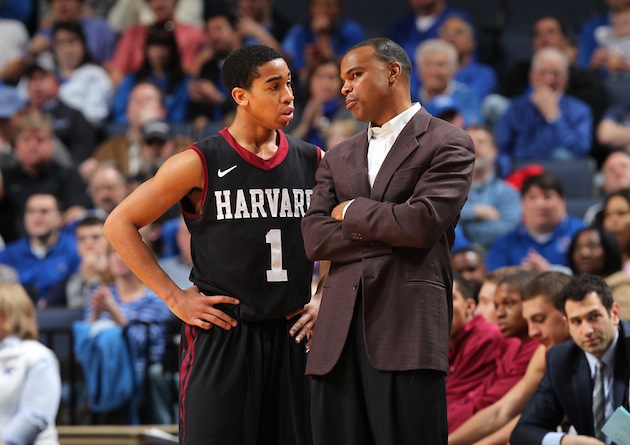 In a year where freshman point guards haven't been too strong, Harvard's Siyani Chambers has filled the gap. (Getty)
After some shuffling last week, the new Freshman of the Year rankings had the same five players -- although Nerlens Noel moved up a spot, while Marcus Smart took a step back. Shabazz Muhammad of UCLA Bruins could certainly make a case for being in the rankings, as the gap between him and Smart only got smaller in the past few games. Expect some changes in the rankings next week, as several players enter difficult stretches.
One thing I wanted to discuss briefly was the lack of studs at the point guard position this year, among freshmen. Jahii Carson and Smart have obviously been very good, but Carson redshirted last year, and Smart is more of a basketball player than a pure point guard. Xavier Musketeers 's Semaj Christon has also been very solid. Outside of that, though, there's been mostly inconsistent performances. Several are shooting poorly, with most of the highly touted ones knocking down below 40 percent from the field this season. Kris Dunn of Providence Friars has been hampered by an injury. Who has stepped up? Harvard Crimson 's Siyani Chambers , whom we dive into more thoroughly below the rankings.
As always, the Freshman of the Year rankings will be released on Tuesdays, along with the Player of the Year rankings. 
1.

Anthony Bennett

--

UNLV Rebels
 
Position: Power Forward

Ht: 6-8 Wt: 240

Season Stats: 18.4 PPG, 8.6 RPG

Comment: Despite his terrific numbers, Bennett has slowed down significantly in the past three games. He had three of his four lowest rebounding totals of the season during that span, scored in single digits for the first time this season (twice), and shot below 50 percent from the field for the first since December. Bennett isn't getting to the foul line as consistently as he was early, either. With upcoming games against

Nevada Wolf Pack

and

Fresno State Bulldogs

, he needs to bounce back.
2.

Ben McLemore

--

Kansas Jayhawks
 
Position: Shooting Guard

Ht: 6-5 Wt: 195

Season Stats: 16.1 PPG, 5.4 RPG

Comment: Kansas has become one of the front-runners to cut down the nets in April over the past couple weeks, and the primary reason is McLemore. He is getting hype as the potential No.1 pick in June, and he continues to get better at creating his own offense. He's still adapting to being the go-to-guy, as he isn't consistently taking over games down the stretch. With that said, he could be the edge the Jayhawks need in the Final Four.
3. Jahii Carson -- Arizona State
 
Position: Point Guard

Ht: 5-10 Wt: 175

Season Stats: 17.3 PPG, 3.4 RPG, 5.5 APG

Comment: Ask anyone who saw

Arizona State Sun Devils

thump UCLA on Saturday how Carson played, and most of the answers are positive. Considering he shot 4 for 16 from the field, that's pretty impressive. Carson has dished out eight assists in each of his last two games, and the weekend win was the only time his scoring suffered. Moreover, he's played at least 40 minutes in three of his last four games. Carson has the Sun Devils in the NCAA tourney discussion.
4. Nerlens Noel --

Kentucky Wildcats
 
Position: Center

Ht: 6-10 Wt: 228

Season Stats: 10.6 PPG, 9.4 RPG, 4.3 BPG, 2.4 SPG 

Comment: While Kentucky enters a stretch where it needs to shape up or risk missing the NCAA tournament, Noel is hitting his stride as a freshman. He has blocked at least six shots in his last five games while also averaging 11 points and 10 rebounds during that span. Another impressive facet of Noel's game is his ability to be a shot-changer without fouling. He's only fouled out of one game, and he has committed four fouls in a game just once since the calendar turned to 2013.
5. Marcus Smart --

Oklahoma State Cowboys
 
Position: Point Guard

Ht: 6-4 Wt: 225

Season Stats: 13.2 PPG, 5.6 RPG, 4.5 APG

Comment: After snapping out of his season-long shooting slump a few weeks ago, Smart is again struggling to knock down shots. In his last four games, Smart has shot 12 for 36 from the field, scoring just 38 points in that span. On the other side of the ball, though, Smart has been a catalyst. The Cowboys are holding teams to 0.90 points per possession in Big 12 play -- and Smart is the primary reason for that success. He will prove his worth with Iowa State, Kansas and Baylor up next.
Others to Note:
Shabazz Muhammad and Marcus Smart were in a tight battle for the No. 5 spot, but Smart's defense gave him the edge this week. If he struggles in the next week, Muhammad will move up. The UCLA scorer is back on track after scoring 41 points in last two games, including when he put the Bruins on his back against Arizona.
Harvard point guard Siyani Chambers needs more than just a mention as the freshman assists leader. In his last five games, Chambers is averaging 15.4 points and 7.4 assists -- and that includes a game where he was saddled with foul trouble and only had four points. Chambers is knocking down better than 44 percent of his 3-point attempts on the season, and he has been a major reason Harvard has been a factor despite losing Kyle Casey and Brandyn Curry before the season. He's got a good three-plus years ahead of him in Cambridge.
A couple of guys broke out of slumps in the past week.

Duke Blue Devils

's

Rasheed Sulaimon

had hit the freshman wall but is 11 for 18 from 3-point range in his last three games, averaging 18.7 points during that stretch.
Also, Kentucky's

Alex Poythress

finally found some offensive aggression. He was far more active against LSU, going for 20 points and 12 rebounds. He needs to do that consistently.
Speaking of consistency,

Michigan State Spartans

needs more of that from

Gary Harris

. He had 21 points against Indiana but only 14 total points in his previous two games. The Spartans are much more dangerous if he's knocking down shots.
As of Indiana needed another weapon. Yogi Ferrell has become a player defenses need to focus on, especially in transition. The point guard has 26 points in his last two games. 

Samford Bulldogs

has won four of its last five games, and forward

Tim Williams

has really come on strong during that span. In his last four games, the Chicago native is averaging 15.8 points and 7.4 rebounds.
If you're looking for a freshman sniper, look no further than

South Dakota Coyotes

's

Casey Kasperbauer

. Over his last five games, he has shot 18 for 30 from 3-point range. Plus, he's got a cool name.
Freshman leaders -- Points: Anthony Bennett, UNLV (18.4); Rebounds:

Shawn Long

,

UL Lafayette Ragin Cajuns

(10.4); Siyani Chambers, Harvard (6.1)
Arizona, for no good reason, doesn't have to play at USC or UCLA this season

We look at the 'Major 7' leagues and give you the best of what's to come in conference play...

Louisville's coach predicts a change is coming to the NBA's one-and-done rule by 2019
Multiple former players of Lonergan's alleged verbal abuse and inappropriate remarks

When Miller left for Indiana, there was cause for concern in Flyerland; a top-100 signee says...

The Hoyas will spend their non-league schedule playing mostly nobodies -- as will most big...