Freshman of the Year: Isaiah Austin on verge of top five
The top five remains the same from last week, but there are a couple of players knocking on the door of the rankings.
• 4 min read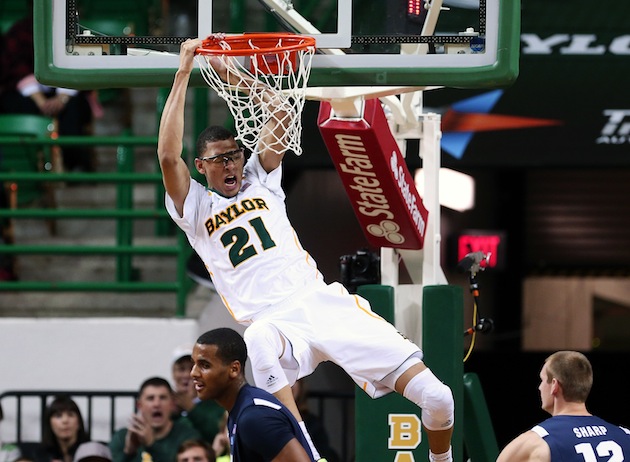 Baylor big Isaiah Austin is averaging 17.3 points and 11.3 rebounds in his last four games. (US Presswire)
Hope everyone had a great New Year's Eve, and welcome back to the rankings. The top five is the same exact quintet from last week, although there has been some shuffling. Shabazz Muhammad continues to move up as his scoring exploits become more explosive, and it looks like Marcus Smart is back on the upswing. Keep an eye on Baylor Bears 's Isaiah Austin making a move toward the rankings in the coming weeks.
I also want to clear a couple of things up here, relating to the criteria of the rankings. This is not a top five based on NBA potential -- which is why Kentucky hasn't had three players in every set of rankings. It's based on production and impact on the season to date. Will Kentucky have someone in the top five come March? Most likely. But right now, there are five guys more deserving.
The Freshman of the Year rankings are released on Tuesdays, along with the Player of the Year rankings. 
1.

Anthony Bennett

--

UNLV Rebels
 
Position: Power Forward

Ht: 6-8 Wt: 240

Season Stats: 19.2 PPG, 8.8 RPG

Comment:  Bennett dropped from No. 1 to No. 3 among freshman scorers, but he stays at No. 1 in our rankings. He went for 15 points and 13 rebounds over the weekend against North Carolina, including a couple of plays that had NBA scouts drooling. His recent play has people asking if he could be a sleeper No. 1 overall pick come the June NBA Draft. He is strong and has a versatile skill set; don't count it out.
2.

Marcus Smart

--

Oklahoma State Cowboys
 
Position: Point Guard

Ht: 6-4 Wt: 225

Season Stats: 13.4 PPG, 6.2 RPG, 5.2 APG, 2.6 SPG

Comment:  Smart had been struggling for a few weeks heading into Monday night's game against Gonzaga, but his performance against the Bulldogs reminded people why he was No. 1 in our rankings for so long. He went for 23 points, four rebounds and six assists -- but did miss two potential game-tying free throws with eight seconds left in the Oklahoma State loss. He'll be key in Big 12 play.
3.

Ben McLemore

--

Kansas Jayhawks
 
Position: Shooting Guard

Ht: 6-5 Wt: 195

Season Stats: 15.8 PPG, 5.5 RPG, 2.3 APG

Comment:  McLemore followed up his big game against Ohio State with a pedestrian line of nine points, three rebounds and three assists. With that said, he's continuing to show his potential as a top-five pick in the draft. He has tremendous athleticism, can get his own shot off the bounce and knocks down perimeter jumpers. Throw in his dominance in transition, and he'll only get better. 
4.

Shabazz Muhammad

--

UCLA Bruins
 
Position: Small Forward

Ht: 6-6 Wt: 225 

Season Stats: 19.6 PPG, 4.6 RPG

Comment:  Muhammad made it into the rankings for the first time last week, and is already moving up. He went for 27 points in the overtime win against Missouri on Friday, and is now leading all freshmen in scoring. He has now scored at least 21 points in four straight games, including back-to-back performances of 27 points in his last two outings. UCLA is getting more intriguing.
5.

Jahii Carson

--

Arizona State Sun Devils
 
Position: Point Guard

Ht: 5-10 Wt: 175

Season Stats: 17.7 PPG, 3.1 RPG, 5.3 APG

Comment:  As Arizona State enters Pac-12 play with a gaudy record, the pressure will rise on Carson. He's the main cog in the Sun Devils' offensive attack and has to deal with double-teams on many occasions. He is showing signs of getting accustomed to the attention, though. After a stretch of games with too many turnovers, he only gave it up twice in his last game -- along with 15 points, eight rebounds and seven assists.
Others to Note:
No change in the top five, but there are still plenty of guys ready to pounce if any of the quintet start struggling. The last guys on the chopping block this week included

Kentucky Wildcats

's

Archie Goodwin

and

Nerlens Noel

, UCLA's

Jordan Adams

,

St. John's Red Storm

forward

Jakarr Sampson

and

Michigan Wolverines

's

Nik Stauskas

.
The guy to watch for in next week's rankings, though, could be Baylor center Isaiah Austin. After starting slow because of injuries, he's now averaging 17.3 points and 11.3 rebounds in his last four games. He racked off three straight double-doubles, then had 20 points and eight boards against Gonzaga.

Steven Adams

of

Pittsburgh Panthers

has been pretty raw offensively, although he is shooting better than 62 percent from the field. However, he's really making an impact on the boards, averaging 8.2 over his last five games. He ranks third in the nation in offensive rebounding percentage.

Notre Dame Fighting Irish

's Cameron Biedschied has been up and down, but he's effective when he gets minutes. He's coming off a game in which he had 15 points in 20 minutes. In early December, he had 17 points in 17 minutes against Brown.
Just a note: Solomon Poole became eligible for

Georgia Tech Yellow Jackets

in mid-December, and he's still getting his legs used to college basketball. He's totaled eight points in three games.

Siyani Chambers

 of

Harvard Crimson

looked like the Phil Pressey of the Ivy against California. He went 2-for-15 – but had nine assists and made important players in the win. He had 16 and seven against Saint Mary's on Monday night too.
UNCG's

Kayel Locke

might not look like much – he's about 6-foot-5 and 240 pounds – but he's effective. He gets great position and can finish. In his last three games, he's averaging 14.3 points and 4.3 rebounds.
Freshman leaders – Points: Shabazz Muhammad, UCLA (19.6); Rebounds:

Jordan Reed

,

Binghamton Bearcats

(10.1); Assists:

Javan Felix

,

Texas Longhorns

(6.6).
Marvin Bagley, if eligible at Duke this season, projects as the country's top power forwar...

The Big Ten Tournament is a week earlier than usual, so the regular-season schedule may look...

Arizona, Grand Canyon and Tulane are also in Barcelona and have reported to be accounted for...
The Kansas forward is no longer accused of walking out on an $88 tab

Cavaliers basketball coach tapes statement on behalf of his university and his city

Gary Parrish and Matt Norlander discuss all things Marvin Bagley and his immediate future