Freshman of the Year: Jahii Carson and Arizona State on the rise
After nearly dropping to No. 4 in the rankings, Ben McLemore has completely changed course and is now closing the gap on Anthony Bennett.
• 4 min read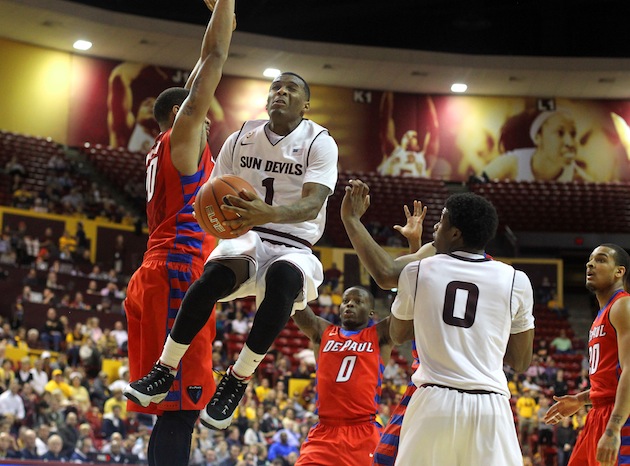 Arizona State's Jahii Carson put up back-to-back 20-point games in two Pac-12 road games. (US Presswire)
The Freshman of the Year rankings have the same quintet leading the way, as it has for the past few weeks. We are continuing to look for players to break into the rankings, but it's impossible to take any of the five out of the rankings given their recent play. Guys like Nerlens Noel and Isaiah Austin are playing well, but not better than ranked players like Jahii Carson and Shabazz Muhammad.
There are a couple of things worth looking at in this week's rankings. Ben McLemore, who was very close to taking a drop in the rankings last week, is now far closer to No. 1 than No. 4, and he's closing the gap on Anthony Bennett. Can he potentially overtake Bennett, who is putting up monster numbers? Also, look at Carson in the Pac-12. He's continuing to carry the Sun Devils, who are looking like the surprise of that league. 
As always, the Freshman of the Year rankings will be released on Tuesdays, along with the Player of the Year rankings. 
1. Anthony Bennett -- UNLV
 
Position: power forward

Ht: 6-8 Wt: 240

Season Stats: 19.6 PPG, 9.3 RPG

Comment: Bennett hasn't slowed down since Mountain West play started, scoring at least 22 points in three of his last four games. Over the weekend, he went for 22 points and 16 rebounds in an overtime win over Air Force. Road games this week against San Diego State and Colorado State will be telling, as SDSU is a tough place to play and Colorado State has the inside duo of Colton Iverson and Pierce Hornung.
2. Ben McLemore -- Kansas
 
Position: shooting guard

Ht: 6-5 Wt: 195

Season Stats: 16.4 PPG, 5.4 RPG, 2.1 APG

Comment: We were close to dropping McLemore behind Marcus Smart AND Shabazz Muhammad last weekend after a couple of lackluster games, but good thing we waited. The St. Louis native had his coming-out party against Iowa State last week, going for 33 points and hitting the game-tying 3-pointer. He also went for 17 points and eight rebounds on Monday. A potential ankle injury could slow his momentum. 
3. Jahii Carson -- Arizona State
 
Position: point guard

Ht: 5-10 Wt: 175

Season Stats: 17.1 PPG, 3.2 RPG, 5.2 APG

Comment: Carson isn't the only reason Arizona State is off to a 3-1 start in the Pac-12 -- and a 14-3 record overall -- but he's certainly been a major boost. He just had back-to-back 20-point games on the road against the Oregon schools, while also playing nearly every minute and taking care of the ball. Fun stat: Carson is the first frosh to average 17 points and five assists since Shaheen Holloway did it for Seton Hall back in 1996-97.
4. Marcus Smart -- Oklahoma State
 
Position: point guard

Ht: 6-4 Wt: 225

Season Stats: 14.0 PPG, 5.5 RPG, 4.7 APG, 2.8 SPG

Comment: Oklahoma State has now lost three of its last four games, and Smart struggled over the weekend against Oklahoma. He shot just 3 for 10 from the field, with four turnovers and four fouls. In the next six games, Oklahoma State has Baylor twice, as well as games against Kansas and Iowa State. That will be a telling stretch for Smart and the Cowboys. 
5. Shabazz Muhammad -- UCLA
 
Position: small forward

Ht: 6-6 Wt: 225 

Season Stats: 18.2 PPG, 4.9 RPG

Comment: Muhammad finally slowed down this past week, despite UCLA continuing its winning ways. He scored 20 points total in his last two games after averaging 23.2 in his previous five contests. Muhammad could afford to be more efficient from the field, but his ability to be a go-to-guy and a finisher in transition has been helpful for the newly potent UCLA offense. 
Others to Note:
The number of guys knocking on the door was basically limited to Kentucky's Nerlens Noel and Baylor's Isaiah Austin this week. Noel went for 15 points, 11 rebounds, six assists, seven blocks and four steals against Texas A&M, and Austin has scored in double-figures in his last eight games, with five double-doubles in that span.
A couple of guys are starting to struggle. Michigan's Nik Stauskas was held scoreless against Ohio State, as he simply couldn't get any open looks. That could be a fluke. Duke's Rasheed Sulaimon was 1 for 15 shooting in his last two games, for a combined six points.
For a player with the athleticism and skill set of Alex Poythress, the Kentucky forward should be doing a lot more. He hasn't been taking advantage of the matchup problems he creates, not attempting double-digit shots in a game since Dec. 1.
Iowa State's Georges Niang was always productive in high school, no matter the opponent. That hasn't changed. He's averaging 15.0 points and 4.7 rebounds in his last three games.
St. John's has now won four Big East Rookie of the Week honors, with Chris Obekpa joining JaKarr Sampson. Obekpa set the St. John's single-season record for blocks in a season -- and it's only mid-January.
Could Saturday's win over Minnesota have been Yogi Ferrell's breakout game? He had 13 points and eight assists, moving to third among freshmen in assists.
Danuel House was a heckuva pickup for Houston in the class of 2012, as House was ranked among the top 40 prospects in the country. It's paying off. Prior to the weekend, House had averaged 20.7 points in his last three games.
The best freshman in the CAA has been Georgia State's R.J. Hunter, but he went down with a foot injury against Delaware over the weekend. The Panthers need Hunter and his 15.9 points.
Freshman leaders -- Points: Anthony Bennett, UNLV (19.6); Rebounds: Shawn Long, Louisiana-Lafayette (9.8); Assists: Javan Felix, Texas (6.3).
Brey's team overcame a 16-point deficit to top Wichita State in the Maui finale

No. 13 Irish led for only 22 seconds, but a pair of clutch free throws lifted them to a Maui...

Freshman overcomes plenty before he even puts on a jersey and then sparks signature win for...
Officials didn't buy the flop, but the Mastadons player gets an A-plus for his acting effo...

It's early, but the Vols appear to finally be heading in the right direction

Shittu is the highest rated Vandy commitment since .. Darius Garland, who committed last w...