Freshman of the Year: Marcus Smart takes the crown
Oklahoma State's Marcus Smart ends the season atop the Freshman of the Year rankings.
• 4 min read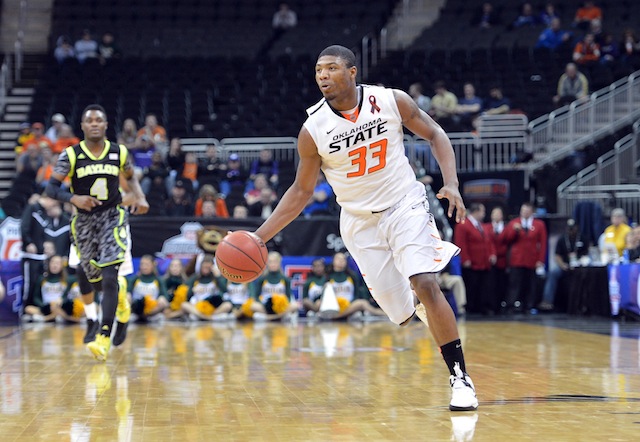 Our first Freshman of the Year rankings this season came out on Nov. 20, and Oklahoma State Cowboys 's Marcus Smart found himself atop the list -- leading Nerlens Noel and Anthony Bennett .
It's only fitting that our final rankings also features Smart at No. 1. It wasn't a wire-to-wire run like Anthony Davis was last year (aside from one week, when teammate Michael Kidd-Gilchrist took the top spot), as Bennett and Ben McLemore were Nos. 1-2 for much of conference play. In fact, Smart dropped out of the rankings at one point after a couple of weeks when he struggled offensively. A late run over the final month, though, propelled Smart into the upper echelon of the rankings -- and he took back No. 1 in late February and hasn't relinquished the spot. 
Smart was always arguably the most important freshman in the country. Oklahoma State needed him badly at both ends of the floor. He came into college as a winner, and that's exactly what he has done in Stillwater. Smart immediately became a leader for the Cowboys, which is what they needed. As a result, Oklahoma State received a No. 5 seed in the NCAA tournament -- something that was unattainabale without Smart. 
Congrats to Marcus Smart, the No. 1 freshman in the country. 
1. Marcus Smart -- Oklahoma State
 
Position: Point Guard

Ht: 6-4 Wt: 225

Season Stats: 15.7 PPG, 5.7 RPG, 4.2 APG, 2.9 SPG

Comment: Smart hasn't been the most efficient offensive player all season, but he really stepped up his game toward the end of the campaign -- and now he has a ton of momentum heading into the NCAA tournament. Over his last four games, Smart averaged 21.0 points, 6.3 rebounds, 3.5 assists and 3.0 steals. He's the type of talent who can carry Oklahoma State to several wins in the big dance. He impacts a game at both ends of the floor, and he isn't afraid to take big shots.
2. Ben McLemore -- Kansas
 
Position: Shooting Guard

Ht: 6-5 Wt: 195

Season Stats: 16.4 PPG, 5.3 RPG

Comment: McLemore could be the key to

Kansas Jayhawks

' potential run to Atlanta (aside from the Jayhawks' point-guard play, obviously). He needs to take on the attitude of a go-to-guy in the NCAA tournament, something that he hasn't done consistently this season. He is capable of breaking out for 25 or even 35 points in a given game, but some defenses have adjusted and forced him to put it on the floor. McLemore had five points in the Big 12 title game against Kansas State, but he could be the No. 1 overall pick.
3. Anthony Bennett -- UNLV
 
Position: Power Forward

Ht: 6-8 Wt: 240

Season Stats: 16.1 PPG, 8.1 RPG

Comment: Bennett had the No. 1 ranking for most of the season, dominating the Mountain West on the offensive end and then also crashing the glass with aggression. However, an injury and a late-season slump sent him down in the rankings -- although he's also the type of talent who can put the

UNLV Rebels

on his back and lead them to the Final Four. After averaging 19.0 points and 7.7 rebounds in his last three games, it looks like Bennett is healthy and back to his old tricks on the inside. 
4.

Jahii Carson

--

Arizona State Sun Devils
 
Position: Point Guard

Ht: 5-10 Wt: 175

Season Stats: 18.3 PPG, 3.4 RPG, 5.0 APG

Comment: The Sun Devils' losing streak down the stretch of the regular season kept them out of the NCAA tournament, but Carson proved himself as one of the most explosive and exciting point guards in the country. In two Pac-12 tournament games, Carson totaled 55 points, nine rebounds and 11 assists -- while shooting 22-for-36 from the field. If Carson returns to Tempe -- which he should, barring a first-round guarantee -- he could have Arizona State back in NCAA tournament contention.
5.

Shabazz Muhammad

--

UCLA Bruins

 
 

Position: Small Forward

Ht: 6-6 Wt: 225 

Season Stats: 17.8 PPG, 5.3 RPG 

Comment: If UCLA is to make a deep run in the NCAA tournament, much of it is going to fall on the shoulders of Muhammad. Without Jordan Adams due to injury, Muhammad will be the primary scorer on the Bruins, but he has to be careful not to force things on the offensive end. In his last three games, Muhammad averaged fewer than 12 points per game, and he failed to knock down a single 3-pointer. He needs to be efficient with the ball and also find open teammates if he attracts too much attention.
Others to Note:
Kentucky Wildcats

's

Nerlens Noel

would have undoubtedly made the list had he not torn his ACL in February.

Michigan State Spartans

's

Gary Harris

flirted with the rankings for several weeks, but never got over the hump.

Jakarr Sampson

of

St. John's Red Storm

 and UCLA's

Jordan Adams

were also stellar, while

Baylor Bears

's

Isaiah Austin

,

Indiana Hoosiers

's

Yogi Ferrell

,

Michigan Wolverines

's

Nik Stauskas

and

Glenn Robinson III

,

NC State Wolfpack

's

T.J. Warren

and

Duke Blue Devils

's

Rasheed Sulaimon

all deserved some recognition.
The best mid-major freshman was arguably

High Point Panthers

's

John Brown

, who was injured before the Big South tournament but is expected to return next season.
After a close game against Michigan, Air Force is playing San Diego State with some moment...

Quickley played for John Calipari this summer with USA Basketball

A revamped Erwin Center is part of a $4.25 million upgrade to the Longhorns' hoops facilit...
Nov. 10 will be here before you know it so here's what you need to know

The league would be wise to treat that series like the ACC treats Duke-North Carolina

Pacific is penalized after the NCAA found academic rules were broken