Freshman of the Year: Nerlens Noel's injury shakes up race
Nerlens Noel was rising to the top three of the Freshman of the Year race, but his season-ending ACL injury forces a shuffle at the bottom of the top five.
• 5 min read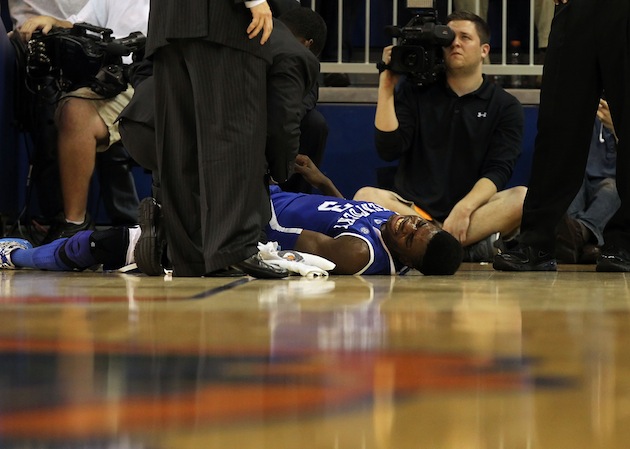 Here's hoping Nerlens Noel comes back stronger than ever after recovering from his ACL injury. (US Presswire)
The top five of this week's Freshman of the Year race features four familiar faces, as well as the return of a former rankings mainstay. Shabazz Muhammad and his scoring ability break back into the No. 5 spot, while Jahii Carson moves up to No. 4. Marcus Smart continues to push Anthony Bennett and Ben McLemore for the No. 1 position.
However, the biggest freshman story of the past week had to do with Kentucky Wildcats center Nerlens Noel , who tore his ACL and will miss the rest of the season. More than likely, his game against Florida Gators is the last time we will see him in a Kentucky uniform (if his brother is right). When healthy, he was certainly one of the best freshmen in the country, becoming a dominant defender and gradually getting better on the offensive end. Lately, he had blossomed into one of the more impactful players in the SEC. However, we had to drop him out of the rankings this week -- he won't return this year, and therefore is no longer a candidate to win Freshman of the Year nationally. With that said, he's probably still the best freshman in the SEC. If all goes well, Noel will still be a top-three or top-five pick in June's NBA Draft and have a successful NBA career. 
As always, the Freshman of the Year rankings are released on Tuesdays, along with the Player of the Year rankings. 
1. Anthony Bennett -- UNLV
 
Position: Power Forward

Ht: 6-8 Wt: 240

Season Stats: 18.0 PPG, 8.7 RPG

Comment: Bennett and

UNLV Rebels

picked up a monster win on Saturday night, knocking off San Diego State behind Bennett's 21 points and 12 rebounds. He needs more performances like that -- not the eight points and four fouls he had in a loss to Air Force earlier in the week. UNLV has struggled on the road, but three of its final five games are at home. Coming up on Wednesday is a battle against

Colton Iverson

,

Pierce Hornung

and the size of Colorado State. UNLV needs Bennett to hold his own in the paint.
2. Ben McLemore -- Kansas
 
Position: Shooting Guard

Ht: 6-5 Wt: 195

Season Stats: 16.7 PPG, 5.5 RPG

Comment:

Kansas Jayhawks

seems far removed from its three-game losing streak of two weeks ago, obliterating Texas over the weekend. McLemore had 13 points and six rebounds, following up his 30-point, seven-rebound effort against Kansas State. The Jayhawks will look to get revenge this week against Oklahoma State, to whom they lost at home at the start of February. McLemore had 23 points on 17 shots in that meeting; he will need to be efficient offensively against the Cowboys.
3. Marcus Smart -- Oklahoma State
 
Position: Point Guard

Ht: 6-4 Wt: 225

Season Stats: 15.0 PPG, 5.8 RPG, 4.5 APG, 2.9 SPG

Comment: Smart is really making a push to break into the top-two of the rankings. He's been arguably the most valuable freshman in the country, propelling the

Oklahoma State Cowboys

to the top of the Big 12 with clutch play at both ends of the floor. Against Oklahoma over the weekend, he had 28 points, seven rebounds and four assists -- including multiple key plays down the stretch of games. A win against Kansas on Wednesday would put Oklahoma State in the driver's seat of the league. 
4. Jahii Carson -- Arizona State
 
Position: Point Guard

Ht: 5-10 Wt: 175

Season Stats: 17.7 PPG, 3.1 RPG, 4.9 APG

Comment: Carson had been slumping when the

Arizona State Sun Devils

lost two of three to drop out of most projected brackets, but he bounced back with 18 points on nine shots in a key road win at Colorado on Saturday night. Prior to that, Carson had averaged 13.0 points in his previous three games, while turning it over 16 times and dishing out only eight assists in that span. Arizona State has its final two home games of the regular season against Washington and Washington State this week; Carson needs to play well. 
5. Shabazz Muhammad -- UCLA 
 

Position: Small Forward

Ht: 6-6 Wt: 225 

Season Stats: 18.5 PPG, 5.2 RPG 

Comment: With Noel dropping out of the rankings due to injury, it was time for Muhammad to reappear in the top five. He had 25 points and five rebounds in an important road win at Stanford over the weekend, averaging 19.0 points and 8.0 rebounds in two games last week. His offensive efficient has been inconsistent over the past couple of months, but his ability to score the ball on a nightly basis is impressive. A road game against city rival USC is a must-win for the UCLA Bruins ; what does Muhammad have in store? 
Others to Note:
Obviously, only one player changed from last week -- although the race for the fifth spot in the rankings was heated after it was clear Noel wouldn't return this season.

Sam Dekker

is making a late charge for consideration, as the

Wisconsin Badgers

forward is averaging 13.0 points over his last three games, while knocking seven 3-pointers in that span. He has the ability to be a matchup problem for opponents.

Baylor Bears

needs more consistent offensive production from

Isaiah Austin

if the Bears are going to get an at-large bid. In the last five games, Austin is averaging 9.4 points and has only shot 50 percent or better once since January. Moreoever, he only grabbed one rebound in a loss to Kansas State.

Xavier Musketeers

likely won't make the NCAA tournament this season, but point guard

Semaj Christon

has been lighting it up in conference play. In his last 10 games, Christon is averaging 17.2 points and 4.4 assists.

Gary Harris

has added some much-needed perimeter punch to Michigan State's offense. He has scored at least 14 points in five of his last six games, shooting 21-for-37 from 3-point range during that span. 

St. John's Red Storm

forward

Jakarr Sampson

needs more attention. Despite getting left off the Freshman of the Year watch list, Sampson continues to make waves in the Big East. Prior to an eight-point performance over the weekend, he had averaged 18.3 points and 6.7 rebounds in his previous six games.
Another player struggling lately is

Josh Scott

of

Colorado Buffaloes

. He has scored more than seven points just once in the past six games, including a 0-point effort in an overtime loss to Arizona State this weekend. (Update: Didn't realize Scott had been knocked out of the Arizona State game on this play.)

Michael Frazier II

has picked up some of the slack for Florida lately, making 20 3-pointers in his last seven games, scoring in double-figures four times in that span.

Maryland Terrapins

's

Seth Allen

is still going through some growing pains, but he's been a key asset for the Terrapins lately. In their big win over

Duke Blue Devils

, he turned it over eight times -- but also had 16 points and the game-winning free throws. He will only get better.

Jameel Warney

could mean the difference between an NCAA tournament bid and another disappointing title game for

Stony Brook Seawolves

this season. In his last four games, Warney is putting up 12.6 points and 7.8 boards.
Freshman leaders -- Points: Shabazz Muhammad, UCLA (18.5); Rebounds:

Shawn Long

,

UL Lafayette Ragin Cajuns

(10.3); Assists:

Siyani Chambers

,

Harvard Crimson

(6.0).
Nov. 10 will be here before you know it so here's what you need to know

The league would be wise to treat that series like the ACC treats Duke-North Carolina

Pacific is penalized after the NCAA found academic rules were broken
Arizona, for no good reason, doesn't have to play at USC or UCLA this season

We look at the 'Major 7' leagues and give you the best of what's to come in conference play...

Louisville's coach predicts a change is coming to the NBA's one-and-done rule by 2019