Freshman of the Year: Smart finds way back to the top
Look who is back at No. 1. Marcus Smart, who started the first month atop the rankings, is back in the top spot after continued stellar play.
• 5 min read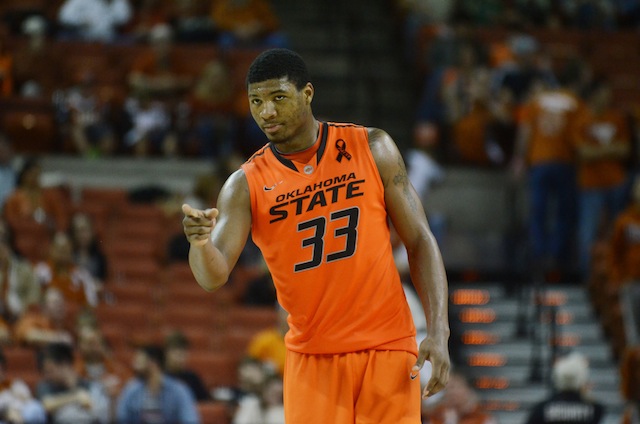 With only two more Freshman of the Year rankings to be released, the race is seeing its most shuffling in a long time. 
Oklahoma State Cowboys guard Marcus Smart  has vaulted from No. 3 to No. 1, as he continues to play well and carry the Cowboys to near the top of the Big 12 standings. He has played as well as anyone in the country over his last 10 games, and his ability to make plays at both ends of the floor and come up big toward the end of games separates him from the rest. Moreover, UNLV Rebels 's  Anthony Bennett has been struggling a bit lately, and he has a possible injury to watch for too, and Kansas Jayhawks 's  Ben McLemore is slumping toward the finish line. There is still time to make up ground, though, with each player heading into the final stretch of the season. For what it's worth, we close up Freshman of the Year rankings before the NCAA tournament. 
As always, the Freshman of the Year rankings are released on Tuesdays, along with the Player of the Year rankings. 
1. Marcus Smart -- Oklahoma State
 
Position: Point Guard

Ht: 6-4 Wt: 225

Season Stats: 15.0 PPG, 5.7 RPG, 4.3 APG, 2.9 SPG

Comment: While some freshmen are slowing down late in the season, Smart continues to play well, carrying Oklahoma State to a top-tier finish in the Big 12 standings. He did struggle in an overtime loss to Kansas last week, shooting 2 for 14 from the field and fouling out. Oklahoma State has won eight of its last nine games, with Smart averaging 18.2 points, 5.8 rebounds, 4.0 assists and 3.2 steals during that span. Smart will have to come up big in season-ending games against Iowa State and Kansas State. 
2. Anthony Bennett -- UNLV
 
Position: Power Forward

Ht: 6-8 Wt: 240

Season Stats: 17.0 PPG, 8.4 RPG

Comment: Bennett will be an interesting player to track during the season's stretch run. He isn't playing his best basketball of the year, going for eight points and seven rebounds while being saddled with foul trouble against Colorado State last week. Moreoever, he suffered a shoulder injury against Wyoming over the weekend, playing just four minutes before sitting out the rest of game. Dave Rice was able to be cautious with it in a 23-point win, and the Runnin' Rebels don't have the most difficult of stretches to finish the season.
3. Ben McLemore -- Kansas
 
Position: Shooting Guard

Ht: 6-5 Wt: 195

Season Stats: 15.9 PPG, 5.4 RPG

Comment: Since McLemore scored at least 15 points -- including a 30-point outburst -- in four straight games, he has struggled. He had just seven points in Kansas's overtime win over Iowa State on Monday night, and he is averaging 10.3 points in his last four games. In that span, McLemore shot just 13 for 37 from the field, going 5 for 15 from 3-point range. Teams are beginning to force him to put it on the floor more often, and he's not rising to that go-to-guy role. 
4.

Jahii Carson

--

Arizona State Sun Devils
 
Position: Point Guard

Ht: 5-10 Wt: 175

Season Stats: 17.5 PPG, 3.1 RPG, 5.0 APG

Comment: Carson came up big in wins over Colorado and Washington State, but he couldn't find his shot over the weekend in a disappointing loss to Washington. He was able to get into the lane, but the shots weren't falling. Carson finished the game shooting 3 for 14 from the field for just 10 points, although he did dish out seven assists. The Sun Devils are still in the hunt for an at-large bid, but they are going on the road against

UCLA Bruins

, USC and Arizona. Carson averaged 18.3 points and 6.7 assists in the first three games against those teams.  
5.

Shabazz Muhammad

-- UCLA 
 

Position: Small Forward

Ht: 6-6 Wt: 225 

Season Stats: 18.2 PPG, 5.1 RPG 

Comment: Muhammad moved back into the rankings last week in the wake of Nerlens Noel 's injury, and he didn't do much to back it up against USC, scoring 11 points and making two field goals. With that said, Muhammad's offense has been a major reason for UCLA's hot streak of winning four of its last five. There are still four games remaining for the Bruins, and they start with home tilts against the Arizona schools. Muhammad has to do better if UCLA is to make an effort at the Pac-12 crown. 
Others to Note:
There could be some shuffling at the No. 5 spot the final couple of weeks. Muhammad leads freshmen in scoring, but there a few guys nipping at his heels:

Michigan State Spartans

's 

Gary Harris

,

St. John's Red Storm

 JaKarr Sampson and others. 

Kentucky Wildcats

big man

Willie Cauley-Stein

averaged 13.5 points, 9.5 rebounds and 5.0 blocks in two games last week. He's not Nerlens Noel, but he's got a chance to really come into his own.

Rasheed Sulaimon

of

Duke Blue Devils

has provided plenty of extra pop the past couple of weeks, averaging 20.0 points and 4.0 rebounds in his last three games, shooting 21-for-38 in that span.
Muhammad has been getting most of the UCLA attention, but

Kyle Anderson

is playing well again after some inconsistency. He averaged 14.5 points, 11.0 rebounds and 4.0 assists in the last two games.

Omar Calhoun

is becoming a consistent third option for

Connecticut Huskies

, scoring in double-figures in six straight games. In that span, he's averaging 14.8 points.
If

Binghamton Bearcats

's

Jordan Reed

stays atop the America East in both scoring (16.8) and rebounds (9.5), he would be the first freshman in the 34-year history of the league to do it.

Boston University Terriers

has a good one in

Mo Watson Jr.

. He's scored in double-figures in nine of his last 10 games, while also being a consistent distributor. Watson is going for 13.1 points and 6.7 assists in his last 10.

NC State Wolfpack

T.J. Warren

averaged 20.5 points and 11.5 rebounds in his last two games.
Before struggling in his last two games,

Purdue Boilermakers

big man

A.J. Hammons

had averaged 17.4 points and 8.4 boards in his previous five contests.
We've seen flashes from

Memphis Tigers

" data-canon="Memphis Tigers" data-type="SPORTS_OBJECT_TEAM" id="shortcode0"> 

Shaq Goodwin

throughout the year, and he had a dynamite game against Southern Miss over the weekend: 19 points, five boards, five assists, two blocks.

New Mexico State Aggies

Sim Bhullar

is more known for being 7-foot-5, but he's been playing well lately. In his last seven games, Bhullar is going for 12.1 points and 9.0 boards.
Freshman leaders -- Points: Shabazz Muhammad, UCLA (18.2); Rebounds:

Shawn Long

,

UL Lafayette Ragin Cajuns

(10.4); Assists:

Siyani Chambers

,

Harvard Crimson

(5.9). 
Marvin Bagley, if eligible at Duke this season, projects as the country's top power forwar...

The Big Ten Tournament is a week earlier than usual, so the regular-season schedule may look...

Arizona, Grand Canyon and Tulane are also in Barcelona and have reported to be accounted for...
The Kansas forward is no longer accused of walking out on an $88 tab

Cavaliers basketball coach tapes statement on behalf of his university and his city

Gary Parrish and Matt Norlander discuss all things Marvin Bagley and his immediate future