Freshman of the Year: Smart states his case as race heats up
The Freshman of the Year race only got better this week, as several players stated their case for being higher in the rankings.
• 4 min read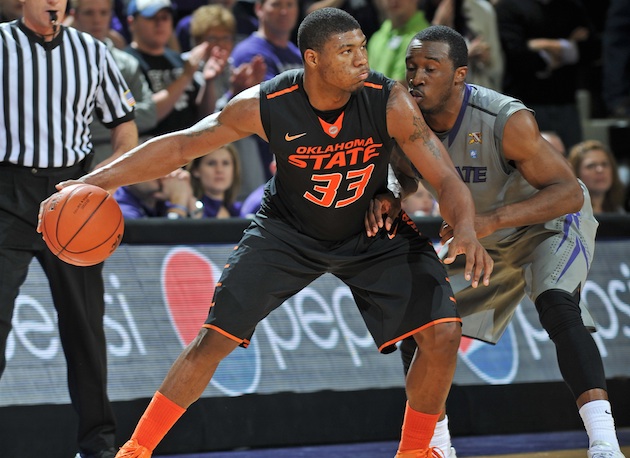 Marcus Smart averaged 23.0 points, 7.5 rebounds, 5.0 assists and 4.5 steals in two wins last week. (US Presswire)
As we enter the final full month of the regular season, the race for Freshman of the Year is beginning to heat up. Anthony Bennett has been atop the rankings for most of the past two months, with Ben McLemore 's increased role as a go-to-guy pushing Bennett for top billing at different times.
Lately, though, we're seeing a secondary group making moves toward the top couple of spots of the rankings. Marcus Smart has been on a role in the past week, and his ability to make plays at both ends of the floor might make him more valuable than any other frosh. Speaking of value, where would Arizona State be without Jahii Carson ? And we can't forget about Nerlens Noel , who is looking more and more dominant on the defensive end as the season progresses. Can anyone overtake Bennett down the stretch?
As always, the Freshman of the Year rankings will be released on Tuesdays, along with the Player of the Year rankings. 
1. Anthony Bennett --

UNLV Rebels
 
Position: Power Forward

Ht: 6-8 Wt: 240

Season Stats: 18.5 PPG, 8.5 RPG

Comment: Bennett bounced back this week, averaging 19.0 points and 7.5 rebounds in two games. Prior to that, Bennett was struggling a bit -- yet managed to keep a hold on the top spot. UNLV's inconsistency has hindered Bennett's case somewhat, but both Bennett and the Runnin' Rebels can make a move in the coming weeks with home games against the three primary MWC contenders on the way.
2. Ben McLemore --

Kansas Jayhawks
 
Position: Shooting Guard

Ht: 6-5 Wt: 195

Season Stats: 16.4 PPG, 5.4 RPG

Comment: Despite Kansas losing for the first time in two-and-a- half months over the weekend, McLemore showed aggressiveness and continued his stellar play. The redshirt frosh went for 23 points, including three 3-pointers, and five rebounds. The Jayhawks' lack of efficiency in a half-court setting has forced McLemore to create his own shot more often, but he's beginning to become far more comfortable with the ball in his hands.
3. Marcus Smart --

Oklahoma State Cowboys
 
Position: Point Guard

Ht: 6-4 Wt: 225

Season Stats: 14.2 PPG, 5.8 RPG, 4.6 APG, 2.9 SPG

Comment: At the beginning of the season, Smart's value to Oklahoma State put him ahead of most freshman in the first few weeks of the rankings. As the Cowboys began struggling, though, Smart's errant jumpers were more difficult to ignore. Last week, Smart and Oklahoma State got back on track. He had 25 points, nine rebounds, three assists and five steals in a road win at Kansas -- which followed 21 points, six boards, seven assists and four steals against Iowa State.
4. Jahii Carson --

Arizona State Sun Devils
 
Position: Point Guard

Ht: 5-10 Wt: 175

Season Stats: 18.3 PPG, 3.2 RPG, 5.3 APG

Comment: As Arizona State begins a stretch run where it needs to make a statement to the NCAA tournament selection committee, Carson is hitting his stride. On Thursday at Washington State, Carson went for 25 points in a key win, and he followed that up with 32 points and five assists while shooting 13-for-19 from the floor in a road loss to Washington. Carson and the Sun Devils are beginning to get more attention; how will they deal with it?
5. Nerlens Noel --

Kentucky Wildcats
 
Position: Center

Ht: 6-10 Wt: 228

Season Stats: 10.6 PPG, 9.5 RPG, 4.6 BPG, 2.3 SPG 

Comment: Another newcomer hitting his stride at the right time, Noel's dominance in multiple categories last week signified just how good he has the potential to be. Against Ole Miss, Noel only scored two points -- but he had 12 blocks. Over the weekend, Noel wasn't as much of a defensive factor, but he went for 19 points and 14 rebounds, while shooting 70 percent from the field. He's getting better and better.
Others to Note:
Shabazz Muhammad

is still scoring the ball, averaging 21 points in his last three games. Normally that would be enough to get him a spot in the rankings, but

UCLA Bruins

has lost three of its last four.
As we mentioned late last week, the biggest omission from the USBWA Freshman of the Year was

St. John's Red Storm

forward

Jakarr Sampson

, who is clearly the best newcomer in the Big East. He's averaging 17.8 points and 7.0 rebounds in his last four games -- and he's put up double-digits in 19 of his last 20 games.

Mississippi State Bulldogs

's

Gavin Ware

is really coming on strong lately. In his last four games, Ware is averaging 12.2 points and 5.5 rebounds.

Georgia Tech Yellow Jackets

likely won't make the NCAA tournament this season, but the Yellow Jackets have some optimism in the future with guard

Marcus Georges-Hunt

and big man

Robert Carter

. Shooter

Chris Bolden

is also just a freshman.

Oregon Ducks

guard

Damyean Dotson

clearly misses his backcourt mate, fellow frosh

Dominic Artis

, who has missed three games with a foot injury. Prior to Artis' injury, Dotson had double-figures in 13 of 19 games – but he hasn't reached it once with Artis out.

George Washington Colonials

has pulled off a couple of surprises this season, and it's thanks in large part to the freshman duo of

Joe McDonald

and

Patricio Garino

. They're combining to average 17.4 points, 7.2 rebounds and 5.6 assists.
Heading into this past weekend, UNCW guard

Chris Dixon

was averaging 20.4 points, 4.4 rebounds and 3.2 assists while shooting nearly 52 percent from 3-point range. However, he has totaled just 16 points in two games.
Time for our monthly mention of

High Point Panthers

forward

John Brown

. He's one of the more productive newcomers in the country, and he's still not slowing down. Brown has only scored in single-digits once this season.
Freshman leaders: Points: Anthony Bennett, UNLV (18.5); Rebounds:

Shawn Long

,

UL Lafayette Ragin Cajuns

(10.5); Assists:

Siyani Chambers

,

Harvard Crimson

(6.1)
Nov. 10 will be here before you know it so here's what you need to know

The league would be wise to treat that series like the ACC treats Duke-North Carolina

Pacific is penalized after the NCAA found academic rules were broken
Arizona, for no good reason, doesn't have to play at USC or UCLA this season

We look at the 'Major 7' leagues and give you the best of what's to come in conference play...

Louisville's coach predicts a change is coming to the NBA's one-and-done rule by 2019