Freshman of the Year: Xavier's Semaj Christon makes his debut
The top stayed the same in this week's Freshman of the Year rankings, but Xavier point guard Semaj Christon made his first appearance.
• 4 min read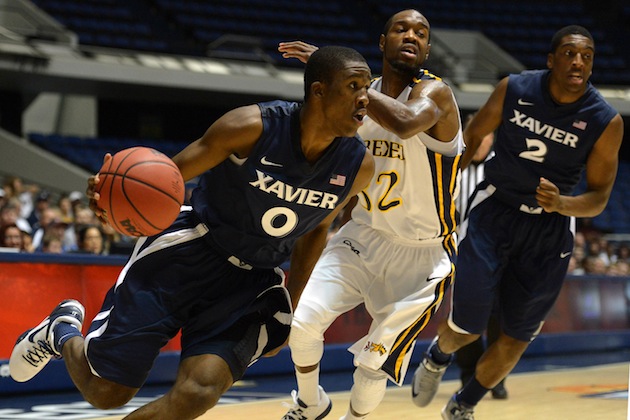 Xavier's Semaj Christon is coming off a 25-point performance in a road win at Purdue over the weekend. (US Presswire)
It's only one month into the season, but we're already starting to see some separation when it comes to the top freshmen in the country. Several players are starting to fade after hot starts, as competition gets stiffer and roles are figured out. Meanwhile, a host of players are heating up after relatively slow starts -- namely Michigan's Nik Stauskas and Xavier's Semaj Christon. Stauskas just missed the cut this week, while Christon made his debut at the No. 5 slot. If Ben McLemore takes over the go-to-guy role for Kansas, expect him to make an apperance soon.
Marcus Smart stays at No. 1, despite Oklahoma State losing its first game of the season. Smart still played very well, and he's among the Player of the Year candidates nationally. Kentucky, after losing two games, only has one player this week -- Nerlens Noel was knocked out by Christon. Obviously, as the Kentucky freshmen go, the entire Kentucky team goes. 
As always, the Freshman of the Year rankings will be released on Tuesdays, along with the Player of the Year rankings. 
1. Marcus Smart -- Oklahoma State
 
Position: Point Guard

Ht: 6-4 Wt: 225

Season Stats: 14.4 PPG, 7.7 RPG, 5.8 APG, 2.3 SPG

Comment: Oklahoma State suffered its first loss of the season over the weekend, when Virginia Tech scored 81 points in a 10-point victory. It wasn't through any fault of Smart, though, who went for 18 points, 11 rebounds and six assists in the defeat. The only knock on him right now would be his shooting -- he's made just eight of his last 24 attempts.
2. Anthony Bennett -- UNLV
 
Position: Power Forward

Ht: 6-8 Wt: 240

Season Stats: 18.8 PPG, 7.8 RPG, 2.2 BPG

Comment: Bennett had another couple of solid scoring performances in the past week, going for 35 points and 14 rebounds in wins over UC Irvine and Hawaii. Bennett has been efficient from the field, is crashing the offensive glass, and is also getting to the free-throw line on a consistent basis. Moreover, he's starting to become more of a factor on the defensive end.
3. Archie Goodwin -- Kentucky
 
Position: Shooting Guard

Ht: 6-4 Wt: 198

Season Stats: 16.4 PPG, 5.6 RPG, 4.6 APG

Comment: It wasn't a great week for Goodwin or Kentucky; the Wildcats dropped back-to-back games. Goodwin averaged 10 points, 6.5 rebounds and 5.0 assists in the two games -- but his shot was off in both games and he struggled to take care of the ball against Baylor. It remains to be seen if Ryan Harrow will move Goodwin off the ball, where he's more comfortable.
4. Jahii Carson -- Arizona State
 
Position: Point Guard

Ht: 5-10 Wt: 175

Season Stats: 18.0 PPG, 5.1 APG

Comment: Carson fell back to earth this week, averaging just 10.5 points on 5-for-14 shooting, with 12 turnovers. Still, Carson ranks second among freshmen in scoring and is also in the top 10 assists -- and Arizona State has just one loss on the season, a neutral-site defeat to Creighton. Considering the team won just 10 games all of last season, that's definitely an improvement. Moreover, Carson has brought some buzz to the Sun Devils' program.
5. Semaj Christon -- Xavier
 
Position: Point Guard

Ht: 6-3 Wt: 187 

Season Stats: 16.0 PPG, 6.2 APG

Comment: Christon missed the season opener against Fairleigh Dickinson with an infection and then struggled against Butler. Since then, though, Christon has been one of the best point guards in the country. In the last five games, he's averaging 18.8 points and shooting better than 50 percent from the field. Moreover, he's averaging 6.2 assists on the season. In Saturday's road win against Purdue, he played all 40 minutes and had 25 points.
Others to Note:
There was a strong fight for the fifth spot. We already gave the case for Christon -- and he barely beat out Kentucky's Noel . Noel shot just 7-fot-24 from the field in two losses last week and needs to be more of a factor on the offensive end. 
The next three in line were Duke's Rasheed Sulaimon, Michigan's Stauskas and Kansas' McLemore.
If Boston College were any good, Olivier Hanlan would be getting more attention. In his last three games, Hanlan is putting up 20 points and 4.3 rebounds.
Pittsburgh's James Robinson continues to put up solid numbers -- without much flash. He had 14 assists in wins over Howard and Detroit, turning it over just four times and also scoring 11 points per game. Kid is a winner.
Jordan Reed of Binghamton is putting up some serious numbers in his first year. He's averaging 18.7 points and 10.1 rebounds, and is coming off a 26-point, 10-rebound performance against Monmouth.
JaKarr Sampson and Chris Obekpa are going to be a duo to watch all season for St. John's. Sampson had 15 points and 17 rebounds in his last game out, while Obekpa is among the nation's leaders in blocked shots.
Freshmen leaders -- Points: Bennett, UNLV (18.8); Rebounds: Michael Kessens, Longwood (11.4); Sekou Harris, Fairleigh Dickinson (7.3). 
Oklahoma and Arkansas are new additions to Sunday's Top 25 (and one)

Gary Parrish and Matt Norlander discuss a wild Saturday of college basketball

Ball left the program earlier this month and has since signed with a Lithuania professional...
Sooners beat third-ranked Shockers while Florida and FSU lost in upset fashion to unranked...

The Hoosiers grow up before our eyes, and Miller has his first signature victory as Indiana...

Trae Young, a freshman and the nation's top player, has a 21-point first half at Wichita S...