Friday's announcements epitomize a drama-filled class of 2014
When all is said and done, the class of 2014 is going to be known for one thing: drama.
• 2 min read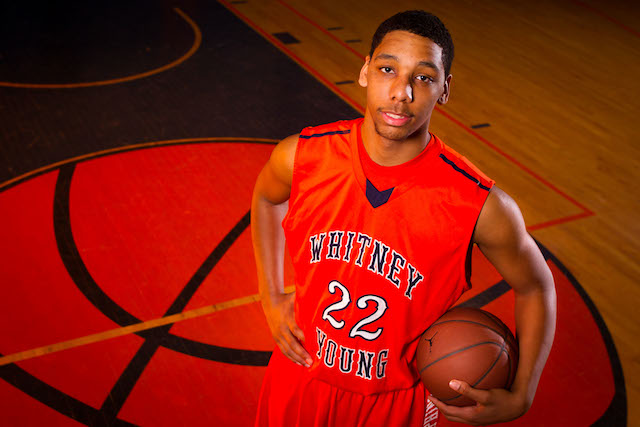 Drama.
That's the one word one could use to describe this week in the world of recruiting. And it wasn't supposed to start until Friday afternoon – when four of the top six players in the country announced their decisions.
But we had some twists and turns prior to the announcements, including two football-style flips. Top-100 prospect Payton Dastrup committed to Ohio State last week, but decided to sign with BYU when it came time to give his signature. Meanwhile, one-time Louisville commit Quentin Snider decided to decommit from Illinois at the last second and go back with the Cardinals.
But that was an all an appetizer for Friday afternoon.
Jahlil Okafor, Cliff Alexander, Tyus Jones, Stanley Johnson. Four of the top six players in the class of 2014, all announcing their decisions within 30 minutes of one another.
Okafor and Jones had discussed being a package deal forever, and it wasn't your usual duo. They didn't play high school ball together, they didn't play AAU ball together – they aren't even from the same state. However, they became best friends via elite tournaments and stayed true to their package deal promise. Duke was the leader for most of the recruitment, and while Kansas crept in late, the Blue Devils won out.
Next up was Alexander, and he was the main culprit for much of this week's drama. Illinois, Kansas and DePaul were all rumored to be the leaders at some point in the last week or two, and Memphis was also on his list. The Fighting Illini had most of the momentum, but they lost out in the final 24 hours. The talented big man chose Kansas.
Johnson didn't have as much twists and turns as the other three elite prospects, but don't mistake that for being a notch below, talent-wise. He committed to Arizona, and is immediately going to be one of the best scorers in the Pac-12 once he gets to Tucson.
When all the dust settled, here's where we stand. Only seven players in the 247Sports Composite top 100 are still on the market, and Justise Winslow and Thomas Welsh could be making their decisions before the month is out. No. 4 overall prospect Myles Turner and No. 12 prospect Rashad Vaughn are certainly waiting until the spring, while former Louisville commit Jaquan Lyle is up in the air. Dorian Pickens could be a Stanford lean if the academics work out.
That brings us to the duo from Australia. Forward Jonah Bolden is now at Findlay Prep, and he has at least 10 schools on his list. Expect him to wait until the spring as well. Dante Exum is a future NBA lottery pick, and he might not ever play a minute of college basketball.
One thing to watch for is the school lists for the remaining uncommitted players. Because of the events that transpired over the past couple of weeks, several schools need to adjust their targets – and need players. Kentucky could go for at least two more players, while Kansas is still searching for a point guard. Michigan State has also missed out on several targets. No matter what school lists look like right now for the elite players left on the board, things will change.
And we can be sure of one thing: there will be drama.
The selection committee will again reveal what it is thinking ahead of Selection Sunday

Teams not in major conferences with a shot at an at-large NCAA Tournament bids

The nation's No. 3 player will commit Saturday and here's his impact on each of his finali...
Gary Parrish and Matt Norlander also preview the weekend and Zion Williamson's announcemen...

The Sun Devils started 12-0, but since then are 2-4 after Wednesday's loss to Stanford

Andrew Jones is Texas' second leading scorer