From 1-68: Ranking the NCAA field
It's not about resumes and top-50 wins anymore, it's about winning basketball games. Based purely on the "eye test," how do the 68 teams in the field stack up?
• 9 min read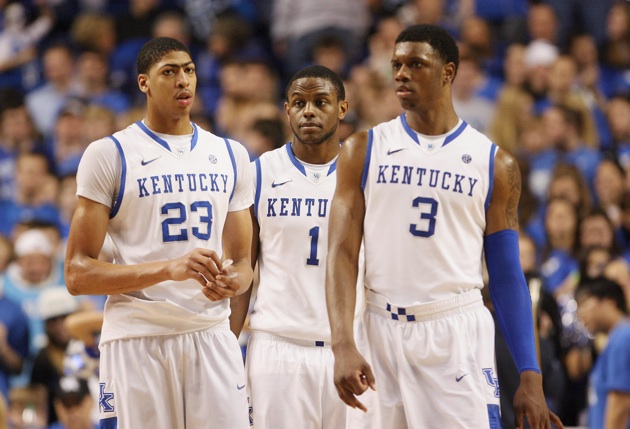 No matter which way one looks at it, Kentucky enters the NCAA tournament as the No. 1 team in the country. (US Presswire)
There were a few gripes this season about which teams were snubbed and which teams were questionably included, but those thoughts are in our rearview mirrors now. The NCAA tournament is officially here, meaning we no longer have to worry about "who's in, who's out?" and can concentrate on actual pairings and matchups. We know which 68 teams are going to be battling for the national championship, and here is how we see them stacking up.
Also, for the first time this year, the NCAA selection committee released its 1-68 seeding. Here is how they saw the field. 1-68 S-Curve
Note: The following is not an "S-curve" based on resumes; it is a ranking of all 68 teams in the field, based on how they perform on the court. Essentially, if each team played the other 67 other teams once, this is how I think the standings would turn out.
1. Kentucky: The Wildcats have all the pieces to win a title, at both ends of the floor; John Calipari's best chance at a national championship.
2. North Carolina: It hasn't been a perfect season for the Tar Heels so far, but they're still supremely talented and can score on anyone.

3. Syracuse: The Orange have lost just one game at full strength, and their depth and transition offense make them a difficult team to handle.
4. Missouri: With the nation's most efficient offense, the Tigers are fun to watch. When they are knocking down shots and defending, look out.

5. Ohio State: Could the Buckeyes be hitting their stride at the right time? The trio of Aaron Craft, Jared Sullinger and William Buford is tremendous.
6. Kansas: The Jayhawks don't possess the depth of other top teams, but Tyshawn Taylor and Thomas Robinson can carry the load.

7. Michigan State: It's not the talent on this team that makes it special; it's Draymond Green and terrific team basketball at both ends.
8. Marquette: No one wants to get in a running game with the Golden Eagles, and they also create matchup problems all over the court.

9. Baylor: Beating Kansas in the Big 12 tournament proved the Bears can beat elite teams. With their talent and athleticism, their ceiling is high.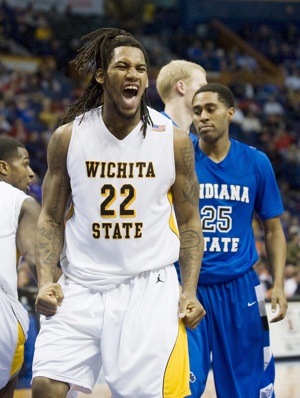 Wichita State is arguably the best non-BCS team in the country. (US Presswire)
10. Wichita State: The nation's best non-BCS club, the Shockers have very few weaknesses and can matchup favorably with most teams.
11. Michigan: Trey Burke has been one of the best PGs in the country, and the Wolverines' style is not easy to face on a short rest.

12. Florida State: If the Seminoles can score like they did in the ACC tournament, this team is tough. They defend as well as anyone in the country.

13. New Mexico: The Lobos have plenty of depth and plenty of 3-point shooters, along with a bonafide go-to-guy down low in Drew Gordon.
14. Memphis: There aren't 10 teams in the country playing better than Memphis right now. Can the Tigers keep that momentum going in the tourney?

15. Temple: When you have a perimeter trio like the Owls, it's tough to lose. It's not often all three are cold – and then there's Michael Eric down low.
16. Duke: The Blue Devils simply lack playmakers on the offensive end, but Mike Krzyzewski has done a tremendous job with this team.

17. Vanderbilt: The Commodores' win over Kentucky in the SEC finals could be a turning point for this team; they have talent and are hungry.
18. Indiana: Any team that beats Kentucky and Ohio State has a chance to make a run. The Hoosiers are versatile offensively, and have Cody Zeller.

19. Georgetown: Because of their system, the Hoyas are difficult to prepare for. This year, they have length and versatility at all positions.
20. Louisville: The Cardinals are playing their best at the right time. If they are hitting 3-pointers and forcing turnovers, look out.
21. Florida: The Gators never lived up to the preseason expectations, but they still have the pieces offensively to win a couple of games.
22. Wisconsin: On paper, the Badgers don't have the firepower to compete. With the way they play defense, though, they're a nightmare to face.
23. Saint Mary's: The Gaels had their ups-and-downs in the last month of the season, but their offense is tough to guard and they're experienced.
24. UNLV: Remember, this is a team that beat North Carolina by 10 and New Mexico by 17. Mike Moser will get his chance to shine.
25. Gonzaga: Despite their lack of toughness inside and defense on the perimeter, the Bulldogs are aggressive and have multiple weapons.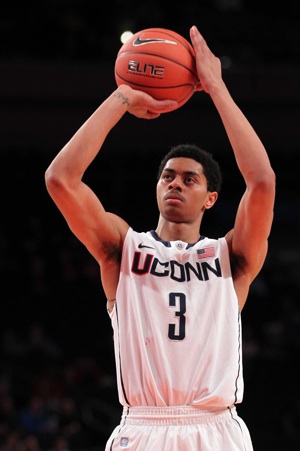 Which version of Connecticut will show up at the NCAA tournament?. (US Presswire)
26. Connecticut: Which Huskies' team will we see in the NCAA tournament? They have multiple NBA draft picks, but they haven't shown consistency.
27. Creighton: There might not be a better 3-point shooting team in the country than the Bluejays. Doug McDermott is an All-American up front.
28. San Diego State: The Aztecs are a year ahead of schedule, but Jamaal Franklin and Chase Tapley give them a chance in every game.
29. Murray State: People are torn on the Racers. Some say they're overrated, some say underrated. With Isaiah Canaan, they will go as he goes.
30. Cincinnati: The Bearcats went from bubble to lock after making a deep Big East run; they're tough and have a wide array of guys who can score.
31. Iowa State: Royce White might be the nation's most versatile player, and the Cyclones surround him with shooters to spread the defense.
32. Saint Louis: With Rick Majerus at the helm, the Billikens won't beat themselves. They are extremely disciplined, and run effective offensive sets.
33. Alabama: The Crimson Tide bounced back from their personnel issues from a couple months ago; their defense keeps them in games.
34. North Carolina State: The Wolfpack have proven it can hang with the top teams in the country; can they break through for an NCAA win?
35. Notre Dame: We've seen both extremes from the Fighting Irish this season, but it will be interesting to see if their shots are falling in the tournament.
36. Kansas State: The Wildcats are brutal to face because they are physical, crash the offensive glass and are aggressive. Not an easy out.
37. VCU: The Rams are playing better right now than they were at this point last season. It's a different cast, but they press and create havoc.
38. Long Beach State: Everyone's trendy upset special, the 49ers are experienced and balanced. Casper Ware is an absolute stud at the guard position.
39. Virginia: This is one team not playing its best down the stretch. The Cavaliers have a great defense, but they struggle to get consistent offense.
40. West Virginia: An intriguing team. Kevin Jones put together an All-America-caliber season, and Bob Huggins is an NCAA tournament veteran.
41. Xavier: The Musketeers' success will depend on Tu Holloway and Mark Lyons. If those two are rolling, they can beat anyone in the country.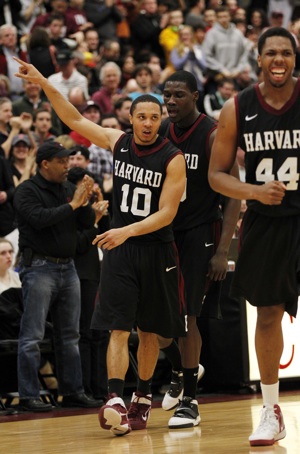 Harvard is hoping to make its first NCAA tournament appearance since 1947 last more than one game. (US Presswire)
42. Harvard: It is the Crimson's first NCAA tournament trip in over 60 years, and they won't go easy. Keith Wright and Kyle Casey are solid.
43. Purdue: Since the dismissal of Kelsey Barlow, the Boilermakers have actually looked better. Robbie Hummel's farewell tour has been heartwarming.
44. Colorado State: The Rams are an interesting offensive team. They shoot extremely well from 3-point range but also attack the rim.
45. Texas: If J'Covan Brown gets cooking, the Longhorns can stay in games. He has the ability to put the team on his back and carry them for stretches.
46. BYU: On paper, the Cougars have the pieces to win a game or two. However, they haven't been able to put it together against good teams.
47. California: Coming into the NCAA tournament having lost three of four, the Golden Bears aren't hot. Jorge Gutierrez is one of the toughest guys around.
48. Belmont: Winners of 14 in a row, the Bruins aren't afraid of anyone. They have more size than most mid-majors and lots of depth and experience.
49. Iona: The Gaels might not have deserved a bid, but they have the talent to win a game. Scott Machado, Mike Glover and Momo Jones are explosive.
50. South Florida: Sure, the Bulls' system isn't very attractive to watch, but they force their style on opponents and make life difficult.
51. Colorado: The Buffaloes made a great run through the Pac-12 tournament to get a bid. Carlon Brown will have at least one YouTube-caliber dunk.
52. Southern Miss: The Golden Eagles might be playing the worst of any at-large team. They haven't won a game by double-digits since January.
53. St. Bonaventure: Here is Andrew Nicholson's chance to let America know who he is. He has the ability to dominate at both ends of the floor.
54. South Dakota State: Nate Wolters is one of the nation's most under-the-radar star guards; he'll have a chance at a coming-out party this week.

55. Davidson: Most people forget that the Wildcats beat Kansas in Kansas City this season. Bob McKillop has had success in the tourney.
56. New Mexico State: When the Aggies get their running game going, they can fill it up. Wendell McKines has 20 and 10 potential every night.

57. Detroit: This isn't your typical No. 15 seed. The Titans have a McDonald's All-American in Ray McCallum and a future pro in Eli Holman.
58. Montana: There's no Anthony Johnson on this year's team, but the Grizzlies have swagger and have won 20 of their last 21 games.

59. Ohio: Might we see a repeat of 2010? That season, the Bobcats upset No. 3 seed Georgetown in a dominant win. D.J. Cooper is still around.
60. Lehigh: Try to get a glimpse at guard C.J. McCollum. He's one of the best all-around players at his position, and will be a pro.

61. LIU-Brooklyn: The Blackbirds are fun to watch, pushing the tempo while also anchoring it down low with efficient big man Julian Boyd.
62. Norfolk State: This is a team that beat Drexel and TCU this season, and also took Marquette to the wire. Kyle O'Quinn is a dominant big man.

63. Loyola (Md.): Every writer's favorite coach this week will be Jimmy Patsos, a walking quote with a great story. The Greyhounds are balanced.
64. UNC-Asheville: One of the nation's most underrated backcourts resides here, in seniors J.P. Primm and Matt Dickey. Don't overlook the Bulldogs.

65. Lamar: Pat Knight ripping into his seniors clearly worked, as the Cardinals are 6-0 since. Maybe he should go off on them before the tourney too.
66. Vermont: This isn't going to be the Catamounts' year, but we will hear a lot more from them soon. There are only two seniors on this team.

67. Mississippi Valley State: After going 1-11 in the non-conference season, MVSU won 20 of 21 in the SWAC. The Delta Devils play fast.
68. Western Kentucky: The lone sub-.500 team in the field, the Hilltoppers are undefeated since Ray Harper was named permanent head coach.
Micah Roberts set lines for Vegas' biggest casinos. Now, he's locked in a pick for Oregon vs....

Former Vegas bookmaker Micah Roberts is 12-7 on games involving Gonzaga or BYU

Josh Nagel has his finger on the pulse of West Virginia basketball and released a pick for...
The FBI investigation took another high-profile twist

The Zags are ranked No. 9 in the CBS Sports Top 25 (and 1)

Davis is averaging 8.8 points and 2.4 rebounds per game this season