From 1-68: Ranking the NCAA field
This is not based on resumes -- it is simply a 1-68 ranking of how Jeff Borzello sees the tournament stacking up.
• 9 min read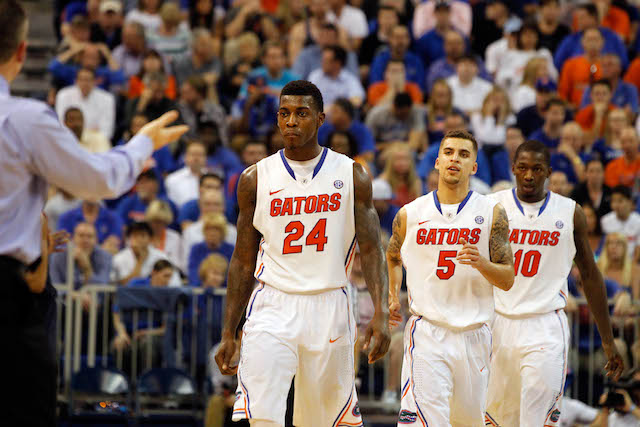 More NCAA hoops: Tournament bracket | More on NCAAs | Official NCAA 1-68
For the next couple of hours, we might discuss who got in and who got out, who got snubbed and who surprised -- but it will soon be in our rear-view mirror. Once we get that out of the way, it's time to focus on the games and matchups ahead. This tournament might have more potential Final Four teams than any seasons in recent memory, with up to 20 teams capable of reaching Dallas. The gap between each tier of teams isn't very large, meaning we could be in store for a tremendous NCAA Tournament.
This is not a ranking based on resumes -- that stuff is irrelevant now. It is simply a ranking of all 68 teams in the field, based on eye test, efficiency metrics, and how teams perform on the court. Essentially, if each team played the other 67 teams once, this is how I think the standings might turn out.
1. Florida: The Gators are unbeaten with their current roster, and might be the most complete team in the country, top to bottom. Third title for Billy Donovan?
2. Arizona: If Brandon Ashley were still playing, Arizona would likely be No. 1. The Wildcats are the best defensive team in the country and are balanced offensively.
3. Louisville: Once again, Rick Pitino has his team playing its best basketball late in the season. The Cardinals are gunning for three straight Final Fours.
4. Kansas: This is with a healthy Joel Embiid. If he's not, the Jayhawks drop out of the top 10 in my rankings. With him, they have the most talent in the country.
5. Duke: The Blue Devils have some defensive issues, but not many teams can match up with their long list of shooters and scorers. And Jabari Parker.
6. Michigan State: Like Kansas, this comes down to whether the Spartans are healthy. Keith Appling is the key player for them. Don't bet against Tom Izzo.
7. Iowa State: The Cyclones' Final Four bandwagon is getting more crowded every day. DeAndre Kane, Melvin Ejim and Georges Niang are capable of carrying the load.
8. Virginia: With the way the Cavaliers defend, they will never be out of a game. It will come down to whether they can make shots and control tempo.
9. Wichita State: Yes, the Shockers are among the Final Four favorites despite what some people think. They have three studs and lock down defensively.
10. Michigan: John Beilein has done a tremendous job with this team -- and Nik Stauskas is good enough to carry them offensively. They can really shoot the ball.
11. UCLA: UCLA beating Arizona on Saturday night made a statement; the Bruins are a legitimate threat. Kyle Anderson is a matchup nightmare and UCLA can score.
12. Creighton: It's hard to pick against the best player in the country, and Creighton has that in Doug McDermott. Will he get enough help from his supporting cast?
13. New Mexico: I think the Lobos are ready to break through in this NCAA Tournament. Cameron Bairstow and Kendall Williams are a terrific one-two punch.
14. Syracuse: The Orange haven't looked consistently good in weeks, but Jim Boeheim and the 2-3 zone always create problems in March. They can bounce back.
15. Villanova: The Wildcats are very good on both sides of the ball, but they have been underappreciated for most of the season. Can they prove us (me) wrong?
16. Cincinnati: It's going to be a struggle for the Bearcats to score, but when you play defense like they do and have Sean Kilpatrick, there is always hope.
17. Baylor: The Bears are playing some of the best basketball in the country -- and considering they were 2-8 in the Big 12 a month ago, that's tremendous.
18. Connecticut: March is a guard's month, and the Huskies have one of the best in Shabazz Napier. If they don't play a team with dominant bigs, look out.
19. Kentucky: It might be hard to trust the Wildcats, but it's also hard to overlook this much talent. John Calipari's team showed a different edge in the SEC tourney.
20. VCU: Shaka Smart's troops haven't received all that much attention this season, but the Rams are rolling. If they can get the tempo sped up, they're hard to beat.
21. Wisconsin: Despite slipping up to fall out of No. 1 seed contention, the Badgers are still a threat. Teams that haven't seen them before will have trouble.
22. Ohio State: This is another team that struggles to score but never seems to be out of a game due to defense. Plus, Thad Matta is a terrific coach with experience.
23. San Diego State: The Aztecs are highly dependent on Xavier Thames and his ability to score, but they have a ton of size and defend on the inside effectively.
24. Oklahoma State: The return of Marcus Smart has taken the Cowboys to another level, and they're going to be a team no one wants to play in the early rounds.
25. Oregon: It comes down to whether the guards are making plays. The Ducks have as much perimeter talent and depth as anyone in the country.
26. Tennessee: The Volunteers were a bubble team, but now that they're in, they can do damage. Jordan McRae can score, and they have strength down low.
27. North Carolina: Inconsistency is the biggest issue with the Tar Heels, but the development of Marcus Paige makes them solid. James Michael McAdoo is key.
28. Saint Louis: The Billikens have completely fallen apart late in the season, but they're hard to prepare for on short notice. Jordair Jett is a stud.
29. Memphis: With Joe Jackson and Memphis' group of experienced guards, the Tigers have a chance to win games. The Tigers need to hit outside shots, though.
30. Arizona State: Jahii Carson is the type of player who can put a team on his back and carry them, but backcourt mate Jermaine Marshall has to step up.
31. Pittsburgh: Throughout ACC play, the Panthers were maligned for their lack of good wins. But they can hang with good teams, and Lamar Patterson makes plays.
32. Gonzaga: It's not a vintage Gonzaga team, but Sam Dower has emerged down low and Kevin Pangos and Gary Bell Jr. are very solid on the perimeter.
33. Oklahoma: Tempo will be key with the Sooners, as their lineup and perimeter group makes them a tough matchup. But they need to get out and run.
34. Iowa: The Hawkeyes haven't defended anyone in weeks, but they still have the depth and balance to pose a threat. Roy Devyn Marble is an underrated go-to guy.
35. Massachusetts: The Minutemen will be fun to watch in the dance, but Chaz Williams has to carry them and they can't let an opponent slow them down.
36. Harvard: The Crimson didn't hang in the top 25 all season like some expected, but Wesley Saunders, Siyani Chambers and co. put teams on upset alert.
37. Stanford: It was a struggle down the stretch, but Chasson Randle is a emerging star and the Cardinal are loaded with size up front, led by Dwight Powell.
38. George Washington: Mike Lonergan has done a terrific job with this team, but can the Colonials beat quality teams consistently in the dance?
39. Texas: The Longhorns have size down low and a terrific freshman guard in Isaiah Taylor -- but they struggled mightily late in the season.
40. North Dakota State: Taylor Braun is the type of player who can carry a mid-major to the second win. The Bison are efficient on the offensive end.
41. Saint Joseph's: There's no depth for the Hawks, but their starting five is terrific. Langston Galloway has deep range and can make clutch shots late in games.
42. Colorado: With Spencer Dinwiddie, the Buffaloes would be much higher. But they still have size in the paint and Askia Booker making shots on the perimeter.
43. Kansas State: If the tournament was in the Little Apple, the Wildcats would be a top 10 team. But it's not. Marcus Foster has to be a star in the dance.
44. Xavier: The Musketeers have scorers inside and out, and are all well-coached. Semaj Christon will need to be a consistent playmaker for 40 minutes.
45. Stephen F. Austin: Entering the tournament on a 28-game winning streak, the Lumberjacks are going to be a popular upset pick. They won't beat themselves.
46. Providence: Bryce Cotton could finally get the national attention he deserves. The Friars don't have depth, but Cotton and Co. can win a game or two.
47. Manhattan: The Jaspers are going to pressure the ball defensively, they're going to force turnovers, and they'll bank on George Beamon lighting it up.
48. North Carolina State: The Wolfpack will go as far as T.J. Warren can take them. Given that he's one of the best scorers in the country, that's not a bad thing. 
49. Nebraska: Tim Miles has done an amazing job turning around the Cornhuskers. Terran Petteway has to score, but Nebraska really defends effectively.
50. BYU: The Cougars would have been higher if Kyle Collinsworth was healthy, but his ACL injury means Tyler Haws and Matt Carlino have that much more pressure.
51. Delaware: With the scoring trio of Devon Saddler, Davon Usher and Jarvis Threatt, the Blue Hens have the capability of throwing a scare into teams.
52. Mercer: The Bears tested themselves in the nonconference, and a veteran point guard like Langston Hall can make a name for himself in March.
53. Dayton: Beating NCAA Tournament-caliber teams pushed the Flyers into the dance. Now that they're here, their offensive balance could create problems.
54. North Carolina Central: This is a team that beat North Carolina State in the nonconference, and has won 20 games in a row entering Selection Sunday.
55. Tulsa: Riding an 11-game winning streak, Danny Manning's bunch defends inside the arc extremely well. James Woodard leads the way on offense.
56. New Mexico State: The Aggies have the experience and size to be a nuisance. They have been to three straight tournaments; can they break through?
57. UL Lafayette: The Ragin' Cajuns upset Georgia State in the Sun Belt title game, and have two studs in Elfrid Payton and versatile big man Shawn Long.
58. American: First-year head coach Mike Brennan led a turnaround of the Eagles, and their tempo and defense means they will likely stay competitive.
59. Western Michigan: Coming off a dominant win over Toledo, the Broncos will look to David Brown and Shayne Whittington to have big games.
60. Eastern Kentucky: The preseason favorite hit its stride at the right time. The Colonels can really score the ball, led by Glenn Cosey and Corey Walden.
61. Weber State: Davion Berry isn't Damian Lillard, but he is good enough to put up 30 points in the dance.
62. Milwaukee: Winning at Green Bay twice means you can be a threat in the Round of 64. Jordan Aaron's return from suspension completely changed the team.
63. Wofford: The Terriers are disciplined and have momentum. They will slow the game down, and hope Karl Cochran makes plays on the offensive end.
64. Mount St. Mary's: A Shaka Smart disciple, Jamion Christian will have his team pressing and creating "Mayhem" all over the court. They need to force turnovers.
65. Albany: Head coach Will Brown seems to get his team playing well late in the season. The Great Danes hung with Duke in last season's Round of 64.
66. Texas Southern: This is the third team Mike Davis has coached to the NCAA Tournament. Aaric Murray is a high-major talent who can dominate a game.
67. Coastal Carolina: The Chanticleers won the conference tournament on their homecourt. Cliff Ellis is an experienced coach, but this is too tall a task for him.
68. Cal Poly: The lone sub-.500 team in the NCAA Tournament, Cal Poly's metrics are actually better than some other participants. The Mustangs won 11 D-1 games.
Marvin Bagley, if eligible at Duke this season, projects as the country's top power forwar...

The Big Ten Tournament is a week earlier than usual, so the regular-season schedule may look...

Arizona, Grand Canyon and Tulane are also in Barcelona and have reported to be accounted for...
The Kansas forward is no longer accused of walking out on an $88 tab

Cavaliers basketball coach tapes statement on behalf of his university and his city

Gary Parrish and Matt Norlander discuss all things Marvin Bagley and his immediate future