FSU's patented early struggles could cost Noles this season
Over the last few seasons, Florida State has been OK with losing a few early games -- because it would simply turn around and get big wins in ACC play. Not this year.
• 3 min read
The formula for Florida State has been pretty simple the last few years: suffer a questionable loss or two in non-conference play, have everyone write you off -- then pull off a couple of monster wins in ACC play and make the NCAA tournament.
It's worked to perfection. Last season, the Seminoles went 0-2 against the Ivy League in non-league play, were 9-6 at one point -- then beat North Carolina and Duke twice each and won the ACC tournament. In 2011, there was a loss to Auburn -- and a win over Duke. 2009? A loss to Northwestern and a win over North Carolina.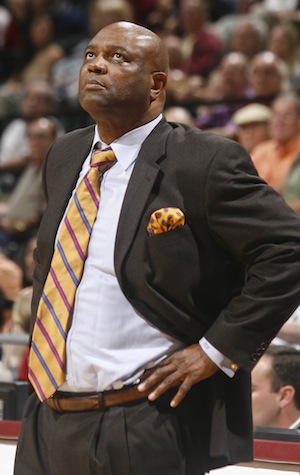 Leonard Hamilton might not be able to find enough wins for his team to get a bid come Selection Sunday. (US Presswire)
As a result, it's really been difficult to truly give up on any Florida State team. This year might be the exception, though. On Wednesday night, the Seminoles lost to Auburn, 78-72, dropping to 8-5 on the season. Those five losses include good teams like Minnesota and Florida -- but also Mercer and South Alabama, with the latter four coming in Tallahassee.
No big deal, right? Just beat a couple of top-10 teams in ACC play and Florida State should be set for the Big Dance. After all, the Seminoles already have wins over BYU and Saint Joseph's in non-league play.
Here's the problem with that formula this season, though: Where are the big wins going to come from in ACC play?
It's no secret that the ACC is down at the top this season. Aside from No. 1 Duke, there aren't any locks in the conference. North Carolina State looks pretty solid as the No. 2, and Maryland is also in the mix. After that, though, you can essentially throw the teams in a hat (including inconsistent UNC and injured Miami) and come out with whatever order you want. Besides Wake Forest at the bottom, of course. That makes for a great league race behind Duke, but that doesn't help teams looking for marquee wins in January and February.
Florida State does get Duke at home in February, but the Noles only get one crack at the Blue Devils this season. They play NC State twice in the final three weeks of the season, and Maryland twice over the next four weeks. They also play Miami (Fl.) twice, but both times could come without Reggie Johnson. North Carolina is another home-and-away opponent.
Even with a few good wins, though, is the selection committee really going to be impressed by an 11-7 record in the ACC (19-12 overall) that has wins over Duke, NC State, UNC, Maryland, BYU -- and losses to South Alabama, Mercer and Auburn? Seems like a resume destined for the NIT.
When Florida State was on the bubble during January and February last season, the Seminoles always had trump cards. They had beaten North Carolina and Duke. This year, they don't (and won't) have those aces in their back pocket. One win over Duke won't do it.
Of course, there's always the flipside. With the ACC being so down, it's conceivable that Florida State can turn things around and have a top-four finish in the league. The Seminoles have some solid pieces, including Michael Snaer and Okaro White, along with tons of size and quality depth. Getting 12 or 13 wins in the ACC is going to be tough to pass up come March.
But going forward, it's tough to trust Florida State. Leonard Hamilton needs to shore up the point guard situation, and FSU is turning it over too much and not getting enough distribution. Moreover, the defense isn't close to as imposing as it has been the last few years. White and Terrance Shannon are solid defensively, but they're not as intimidating as guys like Bernard James. Teams aren't afraid of Florida State any more, especially on the interior.
While there are still two months remaining, it's tough to see where Florida State beefs up its resume. The wins simply aren't there to get.
Time for a new formula.
For more college basketball news, rumors and analysis, follow @EyeOnCBB on Twitter, subscribe to our RSS Feed and subscribe to our College Basketball Newsletter. You can follow Jeff Borzello on Twitter here: @jeffborzello.
Andrew Jones is Texas' second leading scorer

Oklahoma's star freshman has a father who has been there and done that

Kentucky now is at risk of slipping out of the Top 25 (and one)
Cherry's commitment gives ASU a top-20 recruiting class and its highest rated pledge since...

Matt Norlander is on a 11-7 run in college basketball picks and shares his best bets for W...

Kentucky losing this game probably cost it a shot at earning a high NCAA Tournament seed