Ga. Tech's Solomon Poole could play in games as early as Monday
There were rumors that Solomon Poole would redshirt after enrolling at Georgia Tech early. However, a source says Poole will play in games as soon as possible.
• 1 min read
Georgia Tech is off to a 6-2 start, including a win over Saint Mary's. But the Yellow Jackets are about to get an even bigger boost.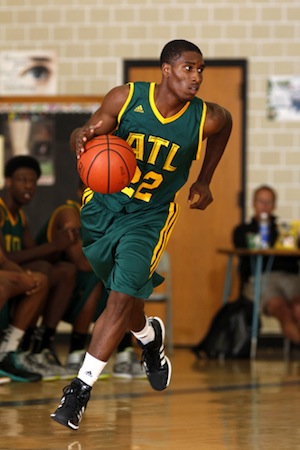 Four-star guard Solomon Poole enrolled early at Georgia Tech over the weekend. (Adidas)
Solomon Poole graduated early from high school and enrolled at Georgia Tech over the weekend, the school announced. He will be able to practice beginning on Saturday, although he can't play in games until the NCAA clears him. There are rumors he could redshirt, but a source tells CBSSports.com he will suit up as soon as possible.
"The plan is for Solo to play once he is cleared by Eligibility Center," the source said. "He could play as early as Monday."
Poole, a 6-foot guard, is the younger brother of Kentucky transfer Stacey Poole, who becomes eligible next week after sitting out. The two players should provide a boost to the Yellow Jackets' perimeter group.
Freshman Marcus Georges-Hunt has been scoring in double-figures, while senior point Mfon Udofia is playing well in his final season. Expect Solomon Poole to get minutes backing up Udofia, while the elder Poole will see time on the wing.
Solomon Poole was ranked among the top 50 players in the class of 2013 by most recruiting services.
"Our program is really excited to have Solomon join us at this time," head coach Brian Gregory said in a statement. "I'm really proud of all the hard work he has put in to get himself in this position. I know Solomon is ready to help this team in any way he can, and in any role possible. While this is great for our program currently, it will also accelerate Solomon's progress in the future."
Georgia Tech faces Alabama State on Dec. 17. 
Kentucky losing this game probably cost it a shot at earning a high NCAA Tournament seed

Freshman had 12 turnovers and 20 points; the Wildcats rattled him and kept OU on its heels

Kentucky and UNC are just behind the Blue Devils and Jayhawks
Cal's form wasn't pretty, but when it works, it works

Josh Nagel has his finger on the pulse of Purdue basketball and locked in a play for Tuesd...

Gary Parrish and Matt Norlander discuss the latest in college basketball