Georgia's Mark Fox is stacking wins while enduring loss of his father
Mark Fox lost his father, then won at Missouri, then broke down on national television. Now he's 2-0 in the SEC with a chance Tuesday night to move to 3-0. It's been a roller-coaster of emotions for the Georgia coach.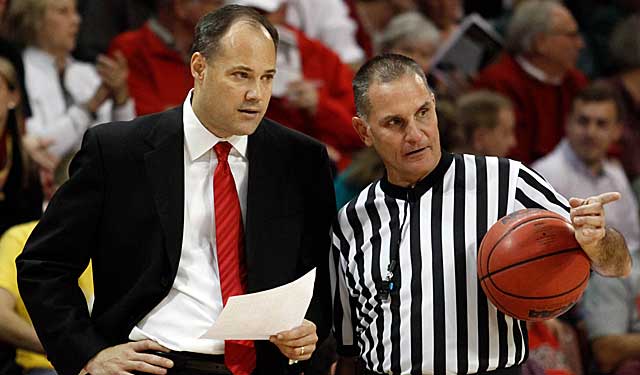 More college hoops: Top 25 (and one) | Lates hoops news, notes
If you follow college basketball closely, or monitor Twitter at all, you've surely seen the images by now of Georgia coach Mark Fox breaking down in the final seconds of last week's win at Missouri, then being embraced by players as he exited the court.
It was a sad and sweet moment captured on television.
"I just kinda had a meltdown," Fox told me late Monday. "I had a meltdown on national TV because I didn't give myself enough time to grieve. I mean, my dad died and I immediately came back and tried to figure out a game plan for Missouri. Then I coached my team [in practices]. Then I flew to the service. Then I drove all night for [the] game [at Missouri]. And then it just hit me. ... I guess I had tried to compartmentalize everything when I should've taken a day or two to grieve. But my dad wouldn't have wanted me to do that."
The whole thing is a blur now.
The timeline breaks down like this:
Jan. 3: Fox gets a call during a team meal before a game at George Washington. He's told his father, Raymond Lewis Fox, doesn't have much longer to live.
Jan. 4: Fox takes the first flight he can get back home to Kansas so that he can see his ailing father. But his father dies while Fox is in the air.
Jan. 5: Fox returns to Georgia to prepare for the SEC opener at No. 21 Missouri.
Jan. 6: Fox travels back to Kansas.
Jan. 7: Fox attends the memorial service for his father in Kansas.
Jan. 8: Fox drives from Kansas to Missouri, coaches Georgia to a 70-64 upset of the Tigers, then breaks down on the sideline.
Can you imagine a six-day sequence like that?
"You know, for about five seconds, I thought about leaving D.C. [before the GW game] and trying to get back," Fox said. "But he wouldn't have wanted that. He would've been pissed if I would've done that. He would've chewed my ass. So I coached [at George Washington] that Friday night. We played bad. I coached bad. Then I flew back the first thing the next morning, but he died while I was in flight. So I did not make it back in time."
Fast-forward to the present and Fox continues to grieve.
He was close with his father.
He misses him.
But schedules never are adjusted for sudden losses. So Fox is still bouncing around the country, from one city to the next. I caught-up with him late Monday in Gainesville, Fla., where he was in his hotel watching Kansas-Iowa State in advance of him trying to lead Georgia to a 3-0 SEC start for the first time in more than a decade.
Yes, Georgia is 2-0 in the SEC.
The Bulldogs are one of only four schools with a perfect SEC record.
If they somehow win Tuesday night at Florida, the Bulldogs would then be one of just three teams with a perfect SEC record, which would be a terrific accomplishment for this program that started 2-4 overall, entered league play 6-6 and has struggled the past two seasons. Put another way, Georgia has struggled since it lost Trey Thompkins and Travis Leslie early to the NBA Draft. And, of course, I know, other schools have lost players early, too. But traditional powers like Kentucky, North Carolina and Syracuse are simply better equipped to endure such losses than a program like Georgia. That's undeniable. And, either way, how many programs, even the great ones, lose two underclassmen to the draft in the same year when those underclassmen aren't projected as likely first-round picks?
Second-round picks typically return to school, you know?
So Fox was counting on Thompkins and Leslie to follow that trend.
But they didn't.
Consequently, instead of having a roster with Trey Thompkins, Travis Leslie and Kentavious Caldwell-Pope for the 2011-12 season -- that team would've been ranked in all preseason Top 25 polls, by the way -- Fox found himself having to replace two borderline pros, neither of whom is in the NBA now, and he's been playing catch-up ever since. Then, after last season, Fox also lost Caldwell-Pope early, after two years. That development caused Georgia to enter this season with even more question marks, and it's hard not to imagine what if.
"We just were not in a position to absorb the losses of early entries [when Thompkins and Leslie left]," Fox said. "We lost two guys in the same year, and it rocked us. And then Kentavious made a good decision to leave ... and I'm not saying the other guys made bad decisions to leave ... but [those decisions] put us behind the 8-ball, no question. But you can never look back and say what if. You just can't live life going backwards."
Which is good advice for anybody, I think.
And it's certainly what Fox has convinced himself to do in all aspects of life.
He's now coming to terms with the passing of his father while relentlessly trying to take Georgia to what would be a surprising finish in the SEC, and an upset at Florida would go a long way toward doing that. In the end, who knows? But 2-0 in the SEC with a chance to move to 3-0 is a nice place to be, and Fox is trying to enjoy every second of it.
"Things are OK," he said. "Last week was tough. But we're doing OK now."
Thousands of fans were turned away (even LeBron!) from the LaMelo Ball-Zion Williamson sho...

"Four Sides of the Story" also takes a look at Tiger Woods' first PGA tournament and the role...

Indiana's Archie Miller and Mizzou's Cuonzo Martin have been killing it on the recruiting...
Duke's much-anticipated Allen-Duval connection is off to a hot start already

It'll be Miller vs. Miller if the Hoosiers and Wildcats can finalize the proposed series

Wisconsin's Ethan Happ has made only two jumpers in his career, but is adding a long-range...