Goodman: Don't rush to judge Mizzou -- yet
The Missouri Tigers are full of new faces -- and everyone wants to pass judgment on Frank Haith's new squad. However, now is not the time to do so as Mizzou is missing arguably its two best shooters and scorers.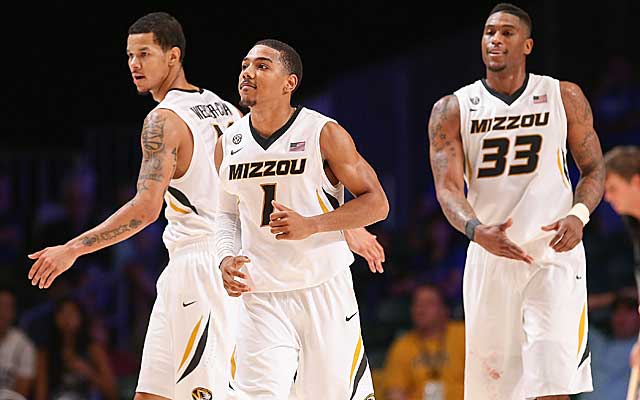 It will take time for Missouri newcomers to blend with returning players. (US Presswire)
NASSAU, Bahamas -- There's as much intrigue with this Missouri team as just about any group in the country, aside from maybe John Calipari's freshman-laden Kentucky squad in Lexington. Frank Haith added four transfers, brought back Laurence Bowers from a torn ACL and also signed four freshman and a junior college big man. 
The Tigers might have more talent than the team that won 30 games last season, but they hardly looked impressive on Thursday in a hard-fought 78-70 victory over Stanford in the Battle of Atlantis. 
But now is hardly the time to judge Mizzou. 
More college basketball
More from Battle 4 Atlantis
More college basketball coverage
Haith still doesn't have the services of Michael Dixon or Jabari Brown -- who are the team's top shooters and could well become the team's top two scorers as the season progresses. Dixon remains suspended, and Haith said it's unlikely he'll play over the final two games in the Bahamas. Brown isn't eligible until mid-December after transferring from Oregon a year ago. 
This Missouri team does have all the pieces. It's all about whether Haith can push the right buttons to make them fit together, whether they can accept their roles. Remember, transfers Keion Bell and Earnest Ross both led their respective teams in scoring two years ago -- but will have to buy into the team concept and filling a role in Columbia. Neither showed they were completely willing with their play on Turkey Day. 
Ross attempted more shots than anyone else on the team, a total of 19, and made just three. If Ross accepts his role as a big, strong forward who prioritizes rebounding and defense and Bell also becomes a relentless defender who takes quality shots, this team could be as dangerous as just about anyone in the country. 
Just imagine the difference with the nation's purest and quickest point guard, Phil Pressey, driving down the court with Dixon on one wing and Brown, the unanimous top shooter on the team, on the opposite side. Down low he'll have big man Alex Oriakhi, who looks like a different kid now that Jim Calhoun isn't screaming and yelling at him and yanking him in and out of the lineup. The final piece is Bowers, who still doesn't quite look like he did athletically before the injury but is far more comfortable with his ability to knock down mid-range jumpers. 
That leaves Ross and Bell as role players. Really good role players. 
Haith admitted the current group's identity needs to be built on rebounding, toughness and defense. The Tigers lack perimeter shooters right now, even though the numbers didn't indicate it entering Thursday's game against Stanford. Missouri was just 4 of 19 from beyond the arc against the Cardinal, with Pressey delivering two of the trifectas. 
Haith's mantra won't alter throughout the season, still hoping to hang his hat on defense and toughness, but the Tigers will also be able to outscore people when Dixon and Brown are added to the fray. 
"That's how we have to win games now," Haith said. "That's who we are now." 
But it won't be who they are come January and February. Haith realizes that the current team will have difficulty running the table down here in the Bahamas, with a loaded field that includes Louisville, Duke and Memphis. 
However, he's looking big picture -- especially after a stellar regular season and Big 12 tournament a year ago was overshadowed by a first-round NCAA tournament loss to Norfolk State.
"We don't have weapons," Haith said. "Mike Dixon and Jabari Brown are weapons. Offensive weapons." 
That completely change the complexion of this team. 
These teams went to The Big Dance in March, but could take a step back this season

The success of Chris Chiozza and KeVaughn Allen have the Gators ready to compete for SEC t...

FBI investigation suggests Quinerly received improper benefits from a Wildcats assistant c...
Meet the mid-major coach who refused to vote for the teams involved in the recruiting scan...

The player, now at the University of Portland, says he was injured during a workout which broke...