Goodman: Michigan's offense sputters, Wolverines rely on defense, toughness
It wasn't all that pretty, at least not by typical Michigan Wolverine standards. John Beilein's team shot just 18 percent from beyond the arc, but the fourth-ranked team in the nation came out on top because of toughness. That's right. Toughness.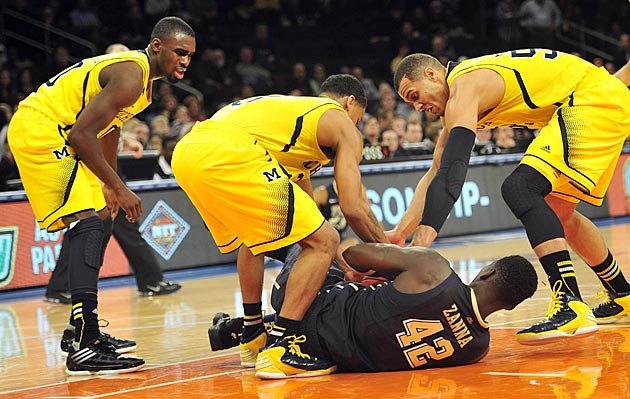 The Wolverines outrebound and outscrap a physical Panthers squad. (US Presswire)

NEW YORK -- John Beilein's teams throughout the years have been known for their ability to shoot the ball, the 1-3-1 zone and also for being soft. 
This year's edition of Beilein's Michigan Wolverines certainly has no shortage of guys who can knock down shots from long distance. There's Trey Burke, lights-out freshman Nik Stauskas, Tim Hardaway Jr. and role player Matt Vogrich. The zone will also likely be a staple, especially with the length on this team. But the lack of toughness?
Michigan 37, Pittsburgh 26. 
That wasn't the final score at the end of the game, but it was the final tally on the glass. The finesse Michigan Wolverines crushed the big, bad Pittsburgh Panthers on the boards. 
"They are definitely like a Big Ten team," Hardaway said after his fourth-ranked Wolverines held on for a 67-62 victory on Wednesday night over Pittsburgh. "We couldn't let them bully us." 
This Michigan team will have no issue scoring the ball. Burke is one of the elite point guards in the country, Hardaway looks like a different player, one who is no longer forcing shots -- and the two freshmen, Staukas and Glenn Robinson III, are even better than advertised. Stauskas is one of the elite shooters in the entire nation while Robinson is long and athletic and gives this team a completely different dimension. 
"It's easy," Burke said of his point-guard duties. 
But the question to whereas Michigan can make a deep NCAA tournament run, one that culminates with a trip to Atlanta for the Final Four, squarely rests on the defensive end. If the Wolverines can be effective on the glass, with their three-headed big man rotation of Jordan Morgan, Mitch McGary and Jon Horford, this team will be dangerous. 
Just as much as the top-ranked Indiana Hoosiers. 
Morgan hauled down eight boards in 29 minutes, McGary -- while still a work in progress -- fills a role as a big, strong, hard-playing rebounder and Horford is a capable rotation guy coming off the bench. But it's a team effort on the glass. Burke, Stauskas, Robinson and Hardaway are all decent rebounders for their position. 
Michigan lost its heart and soul, Zack Novak and Stu Douglass, after last season, and there was naturally the issue of who would step up in terms of toughness and leadership. The leadership void has been filled by the trio of Hardaway, Burke and senior Josh Bartelstein. The toughness has been filled by everyone collectively. And Burke and Hardaway both agreed that this team has improved chemistry over a group that was close-knit a year ago. 
"We want to be known for our toughness," team captain Josh Bartelstein said. "It hasn't been that way for a long time." 
It's highly doubtful that this Michigan team will ever have the label bestowed upon itself as a "tough team," but what's more important is that no one considers this group soft. There will be nights when the shots aren't falling, such as the case on Wednesday night when the Wolverines went an uncharacteristic 3 for 17 from beyond the arc. Yet the Wolverines found a way to come out on top. 
Michigan trailed for the majority of the game, before finally taking control with less than eight minutes to go. Hardaway had a trio of huge buckets down the stretch as Burke struggled with his shot (5-of-16 from the field). Four players were in double-figures: Burke (17), Hardaway (16), Stauskas (15) and Robinson (13). The Wolverines also took care of business at the charity stripe, going 18 for 22 for the game. 
"Offensively, we've got a lot of weapons," Burke said. "But the defensive side is going to determine how far we go." 
Michigan got stops when it mattered. Burke has improved as a defender, and both Stauskas and Robinson don't look like typical freshmen. Morgan, while not a big-time shot-blocker, is a terrific positional defender who understands his role. 
It's become pick your poison when you play Michigan this year. Burke is deadly running ball-screens, but now has a big-time shooter in Stauskas on the wing, a mature Hardaway and a playmaker in Robinson. 
But the offensive numbers aren't what had Burke smiling at the end of the night while standing in the bowels of Madison Square Garden. 
"We showed something," he said.
And he pointed to the plus-11 rebounding advantage.
Arizona, for no good reason, doesn't have to play at USC or UCLA this season

We look at the 'Major 7' leagues and give you the best of what's to come in conference play...

Louisville's coach predicts a change is coming to the NBA's one-and-done rule by 2019
Multiple former players of Lonergan's alleged verbal abuse and inappropriate remarks

When Miller left for Indiana, there was cause for concern in Flyerland; a top-100 signee says...

The Hoyas will spend their non-league schedule playing mostly nobodies -- as will most big...