Goodman: VCU rattles Memphis' Joe Jackson, next up is Duke's Cook
Shaka Smart's trapping, pressing defense is virtually impossible to simulate. Just ask Memphis point guard Joe Jackson after VCU forced 22 turnovers. This Rams team now gets a shot against Duke -- and now it's Quinn Cook's turn to see if he can handle the pressure.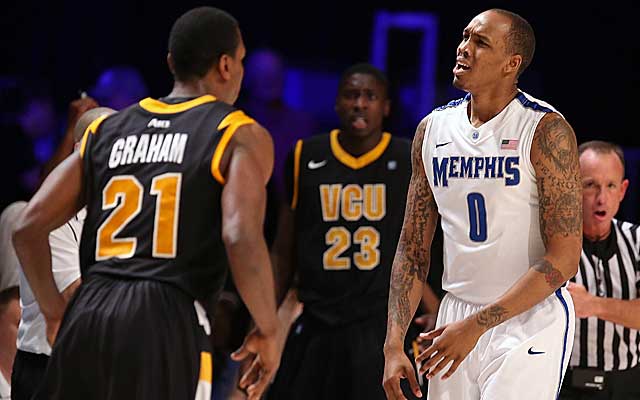 VCU frustrated Memphis with its pressing defense. The Rams will try to push it again Friday against Duke. (US Presswire)
NASSAU, Bahamas -- Poor Quinn Cook. 
I feel for the kid. Seriously. He struggled through his freshman season in Durham and is just trying to establish himself as Duke's starting point guard. He's been up and down and continues to attempt to gain the confidence of his teammates, Coach Krzyzewski and even for himself. 
Now he has to go up against VCU. 
If Cook does happen to run into Memphis' Joe Jackson somewhere in the Atlantis resort sometime Friday prior to the game against the Rams, he needs to sprint in the opposite direction. Don't ask Jackson, who may still be scarred from his outing against Shaka Smart's club, anything about VCU. 
More college basketball
More from Battle 4 Atlantis
More college basketball coverage
Jackson was also trying to find his way. He's been trying to do so for much of his career -- and Thursday night's performance was among the most frustrating in his three years on campus. He finished with seven turnovers and just two assists. Memphis coach Josh Pastner instructed him, prior to the game, to utilize his speed and become a one-man press break.
Instead, VCU's trapping press ate Jackson and his teammates up. 
But that's nothing new for the Rams. That's how they got to the Final Four a couple of years ago, and that's how they intend to go after Cook and the Blue Devils. 
"When we see their hands on their knees," VCU's senior guard/leader Darius Theus said after the 78-65 win over Memphis. "I saw it a couple of times tonight." 
Memphis is athletic. Really athletic. These guys pride themselves on their ability to get up and down the court and run and gun with anyone. But most of the Tigers did have their hands on their knees at one point or another Thursday night, gassed from the havoc and breakneck pace that VCU yearns to create each and every game. 
"We're used to practicing and playing that way," Smart said. "That was the difference." 
Now the Rams get a shot against the Blue Devils in the semifinals in the Battle 4 Atlantis. It's a cool coaching matchup of the all-time winningest coach in the history of the game against the young, hot, up-and-comer. It'll also be the first time the two teams will meet since former VCU star Eric Maynor delivered the stunner back in the first round of the 2007 NCAA tournament in Buffalo to knock off Coach K and the Blue Devils. 
"Until the Final Four, that was the most significant, most memorable shot in VCU history," Smart said. 
VCU entered this season with high expectations, losing just one player of note, albeit an important one in Bradford Burgess, from last season's team that won 29 games and advanced to the third round of the NCAA tournament. But then came that loss at home to a Wichita State team picked to finish fourth in the Missouri Valley. 
"That's fine," Smart said. "We like being written off." 
"They controlled the tempo," Theus said. "They slowed it down and the game was in the 50s. We don't usually win games in the 50s." 
So everyone naturally began talking about what's wrong with VCU, assuming this team was overrated. Why?  Because that's what we do, tend to overreact to one loss. 
But this VCU team is tough. Just ask the Memphis players, who couldn't take care of the ball or guard the perimeter. The Rams forced 22 Tigers turnovers and also shot a ridiculous 13-of-22 from beyond the arc. Rob Brandenberg was 5-for-5, Treveon Graham 4-of-6 and the team's most effective long range shooter, Troy Daniels, finished 4-of-8 from deep. These guys can shoot it, can put it on the floor and also get after it on the defensive end. They also don't get rattled because they possess a rarity: Final Four experience. Five players on this team -- Theus, Daniels, Brandenberg, Juvonte Reddic and D.J. Haley -- all played roles in the Final Four run two years ago. 
"They can win the whole national championship if they make shots like that," Pastner said. 
That may be an exaggeration, but here's what they can do: Make shots, rattle Cook and pull off the upset against Duke.
Marvin Bagley, if eligible at Duke this season, projects as the country's top power forwar...

The Big Ten Tournament is a week earlier than usual, so the regular-season schedule may look...

Arizona, Grand Canyon and Tulane are also in Barcelona and have reported to be accounted for...
The Kansas forward is no longer accused of walking out on an $88 tab

Cavaliers basketball coach tapes statement on behalf of his university and his city

Gary Parrish and Matt Norlander discuss all things Marvin Bagley and his immediate future