Grizzlies, Clippers 2-2 with hobbled OKC (probably) up next
Zach Randolph and Marc Gasol dominated for the second straight game to tie the Grizzlies-Clippers series at 2-2.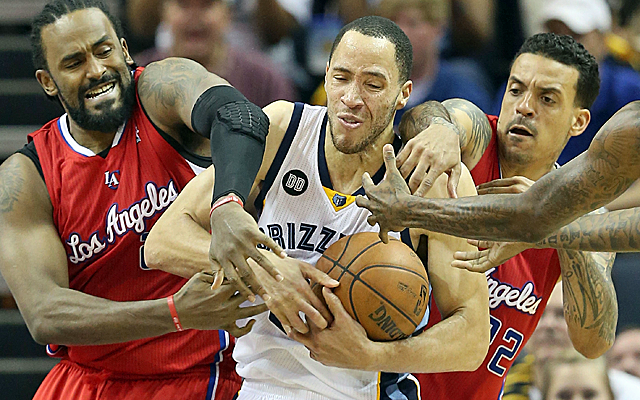 MEMPHIS, Tenn. -- Mike Conley told me it's never cool to see somebody get hurt -- especially at this time of the season, especially a guy you actually like the way he likes Russell Westbrook. But that said, there's no denying, Conley acknowledged, that this week's development in Oklahoma City could open a window for his Memphis Grizzlies.
"They're gonna be down a guy -- one of their best players," Conley said. "So if we can get out of this series with LA, obviously that would help us a lot with him not on the court."
No doubt.
More on Clippers-Grizzlies
Related links
More NBA coverage
So keep that in mind as you watch the Grizzlies and Clippers continue this best-of-seven series that's now a best-of-three series thanks to Memphis' 104-83 victory here at FedExForum on Saturday that erased the 2-0 deficit the Grizz left Staples Center with. These two franchises -- both of which are historical punchlines, the Clippers more so (and longer) than the Grizzlies, of course -- aren't just competing for the right to advance to the Western Conference semifinals. They're competing for the right to advance to the Western Conference semifinals and, presumably, play the top-seeded Thunder down Westbook, who is their second-best player and one of the 10 best in the world. That injury, a meniscus tear suffered in Game 2 of the Thunder-Rockets series, suddenly has the West more wide open than the East would be if LeBron James was never born. So while I can't tell you that the winner of this Grizzlies-Clippers series should be penciled into the Western Conference finals, what I can tell you is that the winner of this Grizzlies-Clippers series might actually be favored over the Westbrook-less Thunder (or, in fairness, the Rockets, if the Rockets happen to advance) in the Western Conference semifinals, meaning, yeah, this next week should be pretty intense.
"Three-game series now," said L.A.'s Chauncey Billups. "Obviously, two games in L.A., if it goes that far. So this is what we worked so hard for most of the season. Here it is."
It's tough to handicap this series now because the team that has home-court advantage (Clippers) is not the team that has momentum (Grizzlies) thanks to a pair of dominanting performances from Memphis in Memphis. The Grizzlies won Game 3 by 12 points and Game 4 by 21. They grabbed 12 more rebounds than the Clippers in Game 3 and 17 more in Game 4. Frontcourt mates Zach Randolph and Marc Gasol combined for 43 points and 19 rebounds in Game 3 and 48 points and 22 rebounds in Game 4.
"I said it All-Star weekend, and I said it during the season -- their [bigs] are pretty amazing," said Clippers point guard Chris Paul, who is also pretty amazing in general, just one example being his buzzer-beating runner in Game 2 that kept home-court advantage with Los Angeles. "Z-Bo on the inside. And big-fella Marc? That's another guard -- the way he passes the ball and shoots the ball. You just have to run them. You have to try to get them tired. You can't just leave them in their rocking chairs out there. We have to make them a little more uncomfortable."
So that'll be the Clippers' goal in Game 5 at Staples Center.
Make Randolph and Gasol "a little more uncomfortable."
Create games a little less gritty and grindy.
The winner of Game 5 in a seven-game series that's tied 2-2 historically goes on to win the series more than 80 percent of the time in the NBA playoffs, and I'm sure that's a statistic you'll hear at least 17 times -- that's the same number of 3-pointers the Clippers missed in Game 4, by the way -- between now and Tuesday night's tip. It'll get old, I imagine. But that won't make it any less true.
So Game 5 is huge.
The winner will likely advance to face a team that'll likely be shorthanded.
Nobody planned things this way or even wanted them this way. But this is the way they are now, and so two traditional punchlines are staring at a window that seems more open than it did a few days ago, you know, when Oklahoma City's point guard was healthy, not hobbled. Needless to type, it'll be fun to see who gets the opportunity to try to slip through. Because one of them -- either the Clippers or Grizzlies -- suddenly has a very realistic chance to make the Western Conference finals for the first time in franchise history.
Ball says UCLA told him to thank Trump for getting him back to the states after shoplifting...

SportsLine's advanced computer model simulated Wednesday's Villanova vs. Temple game 10,000...

Will any of these six teams make it to 2018 without their first loss?
Temple could be a big problem for undefeated Villanova, the No. 1 team in the Top 25 (and...

It appears he's more than happy to pay up, given the circumstances

Lithuania seems ready for the Ball era to begin