Haith, Pearl lie to NCAA, but Haith gets 5 games and Pearl show cause?
Bruce Pearl got a three-year show-cause penalty for lying to the NCAA. So what happened when Frank Haith lied to the NCAA? Almost nothing. Which is baffling.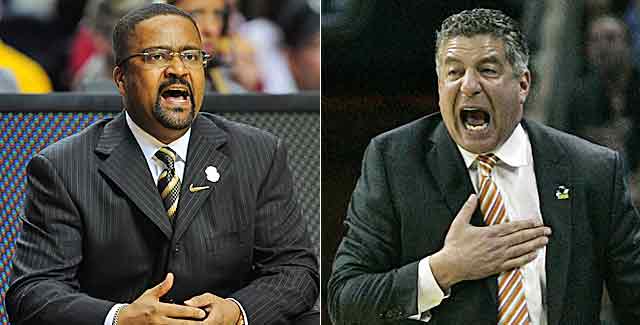 People love to mention, particularly on Twitter, that the NCAA hit Bruce Pearl with a three-year show cause penalty because of an improper cookout attended by recruits. It's simple and somewhat funny. So it's a line that gets repeated over and over and over again.
But it's not really true.
That's never actually been true.
Ask anybody at the NCAA or Tennessee, and they'll explain in great detail that Pearl's biggest crime wasn't holding a cookout for high school juniors in violation of NCAA bylaws. His biggest crime, they've always insisted, was misleading investigators when asked about the cookout. Simply put, Pearl lied. And the lesson the NCAA wanted to send by hammering Pearl and effectively ending his coaching career (at least until somebody hires him next year) is that lying to the NCAA is a line that should not be crossed.
So why is the message delivered Tuesday so different?
That's the question I immediately had when the NCAA announced its sanctions against Miami stemming from a lengthy and compromised investigation that, as SI.com's Pete Thamel pointed out on Twitter, probably did more damage to the NCAA than Miami. If Pearl got a three-year show-cause penalty for lying to the NCAA that's so severe that the mere anticipation of it cost him and his staff their jobs, why did former Miami coach Frank Haith -- now the head coach at Missouri -- only get a five-game suspension for allegedly lying to the NCAA about something far worse than a cookout?
You haven't read the 102-page report yet?
That's fine.
Because I have (at least the parts related to the basketball program).
And the most important thing you need to know is that the NCAA made a "factual conclusion" that Haith changed his story multiple times about why he issued unusual "advanced checks" to three assistants. According to the report, Haith initially said the checks were issued because the assistants "had personal obligations and were financially struggling" before ultimately acknowledging that he wrote the checks to create cash designed to repay former booster Nevin Shapiro in hopes of ensuring he wouldn't talk about a number of things, including an allegation that Shaprio had used money to help secure a commitment from a basketball recruit named Dequan Jones.
Now I'm not interested in debating whether Shapiro really bought Jones' commitment nor do I care to discuss whether Haith knew about it. The evidence, it should be noted, is overwhelming. But to focus on that is to miss the point entirely because the point is that, regardless of what actually happened, Haith interviewed with the NCAA three different times and changed his story drastically, meaning he lied to the NCAA just like Pearl lied to the NCAA. And yet Haith will not get a show-cause penalty, and there's no reason to think he'll lose his job at Missouri. His only real punishment for lying to the NCAA is a five-game suspension that'll be served at the beginning of this season, which means Haith's only real punishment for lying to the NCAA will consist of him missing games against Southeast Louisiana, Southern Illinois, Hawaii, Gardner Webb and IUPUI.
(Devastating, right?)
So, to summarize, Bruce Pearl got a three-year show-cause penalty for lying to the NCAA about a cookout while Frank Haith got nothing more than a mostly meaningless five-game suspension for lying to the NCAA about money the NCAA "factually concluded" was designed to keep a booster quiet about an alleged major recruiting violation. I'll let somebody else decide whether Pearl's penalty was too harsh or Haith's penalty is too light. All I know is that the penalties aren't even close to consistent with each other, and that's why most fans of college athletics -- and all fans of Tennessee athletics -- are baffled this afternoon.
Also baffled: Bruce Pearl's son, Steven Pearl.
"My biggest thing is consistency," Steven Pearl tweeted Tuesday. "What Bruce did was wrong. He admitted to his mistake. But everyone needs to be held to that same standard."
Well put, Steven.
Problem is, that's never been how the NCAA operates.
And, I'm starting to think, that'll never be how the NCAA operates.
CBS Sports HQ Daily Newsletter
Get the best highlights and stories - yeah, just the good stuff handpicked by our team to start your day.
Please check the opt-in box to acknowledge that you would like to subscribe.
Thanks for signing up!
Keep an eye on your inbox for the latest sports news.
Sorry!
There was an error processing your subscription.
The suit was filed by Dawn Staley after Mizzou's Jim Sterk claimed she created an unhealthy...

Gary Parrish and Matt Norlander discuss the Top 25 (and one) and latest NBA Mock Drafts

Konate's defiant defensive artistry should keep the Mountaineers near the top of the Big 1...
Maye averaged 16.9 points and 10.1 rebounds as a junior for the Tar Heels last season

Louisville must turn over all documents related to its self-imposed 2016 postseason ban

Detroit, Delaware State and Chicago State have been without a permanent person in charge of...