Harvard seniors survive academic scandal, Cincinnati
Brandyn Curry and Kyle Casey were caught up in a cheating scandal two years ago, but they earned their way back to contribute at Harvard.
More NCAA hoops: Tournament bracket | Complete coverage of NCAAs | Latest news
SPOKANE, Wash. -- Brandyn Curry heard the chants from opposing fans, not that they were all that surprising.
"Cheaters!" Harvard's senior guard recalled before Thursday's 61-57 East Region opening round win over Cincinnati.
"We got hounded all season, especially in the Ivy League," teammate Kyle Casey said. "It's kind of a battle of the brainiacs. With the way things went down it was an easy thing to make fun of."
The way it went down was beyond embarrassing for the pair of Harvard seniors. Casey and Curry were implicated in August 2012 in a cheating scandal that one Harvard dean called "unprecedented in its scope and magnitude."
Their participation made up a fraction of the 125 total students involved. But being athletes at an improving program with immaculate academic credentials drew national attention.
And at home, too.
"My brother used to walk in the room and say, 'What's up cheater?' said Casey, a senior sociology major from Medway, Mass.
And so perhaps in some strange way Casey, Curry and all the Crimson were steeled for this moment. They weren't the most athletic team on the floor. Fifth-seeded Cincinnati had the look of a team that could jump out of the gym while running Harvard out of it.
But the Crimson wouldn't break. Cincinnati's only lead came at 6-5. Harvard led by as many as nine. The Bearcats made runs but also broke down at key times.
Cincinnati apparently missed the memo. Or maybe it's hard to simulate these guys by watching film. Harvard plays a lot like those Pete Carril Princeton teams that made tournament noise -- all knees, elbows and back cuts.
"It's like Cincinnati's press," Casey said. "Until you go up against it, you don't really feel [our] intensity."
That Bearcat press was withering, but Harvard broke it just enough to squeak out one of the significant early upsets of the tournament. Significant? Never mind another 12 seed beating a 5 seed. Combined with last year's Harvard win over New Mexico, the Ivy League has won tournament games in consecutive years for the first time in 30 years.
"I'm not sure about the upset label," Harvard coach Tommy Amaker said.
He'd better check the heads of his players. 
"Sheer ecstasy," Casey said.
An easy conclusion considering a year ago Casey was working for a non-profit foundation and Curry was selling life insurance. They had withdrawn from school after the scandal, knowing they'd have some academic hoops to jump through before being readmitted.
"The biggest thing I learned is that you have to treasure everything in life," said Curry a senior from Huntersville, N.C. "Being removed from the team made me appreciate it so much more when I came back."
The team had changed when they came back. Curry -- a two-time academic All-Ivy pick, ironically enough -- has posted a career low in points. Two years ago Casey led the team in scoring. This season, junior swingman Wesley Saunders is the No. 1 scorer on a balanced squad. Canadian Laurent Rivard has become the school's all-time three-point shooter.
Casey (5 points in 20 minutes) and Curry (9 points in 23 minutes) may have been bit players Thursday, but this Harvard machine doesn't work without everyone pitching in.
"They've got high major players," Cincinnati coach Mick Cronin said. "They can play against anybody."
This is what makes the tournament so great. There is no doubt that Cincinnati is better athletically. But Harvard had the patience to slog its way through that press. After turning the ball over eight times in the first half, they had only four in the second half.
It's a Harvard cliche, but it was about being smarter. Saunders played the final 16 minutes with three fouls. Going in, the best player on the floor might have been Cincinnati's Sean Kilpatrick but he got only four shots in the second half. Saunders' strip of Kilpatrick with 38 seconds left led to a Bearcat foul that helped seal the game.
The brainiacs from Harvard had more dunks than the Bearcats. The Crimson who averaged 5.7 threes, made six in the first half.
Cincinnati went 8 1/2 minutes between field goals, missing 12 shots in a row in the first half. Do that, and you're going to pay against anyone. But Amaker's bunch typically runs the shot clock down to desperation digits before launching something. The fun stuff Thursday started when the Crimson met a mirror image of itself.
What did you expect from two top 20 teams? Well, top 20 defensively. If Harvard plays gutsy defense (13th nationally in scoring D), the Bearcats could trump it (sixth nationally).
Or they thought they could trump it. Sorry, Tommy, it was an upset. Let's not forget the Ivy doesn't offer athletic scholarships. It does offer second chances. Casey's return this season means he's got a chance to use that sociology degree to help his fellow man in the future.
Really, that's the way he put it.
"We do go to the best university in the world," Casey said.
Maybe that's why he laid a hand on the shoulder of Cincinnati's Justin Jackson. After the buzzer, the Bearcats' senior forward crumpled to the floor in emotion after playing his last college game.
"I know what it feels like when something seems like it's over, when it seems like it's been taken away from you," Casey said.  "I understand his agony, his emotions, especially after everything I went through last year."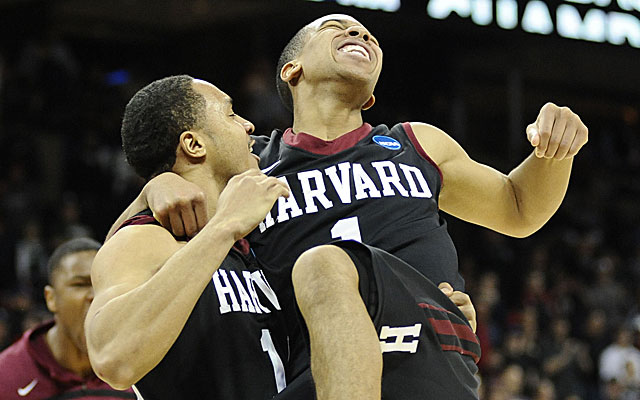 Was there contact? 'Everybody saw it,' UK coach John Calipari said

After losing its second game this week, a deep NCAA Tournament run looks far-fetched for U...

Coach K shows he is on on top of his game by landing the best three prospects in the Class...
The Buckeyes and Boilermakers continue to assert their dominance in the Big Ten

The 5-star phenom was thought to be headed to Clemson, but was swayed to the Blue Devils

The nation's No. 3 player will commit Saturday and here's his impact on each of his finali...