Haters beware, Kentucky is being Kentucky at right (or wrong) time
Kentucky, mostly underachieving this season, ousts Louisville and is looking like a team of first-rounders. That's bad news for the one-and-done haters.
More NCAA hoops: Tournament bracket | Complete coverage of NCAAs | Latest news
INDIANAPOLIS -- It has happened. It is here. Kentucky in all its monstrous potential, all its national championship capability, has shown itself. Behold, or be scared, but be honest:
It worked. This all-freshman starting five that John Calipari recruited and coached and unleashed, it worked. In the past six days Kentucky has ended Wichita State's perfect fun in the best game of the 2014 NCAA Tournament, then ended defending champion Louisville's season in the Sweet 16.
Kentucky's 74-69 victory against the fourth-seeded Cardinals on Friday night means it worked. The argument is over. Can the one-and-done way succeed? Can it succeed against a veteran team with a Hall of Fame coach and NBA talent of its own? It just did. Kentucky doesn't have to win the 2014 national title to validate Calipari's madness, because that's what this game against this opponent in this Midwest Regional semifinal just did.
Before last week Kentucky might not have been a disaster -- but it had been a disappointment, losing nine games in the regular season and a 10th in the SEC tournament, leading to an eighth seed in the NCAA Tournament. Has there ever been a team with this many future first-round draft picks seeded as low as the Wildcats were seeded this year? Hell, has there ever been a team with this many future first-round draft picks ... period?
We'll see, but right now we know the answer, and the answer is this: It doesn't matter. The nine losses, the 10th loss -- pointless now, because that isn't how this Kentucky season, this Calipari experiment, will be remembered.
At the least it will be remembered for the past two games, first that gripping 78-76 victory against Wichita State in the Round of 32, and now this comeback against a Louisville team that had everything necessary to win another national title.
Perhaps it will be remembered for more, for a victory against Michigan in the Midwest Region final on Sunday. Maybe for a spot in the national-title game, or even a second title in three years. Regardless, this victory against this opponent means the jig is up. The haters can go to bed, hoarse and unhappy, because the Kentucky that has emerged in the season's final hour is the Kentucky we were supposed to see after Calipari signed the greatest recruiting class of all time and added that class to a pair of future pros, Alex Poythress and Willie Cauley-Stein, who returned after last season's NIT flameout.
The Kentucky we saw Friday night was big enough to outrebound Louisville 37-29 and resilient enough to overcome a bad ankle injury to Cauley-Stein early in the first half and clutch enough to hit 22 of 27 free throws and persistent enough to rally from a 66-59 deficit in the final 4 1/2 minutes.
"They're maturing right before our eyes," Calipari said. "They're playing for each other. They finally have surrendered themselves and lost themselves for the team."
That's what never happened last season, when a similarly young, similarly talented -- not quite, but close in both areas -- Kentucky team imploded like a bad chemistry experiment and lost 12 games, including the NIT opener to Robert Morris.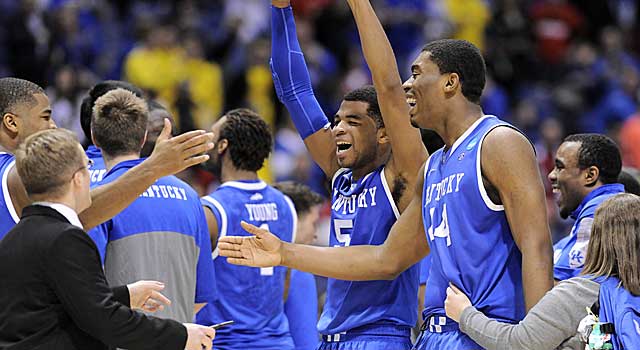 But that maturation, that surrender is what happened in 2012, when the best two players on the team, the first two picks of the 2012 NBA Draft, finished fourth and fifth on the roster in shots taken. Anthony Davis and Michael Kidd-Gilchrist didn't care about personal glory, only team victories. And they got them, leading the Wildcats to the national title.
But that team had veteran leadership -- senior Darius Miller, sophomores Terrence Jones and Doron Lamb -- that this 2014 Kentucky roster lacks. The only non-freshmen of note, Poythress and Cauley-Stein, have been the most inconsistent and infuriating players. They've not been leaders. The leaders have all come from the freshman class, so much so that Calipari found himself apologizing to point guard Andrew Harrison in the locker room at halftime, because he needed the freshman to stop acting like a freshman and start leading the team like a veteran.
"I'm telling him at halftime, 'You've got to run this team better,' " Calipari said. "I'm looking at him. I'm like, 'I'm sorry I have to ask you to do it, but I've got no choice.' "
Andrew Harrison did it. So did his twin brother, Aaron. After starting the game by going 1 of 11 from the field with only two free-throw attempts and three turnovers, the Harrisons finished by hitting six of their final 13 shots from the field, getting to the line 10 more times -- making nine -- and committing no more turnovers. They played like veterans.
So did Julius Randle after a baffling stretch where he turned it over on three consecutive possessions before righting himself to finish the game with 15 points and 12 rebounds. Freshman 7-footer Dakari Johnson had his most productive game with 15 points and six rebounds.
"We just had to put the past behind us and leave it where it was," Randle said.
In those final four minutes, the much-maligned Poythress, he of the inconsistent motor, scored all of his six points and blocked a Russ Smith shot and drew Louisville big man Montrezl Harrell's fifth foul. Andrew Harrison made one of Poythress' buckets possible, creating a dunk opportunity that cut the deficit to 66-61. Randle scored with one of his trademark spinning attacks of the rim to make the score 66-63, then had the biggest assist of the game when he spun into the lane and found Aaron Harrison for a 3-pointer with 40 seconds that gave Kentucky a 70-68 lead. Aaron Harrison then clinched the victory with two free throws with 2.3 seconds left.
This, on the heels of that Wichita State game. And that, after Kentucky eliminated Kansas State in its NCAA Tournament opener. Come to think of it, all of this came after Kentucky was already playing its best basketball of the season, manhandling LSU and Georgia in the SEC tournament and then taking Florida to the wire before losing 61-60 to this NCAA Tournament's No. 1 overall seed.
Kentucky is here, the rampaging team that in the preseason its fans were envisioning and its detractors were fearing. But Kentucky remains young. On their way to the post-game press conference, riding in the customary NCAA-provided golf cart, Andrew Harrison squealed in delight after getting a text message from his mom while Aaron Harrison looked dejected and said, "My phone is dead."
Andrew Harrison then looked at his phone again and saw what had happened in the East regional, where he noted that "UConn beat whatshisname."
Iowa State. That's his name. Not that it matters, really. Not on this night in Indianapolis, where Kentucky beat Louisville and emerged from the shadow of its own potential and into the reality of its own greatness.
The UConn women's basketball coach stepped in to offer up a solution in an education budget...

Duke and North Carolina players will skip ACC Operation Basketball because of new NCAA pol...

After a close game against Michigan, Air Force is playing San Diego State with some moment...
Quickley played for John Calipari this summer with USA Basketball

A revamped Erwin Center is part of a $4.25 million upgrade to the Longhorns' hoops facilit...

Nov. 10 will be here before you know it so here's what you need to know