Havoc meets havoc: VCU's tough non-conference schedule
Head coach Shaka Smart and VCU will not get to simply dip their toe into the 2013-14 schedule, as the Rams will play a non-conference slate that will put them to the test early.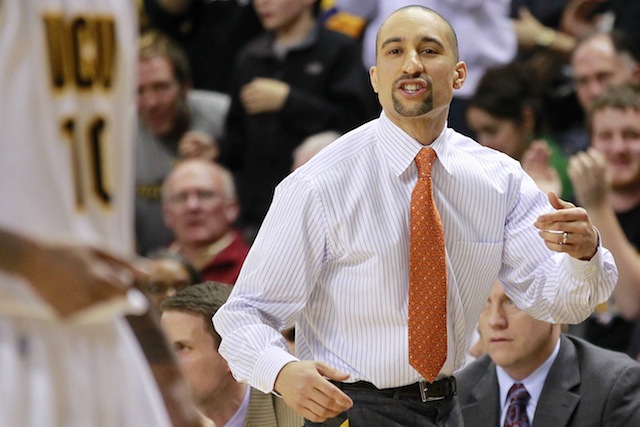 VCU is the prohibitive favorite in the Atlantic 10.
The Rams return four of the top five scorers from a team that won 27 games, and add two impact newcomers in redshirt freshman Jordan Burgess and Florida State transfer Terrance Shannon.
Shaka Smart may have his most complete roster since he's been a head coach, and that should pay major dividends in late February and into March.
But before VCU can think about winning an Atlantic 10 title and putting together another deep run in the NCAA Tournament with its hallmark "havoc" defense, the Rams first must get through their non-conference schedule.
And that will be beyond arduous.
As part of its non-conference slate, VCU will travel to Virginia, Belmont and Northern Iowa while playing neutral site games against Virginia Tech and Boston College. The Rams will also take part in the Puerto Rico Shootout in November and open the bracket against Shannon's old team -- Florida State. If they beat the Seminoles, VCU will likely face Michigan, the team that ended their season last March in the Round of 32.
Just a notch below that group, the Rams will also host three quality mid-majors -- Stony Brook, Eastern Kentucky, and Northeastern at the Siegel Center in Richmond. The Seawolves won the America East regular season title last year and boast a BCS-level big man in Jameel Warney.  Eastern Kentucky meanwhile, is the clear favorite in the Ohio Valley and returns five starters from a 25-win team.
That's 11 potential games for VCU prior to league play against teams that are either at the BCS level or are projected to have a legitimate chance to play in some type of postseason tournament next spring.
Havoc meets havoc? It certainly looks that way.
"It's different for us," Smart said when asked about building VCU's non-conference schedule. "We're not in what is perceived to be a BCS league, even though that term is obviously changing now. It's hard to get home-and-home series against teams that we'd love to play. Tony Bennett and Virginia were nice enough to start a series with us and we'll play them on the road this year and at home next year. We've also got some pretty good neutral site games, and on a neutral floor we always feel good about our chances of winning."
Smart said he strategically sought out certain mid-majors for "buy" games with the hope of creating experiences that would be similar to a first- or second-round NCAA game, if the Rams were to earn a reasonably high seed.
"We tried to go and get some teams that were going to compete near the top of their league," Smart said. "Belmont is always a Top 100 RPI game and I think out of all the wins we had last year, Belmont was in the top three in terms of overall RPI. Northern Iowa is another team that's difficult to play because of their style and we have go there. Meanwhile, Northeastern won the CAA last season and has some key guys back. We're definitely going to be tested."
And that should make for a very compelling first two months of the season for VCU fans.
The Rams have all the requisites to be better than they've ever been under Smart's watch, and yes that includes the 2011 team that reached the Final Four.
VCU's perimeter depth with Burgess, Rob Brandenberg, Melvin Johnson, Briante Weber, and Treveon Graham is off the charts. Shannon should add a bruising presence in the paint and 6-9 big man Juvonte Reddic is a legitimate candidate to be Atlantic 10 Player of the Year.
There's also whispers in Richmond that freshman point guard JeQuan Lewis will carve out a nice role for himself once he understands the Rams' concepts on both sides of the floor.
Still, this team is going to have to be ready to play early.
The Cavaliers are expected to be an NCAA Tournament team this season under Bennett and should have one of the best guards in America in Joe Harris.
An improving Boston College program presents an interesting matchup for VCU at the Barclays Center on December 28th. The Eagles have a bevy of shooters on their roster and boast two borderline All-ACC players in Olivier Hanlan and Ryan Anderson.
In all of the other nine non-conference games highlighted above, Smart and the Rams will have to play well to have a chance to win.
Havoc meets havoc?
You better believe it.
Louisville's coach predicts a change is coming to the NBA's one-and-done rule by 2019

Multiple former players of Lonergan's alleged verbal abuse and inappropriate remarks

When Miller left for Indiana, there was cause for concern in Flyerland; a top-100 signee says...
The Hoyas will spend their non-league schedule playing mostly nobodies -- as will most big...

An overview of what the most interesting conference will offer up this season -- beyond Duke...

The sneakers were made to commemorate the Tar Heels' six national championships